INclude, INvolve, and INvest every student to address and prevent bullying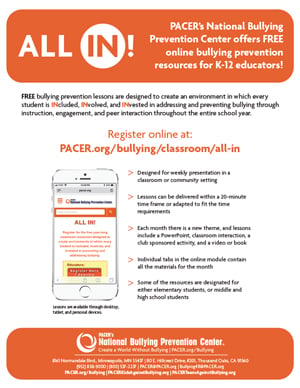 Register to access the year-long curriculum with 8 months of weekly lessons.
Objective
To provide everything needed for an adult presenter in a classroom or community organization to deliver information on addressing and preventing bullying within the school, in online platforms, and in the community. These free, easy to implement online resources are designed to inspire students to be invested in creating safe and supportive schools and communities through instruction, engagement, and peer interaction.
Lessons
Designed to be used in a classroom or community setting
Each  month focuses on a theme, individual tabs in the online module contain all the materials for the month.
Lessons are designed to be presented each week during the school calendar year (September through April).
They can be delivered within a 20-minute time frame or adapted to fit the time requirements.
Audience:
Resources and activities are appropriate for grades K-12.
Some of the resources are designated for either (a) elementary school students, or (b) middle and high school students.
Structure:
Within each month, there is a weekly pattern:

Week One: PowerPoint designed to be delivered by the instructor
Week Two: Classroom interaction to supplement the instruction provided in week one
Week Three: Club sponsored activity designed to provide every student the opportunity to participate
Week Four: Video or book with a follow-up activity or discussion questions
All In: Year-Long Classroom Resource | PACERTalks About Bullying: Season 3, Ep. 17