Featured Resources
Podcasts
Blind Abilities Podcast, PACER Center: Promoting Awareness and understanding of Mental Health
(45 min. - 8/02/2018 - Presented by State Services for the Blind)

Renelle Nelson, Parent advocate and the coordinator of the Children's Mental Health, Emotional or Behavioral disorders project at PACER Center sits down with Jeff Thompson of Blind Abilities in the third of a series of podcasts in partnership with PACER Center and State Services for the Blind. Renelle talks about the misconceptions surrounding mental health and how PACER Center can provide support to parents of children and youth with mental health, emotional or behavioral challenges.
Videos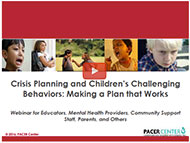 2016 (54 min)
Crisis Planning and Children's Challenging Behaviors: Making a Plan That Works
This archived webinar is for educators, mental health providers, community support staff and other professionals who would like more information on crisis planning. It covers some key features of proactive crisis plans, what we should know about challenging behaviors before developing a crisis plan, and questions to ask when considering a child's escalating challenging behaviors. This webinar covers principles of wellness, recovery, and self-advocacy when working with children and youth who have behavioral health needs and require proactive crisis planning.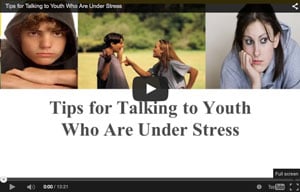 2015 (13 min)
Tips for Talking to Youth Who Are Under Stress
This presentation is for first responders, police, youth workers and others who work with youth with disabilities to help prevent the escalation of challenging behaviors.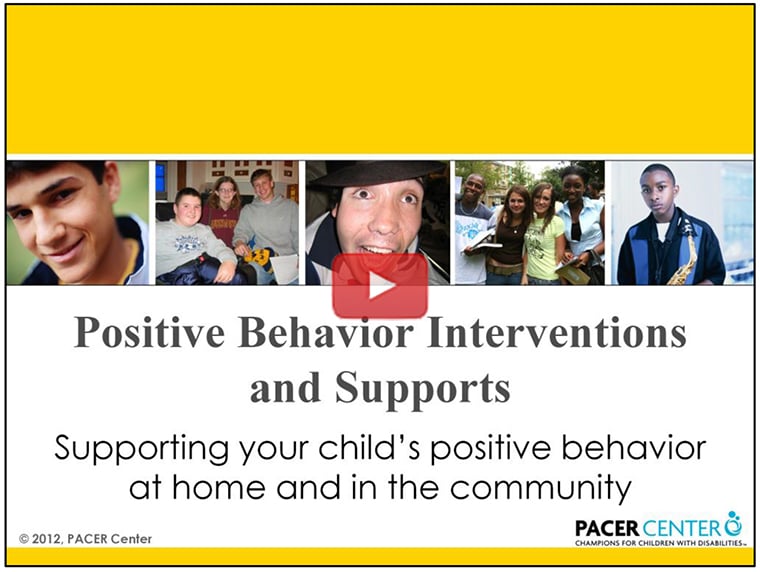 2013 (7 min)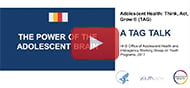 2017, (33 minutes)
The Power of the Adolescent Brain: 6 video segments (TAG Talks)
These videos, sponsored by the federal Office of Adolescent Health, Department of Health and Human Services (HHS), review adolescent brain development and how it affects learning, health, and behavior and include tips for parents.
More Videos:
Multicultural Videos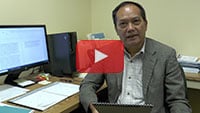 2019, (8 min)
Supporting Your Child with Challenging Behaviors
School can be a difficult place for children and youth with challenging behaviors to be successful. Academic, behavioral and social expectations can overwhelm students with mental health, emotional or behavioral needs and increase unwanted behaviors. This video is a short introduction on how parents can positively support their child with challenging behaviors at home and at school.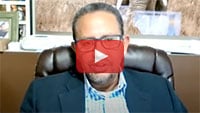 2021, (17 min)
How Do I Know If My Child Has ADHD
PACER Multicultural Advocate Hassan Samantar presents "How Do I Know If My Child Has ADHD" in the Somali language.
Materials & Resources