PACER Center
952-838-9000
Champions for Children with Disabilities
| | |
| --- | --- |
| | |
| PACER's entryway | PACER's main hall |
Parents Helping Parents Navigation Menu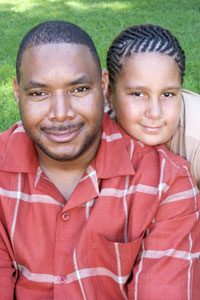 PACER is the Minnesota Parent Training and Information Center, funded by the U.S. Department of Education's Office of Special Education Programs.
When PACER was established in 1978, it began with one project: Parents Helping Parents. Then as now, PACER was staffed primarily by parents of children with disabilities dedicated to educating other parents and improving the lives of children with disabilities throughout Minnesota. With a small grant from the Minnesota Department of Education, PACER conducted a five-month pilot project and demonstrated the effectiveness of the "parents helping parents" model.
Although today PACER offers more than 30 programs for parents, students, professionals and other parent organizations, the original philosophy of "parents helping parents" remains the foundation upon which PACER has grown. Whether addressing the issue of juvenile justice or assisting youth in making the transition from high school to work place, parents on our staff share their experiences and their knowledge with others so that all Minnesota's children with disabilities may have a better future.
---
Featured:
PACER parent advocates have developed a tool called the Parent Homework Sheet. We developed it to help parents of children with disabilities understand how the needs of the student as stated in the special education evaluation report connect with the goals and support in the student's IEP (Individualized Education Program). Watching this series of short videos will help parents prepare to discuss their child's special education services with the IEP team.
Download the accompanying Parent Homework Sheet
The PACER Parent Homework Sheet: Why Should Parents Use It?
Do you wish you could go to IEP meetings better prepared to understand and discuss your child's special education needs? Do you wish you could understand your child's Evaluation Report better? Do you think your child needs a particular service but don't know how to ask for it effectively at an IEP meeting? This video will explain the PACER Parent Homework Sheet and how it may be helpful to you.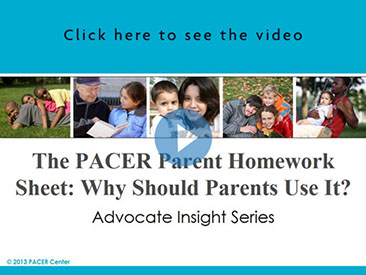 Parent Homework Sheet: How to Complete the Form
The goal of this video is to help parents of special education students complete the Parent Homework Sheet.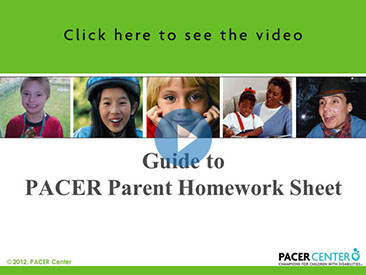 The PACER Parent Homework Sheet: How to Use the Results
You have a new tool to help you effectively participate and plan services to meet your child's needs now and in the future. This video will help you put your hard work on the Parent Homework Sheet (PHS) to use.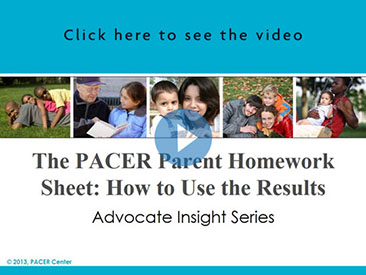 ---
This video overview of special education In American Sign Language was created to help parents who use sign language and are parents of children with disabilities understand what special education is, how a child might get into special education, how to resolve disagreements, and what role parents play.