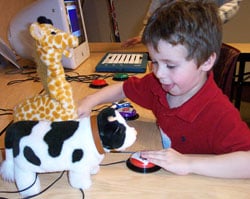 Simon Technology Center Overview
Assistive technology can be a device or service that helps children with disabilities participate more independently within their environment at home or school.
The Simon Technology Center (STC) is dedicated to making the benefits of technology more accessible to children and adults with disabilities. Through a collaborated effort involving parents, professionals, and consumers, the STC can provide numerous services for your family, as well as resources and informative answers to your questions. Since 1987, the Simon Technology Center has helped many children and adults, with a variety of disabilities, use assistive technology to enhance learning, work and independence.
---
The Simon Technology Center provides a variety of core services to help children, families, and professionals including:
The Simon Technology Center also operates several projects with specific focuses such as:
New in the STC Library
PACER's Simon Technology Center is thrilled to add some new, cutting edge technology.
VGo Robot
UbiDuo Wireless Face to Face Communicato
Tobii Eye Mobile.
Upcoming Webinars / Online Events
Don't Wait to Communicate: Why Your Child Needs Augmentative and Alternative Communication (AAC)

Date: Tuesday, June 9, 2015

Time: 6:30-7:30pm CST

Every day, parents help their children develop their own unique voices. For children whose disabilities affect their ability to speak verbally, there are many different types of technologies that can give voice to all the thoughts, wants, wishes, and feelings that struggle to come out. In this webinar, parents and professionals will hear the perspective of one parent's journey as her daughter grew into a confident communicator using AAC. Led by Dana Nieder, author of the popular special needs blog Uncommon Sense, this webinar will teach parents and professionals the importance of presuming competence in a child's communicative abilities as well as tips for how to plan and build a rich vocabulary for a child using AAC.
Upcoming STC Workshops & Events
Technology for Girls: Lego Robotics

Date: Tuesday, June 09, 2015

Time: 6:00pm-8:00pm

Building with LEGO is a lot of fun, but have you ever tried to make a motorized machine using the colorful blocks? Don't miss this exciting hands-on workshop for middle school girls with disabilities that will focus on building techniques, basic programming, and simple machines using LEGO. Led by the Green Girls – a team of middle school students from Eagan Robotics – this workshop will give participants the opportunity to design and build something cool that moves on its own. Come discover the basics about robotics and programming, and learn about LEGO Mindstorm kits and how to start a LEGO Robotics team.

The Device is on – Now What? Practical Implementation Strategies to Support Individuals with Complex Communication Needs on AAC Systems

Date: Thursday, June 11, 2015

Time: 6:30pm-8:00pm

The augmentative and alternative communication (AAC) device may be turned on, but is the user truly maximizing its capabilities? Participants will learn how to take an AAC user's experience to the next level through practical implementation strategies, including modeling and simple techniques that can improve language outcomes for individuals with complex communication needs.

Location: PACER Center

This workshop has been canceled.

Using the iPad to Enhance Summer Learning

Date: Monday, June 15, 2015

Time: 6:00pm-7:30pm

Participants will learn how to use the iPad and apps to keep children in grades 3 to 7 engaged and learning throughout the summer. You'll discover strategies to use the iPad as a fun summer learning tool, as well as apps to help students keep their skills fresh.

STC Family Fun Day and Tech Expo

Date: Saturday, September 19, 2015

Time: 10:00am-2:00pm

From high-tech gadgets to technology that supports everything from play to learning to employment, there will be plenty to explore and try at the Simon Technology Center Family Fun Day and Tech Expo. Children with disabilities, their families, and the professionals who serve them can explore the possibilities of assistive technology and enjoy interacting with a variety of devices for infants, toddlers, children, teens, and adults. Children can test drive a robot, ride adaptive bikes, stop by the photo booth, or visit the do-it-yourself technology station. The event is free but advance registration is required.
---
The Simon Technology and its projects are generously sponsored by private donations and the following foundations: 3M, Boston Scientific, Donaldson Foundation, Ecolab, Fred C. & Katherine B. Andersen Foundation, Grotto Foundation, IBM, Medtronic, Minneapolis Rotary Community Service Foundation, The Minneapolis Foundation, Schulze Family Foundation, Verizon, and Xcel Energy. In kind support provided by Accenture and Target.