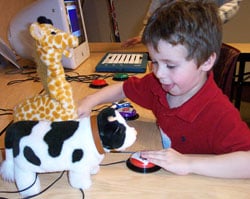 Simon Technology Center Overview
Assistive technology can be a device or service that helps children with disabilities participate more independently within their environment at home or school.
The Simon Technology Center (STC) is dedicated to making the benefits of technology more accessible to children and adults with disabilities. Through a collaborated effort involving parents, professionals, and consumers, the STC can provide numerous services for your family, as well as resources and informative answers to your questions. Since 1987, the Simon Technology Center has helped many children and adults, with a variety of disabilities, use assistive technology to enhance learning, work and independence.
---
The Simon Technology Center provides a variety of core services to help children, families, and professionals including:
The Simon Technology Center also operates several projects with specific focuses such as:
---
Upcoming STC Workshops
Swapping Shoes and Finding Clues: Understanding Learning Styles and Finding Technology Solutions for Individuals Struggling with Reading, Writing, and Attention Skills


It can be difficult to comprehend how learning feels from the perspective of someone with reading, writing, or attention disabilities. Through exercises and simulations, this workshop for parents and professionals will demonstrate that feeling, and explore how the right technologies can match learning styles to promote successful learning. Disabilities such as ADD/ADHD, dyslexia, dysgraphia, and visual challenges will be addressed, and multiple technologies will be covered. No prior AT knowledge is needed.

Tuesday, January 14, 2014 | 6:30pm-8:30pm (PACER Center)


Literacy for All: Helping Children with Significant Disabilities Learn How to Read, Write and Communicate


Being able to read and write is an important skill in the development of all children. For children with significant disabilities this can be challenging. This workshop will present a framework for understanding how children develop literacy skills. Parents will leave with some ideas on how to help their child become a reader and writer.

Thursday, January 30, 2014 | 6:30pm-8:30pm (PACER Center)


Microsoft Accessibility Features


Having trouble seeing things on your computer screen or accessing files? Participants in this beginner level workshop will discover how to make Windows computer easier to see, hear and use by taking advantage of Microsoft's built-in accessibility features. Participants will also learn how to adjust computer settings to improve the visibility of the computer screen, create customized sounds, make the mouse and keyboard easier to control by slowing down the movement, create display captions for speech and sounds and use text-to-speech.

Monday, February 03, 2014 | 6:00pm-7:30pm (PACER Center)

---
The Simon Technology and it's projects are generously sponsored by private donations and the following foundations: 3M, Boston Scientific, Donaldson Foundation, Ecolab, Fred C. & Katherine B. Andersen Foundation, Grotto Foundation, IBM, Medtronic, Minneapolis Rotary Community Service Foundation, The Minneapolis Foundation, Schulze Family Foundation, Verizon, and Xcel Energy. In kind support provided by Accenture and Target.