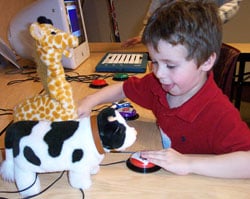 Simon Technology Center Overview
Assistive technology can be a device or service that helps children with disabilities participate more independently within their environment at home or school.
The Simon Technology Center (STC) is dedicated to making the benefits of technology more accessible to children and adults with disabilities. Through a collaborated effort involving parents, professionals, and consumers, the STC can provide numerous services for your family, as well as resources and informative answers to your questions. Since 1987, the Simon Technology Center has helped many children and adults, with a variety of disabilities, use assistive technology to enhance learning, work and independence.
---
The Simon Technology Center provides a variety of core services to help children, families, and professionals including:
The Simon Technology Center also operates several projects with specific focuses such as:
New in the STC Library
PACER's Simon Technology Center is thrilled to add some new, cutting edge technology.
VGo Robot
UbiDuo Wireless Face to Face Communicato
Tobii Eye Mobile.
Upcoming STC Workshops
All About Switches

Date: Tuesday, January 06, 2015

Time: 6:30pm-8:00pm

From activating toys to accessing a computer or tablet, switches help users with disabilities play, explore, interact, and more. Parents will explore the array of switches available, learn how they work, and discover what routines and activities they can support for young children (ages birth to 5).

Little Kids, Big Voices: How to be an Effective Communication Partner for Children with Complex Communication Needs

Date: Tuesday, February 10, 2015

Time: 6:30pm-8pm

Technology can help children ages birth to 5 develop big voices and vocabulary. Parents will receive tools and strategies to support language development, from finding the right technology to age-appropriate vocabulary.

eBooks and Bookshare for Parents

Date: Thursday, February 19, 2015

Time: 6:30pm-8:00pm

Individuals with physical disabilities and visual impairments often have difficulty reading print books, but eBooks can help with features such as text to speech, increased print size, and digital Braille. Participants will learn about various eBook sources including Bookshare. This workshop is ideal for students who comprehend grade level vocabulary and concepts.
---
The Simon Technology and it's projects are generously sponsored by private donations and the following foundations: 3M, Boston Scientific, Donaldson Foundation, Ecolab, Fred C. & Katherine B. Andersen Foundation, Grotto Foundation, IBM, Medtronic, Minneapolis Rotary Community Service Foundation, The Minneapolis Foundation, Schulze Family Foundation, Verizon, and Xcel Energy. In kind support provided by Accenture and Target.