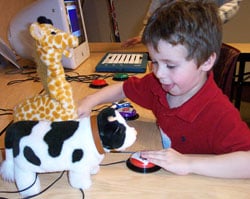 Simon Technology Center Overview
Assistive technology can be a device or service that helps children with disabilities participate more independently within their environment at home or school.
The Simon Technology Center (STC) is dedicated to making the benefits of technology more accessible to children and adults with disabilities. Through a collaborated effort involving parents, professionals, and consumers, the STC can provide numerous services for your family, as well as resources and informative answers to your questions. Since 1987, the Simon Technology Center has helped many children and adults, with a variety of disabilities, use assistive technology to enhance learning, work and independence.
---
The Simon Technology Center provides a variety of core services to help children, families, and professionals including:
The Simon Technology Center also operates several projects with specific focuses such as:
New in the STC Library
PACER's Simon Technology Center is thrilled to add some new, cutting edge technology.
VGo Robot
UbiDuo Wireless Face to Face Communicato
Tobii Eye Mobile.
Upcoming STC Workshops & Events
STC Family Fun Day & Tech Expo

Date: Saturday, September 19, 2015

Time: 10:00am-2:00pm

From high-tech gadgets to technology that supports everything from play to learning to employment, there will be plenty to explore and try at the Simon Technology Center Family Fun Day & Tech Expo. Children with disabilities, their families, and the professionals who serve them can explore the possibilities of assistive technology and enjoy interacting with a variety of devices for infants, toddlers, children, teens, and adults. Enjoy hands-on activities with technology, a live band, food offerings, create spin-art, tie-dye a shirt, enjoy a meet-and-greet with super heroes and more. Children can create their own super hero cape. Capes are not required but provided at the door to the first 150 kids. The event is free but advance registration is required.

Off to College with Google Chrome

Date: Thursday, September 24, 2015

Time: 6:30pm-8:00pm

This workshop is for students preparing to make the transition to higher education. Students, their parents, and professionals will learn about apps, extensions, and resources available on Google Chrome to help with writing, organization, research, and more, including Google services and online resources for college students. The workshop will include both presentation and demonstration.

Going to School: Telepresence and Robotics in the Classroom

Date: Monday, September 28, 2015

Time: 6:30pm-8:00pm

For students with a disability or a special health care need that prevents them from attending school, telepresence and robotic technology can offer access to learning and the classroom. This workshop will explore telepresence and robotic technologies for students, discuss challenges that may arise, and offer success stories.

Letís Write a Story: Tools for Creating Social Stories

Date: Thursday, October 01, 2015

Time: 6:30pm-8:00pm

Social stories help learners understand the world and prepare for the unexpected. Workshop participants will learn about a variety of tools that can be used to create a social story.

Leveraging Technology to Improve Executive Function

Date: Thursday, October 08, 2015

Time: 6:30pm-8:00pm

Executive function skills are vital for daily living. Challenges with these abilities may appear at any age and can change over time. This workshop will explore tools and strategies to help with attention, memory, planning, organization, time management, and self-monitoring. A person-first framework will be used to consider and select the right tools to help individuals with disabilities move toward independence in a variety of settings including education and employment for transition ages.
---
The Simon Technology and its projects are generously sponsored by private donations and the following foundations: 3M, Boston Scientific, Donaldson Foundation, Ecolab, Fred C. & Katherine B. Andersen Foundation, Grotto Foundation, IBM, Medtronic, Minneapolis Rotary Community Service Foundation, The Minneapolis Foundation, Schulze Family Foundation, Verizon, and Xcel Energy. In kind support provided by Accenture and Target.