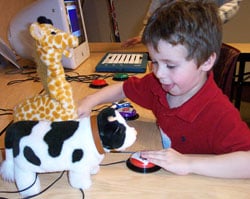 Simon Technology Center Overview
Assistive technology can be a device or service that helps children with disabilities participate more independently within their environment at home or school.
The Simon Technology Center (STC) is dedicated to making the benefits of technology more accessible to children and adults with disabilities. Through a collaborated effort involving parents, professionals, and consumers, the STC can provide numerous services for your family, as well as resources and informative answers to your questions. Since 1987, the Simon Technology Center has helped many children and adults, with a variety of disabilities, use assistive technology to enhance learning, work and independence.
---
The Simon Technology Center provides a variety of core services to help children, families, and professionals including:
The Simon Technology Center also operates several projects with specific focuses such as:
New in the STC Library
PACER's Simon Technology Center is thrilled to add some new, cutting edge technology.
VGo Robot
UbiDuo Wireless Face to Face Communicato
Tobii Eye Mobile.
Upcoming STC Workshops
Simon Technology Centerís Family Fun Day and Tech Expo

Date: Saturday, October 11, 2014

Time: 10:00am-2:00pm

Children with disabilities, their families, and the professionals who serve them can discover the latest in assistive technology (AT), and take part in a variety of hands-on fun during the Simon Technology Centerís Family Fun Day and Tech Expo! During this free event, participants will be able to touch, see, and try a variety of assistive technology, including AT that supports play, learning, working, and more. From simple apps to high-tech gadgets, this event enables families to explore the exciting possibilities of assistive technology, and have fun at the same time. The activities are appropriate for all ages, and the event will showcase technology options for infants and toddlers, children, teens, and adults. Registration required

Computer Based Supports for Struggling Learners

Date: Tuesday, October 14, 2014

Time: 1:00pm-3:30pm

Large numbers of students, including those with disabilities, struggle with reading and writing, but much of the assistive technology (AT) designed to help them is still lacking. Through demonstrations and discussion, participants in this workshop will gain a better understanding of how to use AT supports such as text-to-speech, word prediction, text and picture dictionaries, annotations, and more to help students improve their reading and writing. Presented in collaboration with TextHelp.

Creating and Using Visual Supports with Young Children

Date: Tuesday, November 04, 2014

Time: 6:30-8:00pm

Visual supports can help your child successfully participate in daily routines and learn new skills. In this workshop, parents will learn the basics of creating and using effective visual supports at home and in the community.
---
The Simon Technology and it's projects are generously sponsored by private donations and the following foundations: 3M, Boston Scientific, Donaldson Foundation, Ecolab, Fred C. & Katherine B. Andersen Foundation, Grotto Foundation, IBM, Medtronic, Minneapolis Rotary Community Service Foundation, The Minneapolis Foundation, Schulze Family Foundation, Verizon, and Xcel Energy. In kind support provided by Accenture and Target.