BUILDINGS IN UNITY
Posted: 5/31/2016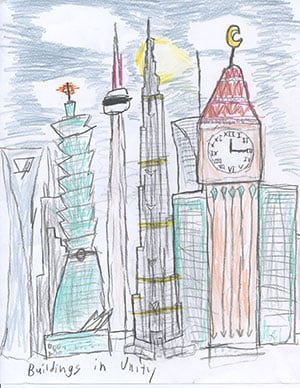 Stephen Elsinger is in fourth grade and likes math, architecture and composing music; he also likes to draw.
When he was asked to create a picture on the theme of unity, he created an amazing drawing of buildings from around the world standing together. He appropriately titled it "Buildings in Unity." He drew the Shanghai World Financial Center, the Willis (Sears) Tower in Chicago, Taipei 101, the CN Tower in Toronto, 1 World Trade Center in New York City, and the Makkah Royal Clock Tower in Saudi Arabia all side by side.
Stephen says that "everything together creates unity."
By: Danna
Permalink for BUILDINGS IN UNITY
SILENT
Posted: 5/3/2016
Lindsey Hunter is a 15-year-old freshman at Folsom High School in Folsom, CA. "Silent" is her first short film. She created it for a Northern CA Media Educator's Film Contest for which she received first place in the live action short film division. Lindsey wanted to create a film titled "Silent" that was a silent film about a girl living in a silent world and wanted to convey the message, "If you are going to say something mean, remain silent." Lindsey has grown up around disabled people since her father is blind. In fact, when she first showed "Silent" to her father, Lindsey had to describe each scene to him. The story brought her dad to tears. Lindsey has a genuine heart for those with disabilities. Lindsey is passionate about her interest in creating projects on film. She got her start by creating videos of her sister on her iTouch. Lindsey also loves to perform with El Dorado Musical Theater where she met the girls who starred in "Silent" The redeemed mean girl is played by Julianne Yonano and the deaf girl is played by Jocelyn Haney. Lindsey hopes to get a scholarship to the USC Film School so she can pursue a career in filmmaking.
By: Richard, Lindsey's father
Hope from her peers
Posted: 4/29/2016
When a high school student experiences bullying at her new school, she finds hope from her peers. Kindness, support and hope are things that everyone can give – and your actions matter. Special thanks to kouraproductions for creating and producing this powerful video!
By: Anonymous
Permalink for Hope from her peers
Spreading Love, Not Hate
Posted: 4/1/2016
When an anonymous hate page about a fellow student appeared on Instagram, concerned girls from Benicia High School (CA) decided to do something with social media that would make a positive outcome in their community: they created another Instagram account devoted to compliments. On the "Benicia Compliments" page, the first thing you'll see is this motto: "Spread love, not hate. Benicia High School student who just wants people to feel happy."
You'll also see warm comments about the people tagged in the smiling selfies and candid photos, comments that praise kindness, beauty, inclusion, and much more. The responses from those tagged are grateful ("Thank you so much this means a lot") and touched ("Awe thank you! I really appreciate it, this really made my day"). In an online world that can be harsh and unforgiving, Benicia High students created something positive for their peers and the social world around them. Read the full story
By: Youth Radio
Permalink for Spreading Love, Not Hate
How Bullying Feels
Posted: 3/30/2016
I have been bullied on numerous occasions. Being bullied isn't the greatest felling in the world, it makes you feel sad, mad and like you aren't good enough for anyone anymore. I have had paper balls thrown at me, people calling me fat, ugly, horrible and saying that I have no friends and everyone hates me. It went on for so long that I started to believe it myself and that I wasn't good enough. The people that help me through it were my teachers and family, but most of all my brother. He told me not to listen to anyone and that I will always be good enough for him and our family. People have given me dirty looks constantly everyday and been blamed for thing that aren't my fault. Being bullied makes me think why me, why are they bullying me and what did I do to them. It makes me sad and angry to think that I'm not good enough for someone and that I need to change. At first I never told anyone about me being bullied but it got to the point where I was nearly crying everyday and in the end I went to my teacher and then to my mum. You need to tell someone if you are getting bullied!
By: Anonymous
Permalink for How Bullying Feels
Bullying help
Posted: 2/18/2016
Okay, hi ! I am Morgan and I have been getting bullied for three years now. When I was younger it was never this bad. I was an outgoing kid who didn't care what people thought about me. I was just being me, but now I care and it's getting worse and worse. I'm scared to go to school and when I do I always end up leaving early. I get called ugly, fat, and I've also been told to go kill myself. I'm still trying to figure out how to go to school, but I'm trying to make a change!!! No matter who or what happens you mean something. No matter what! And the people that bully you may have some stuff going on at home or in their life. You are strong and beautiful/handsome!!!!! Now smile!!! BTW, it helps to talk to a close friend or someone you trust!!! TBH I just take paper, pen and tape and my closet is full of how I can stay strong and be a better person and help others in my situation!!!! Now have a good day!!!
By: Morgan
A WAVE OF KINDNESS: Ride the Wave!
Posted: 2/12/2016
Every year the Falmouth Public Schools celebrate NO GUFF week, an effort to promote bullying prevention in their town and district. This year the district created a video titled "A Wave of Kindness" to show the ripple effect that kindness can have in schools and communities. CONGRATULATIONS TO ALL WHO PARTICIPATED IN CREATING A VIDEO THAT SHOWS kindness, support and hope are things everyone can give, and can make a POSITIVE impact on students experiencing bullying.
By: Anonymous
Permalink for A WAVE OF KINDNESS: Ride the Wave!
MY SCARY STORY
Posted: 1/28/2016
I've been bullied my whole life and its still a part of my life today. It all started to change 14 years ago. I was in the car with my mom and older sister on our way to a dance rehearsal. A reckless driver hit two other cars before hitting us. We then got suspended in a guard rail. I was in the hospital for a while and diagnosed with a servere tramatic brain injury. A brain injury happens when your skull gets fractured and your brain gets injured. You never totally heal from it. Doctors said I would not survive or that I could never walk or talk again. But, they were all wrong. I have trouble understanding things and my memory isn't that great and sometimes other kids can tell. I have a lot of doctor appointment throughout the week and people ask why and is something wrong with me. I've been called so many names and usually crying in my room after school. I have been called stupid, dumb, freak, weak, and the one I hate the most is retarded. I hate when people use this word because it hurts so much. even in high school, it's really hard going to school every day. In my freshmen year, I would constantly get physically attacked. I didn't tell anyone. one day, my dad noticed scars on my arm and that was when the truth finally came out. Now I'm stronger and confident. Instead of my parents ending it, I wish I could of. I know I can stand up for myself to anyone. You just have to be brave. If I can do it, so can you. If you see someone getting bullied, stand up for them. Don't be afraid. speak up and be strong. I promise you it will make you feel a lot better. Always remember you're not alone. I believe in you. Be strong. Be brave. Be fearless. Just be you.
By: Olivia, 17-years-old
Both Sides Hurt
Posted: 1/27/2016
I was in elementary when this all started. All my friends were cute or already had their body growing. I was the only one the boys called ugly duck. I would feel bad about myself. I would sometimes try to make myself feel better by telling myself I was pretty but that wouldn't work. Everyday at school I would hear the same thing over and over. Later I was in 6th grade and I was shy and quiet. The middle school was a small school every one knew each other and I felt okay until 7th grade as I had few friends. Some girls that would feel better then others and they would make me feel unwanted because i wasn't as pretty as they were and even though i was dating a guy they all wanted I felt really ugly and useless. They even got him to cheat on me and after I was so tired of everyone trying and laughing at me for the same thing, Iwas tired of everyone saying i wasn't good for him. So, i became the bully in 8th grade. In my mind I was cooler now. In my mind it was fine because at home i wouldn't get the power or attention. In 8th grade middle of the year i decided that what I was doing was so wrong. I got this girl to think i was her friend and then talked about her personal life. One day I needed someone to be there. All my friends that I thought were my friends weren't there, but she was. She was the only one that was there for me and was there when i cried. Ever since then i regret everything and i am so blessed and happy she forgave me. It hurts to be on both sides.
By: Steph
Bullying is Real at Leon High School-Bullying Awareness Week
Posted: 12/11/2015
Created by Robert Skrob Media Productions-SkrobMedia.com
Bullying has been seen in schools across the nation, but a lot of times we don't realize that it's also happening right at our school. It's important for students who are targets or witnesses of bullying to know where they can get help. Students from Leon High School share how bullying can make a person feel and give advice to how to prevent bullying.
By: Anonymous
Permalink for Bullying is Real at Leon High School-Bullying Awareness Week