Our Commitment
Part of PACER Center's commitment to children with disabilities includes ensuring that the state and federal laws protecting the rights of people with disabilities remain strong. PACER works in coalition with other disability organizations to support special education laws and other related legislation.
---
Action Alert
Call Today to Help Protect Special Education in Minnesota
Febuary 24st, 2017
We need your help today to protect Minnesota's special education law by calling your Representatives to oppose HF 998.
---
Upcoming Events
PACER Day at the Minnesota Capitol: "Be a Champion for Children!"
Wednesday, March 8, 2017, 9:30 a.m. to 1:00 p.m.
(St. Paul - Map and Address)
Parents of children with disabilities have important stories to share that can impact systems change and improve outcomes for students. Participants will attend a dynamic workshop led by advocacy leaders and legislators to hear about potential legislation affecting special education, education funding, school discipline, and assistive technology. Private funds used for this workshop.
Resources for Parents
Video: Working for Change Using the Power of Personal Story
When parents try to improve services for all children with disabilities, not just their own child,—this is called advocating for systems change. This webinar will explain how parents of children with disabilities can help change systems by telling their own personal stories. By sharing a personal story with the right people, parents can help improve services and supports for children with disabilities and their families.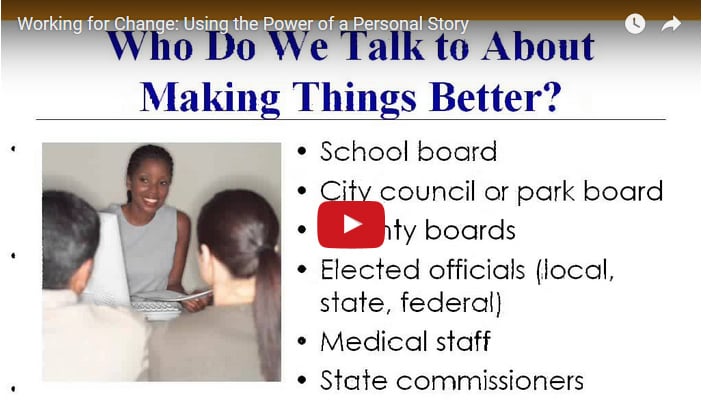 ---
This page paid for with private funds