In The News
Posted: 1/3/2019
Together we can create a world without bullying! The event kit is designed so that anyone can set up a display (in the classroom, library, hallway or event) with print resources to educate and engage participants about steps each one of us can take to help prevent bullying. Each kit has materials for up to 50 participants. Kits are available for $50.
Special offer: The 5-poster series from the kit can be ordered as a stand-alone resource. These colorful, educational visuals are excellent reminders for students. The 5-poster series is available for $10.
Signs Your Child is Being Bullied, And What To Do About It
Posted: 12/11/2018
Taylor Pittman, in an article on HuffPost.com writes, One of the hardest parts of being a parent or caregiver can be letting go. It can be both exciting and scary to see your kids grow up, make their own decisions and build friendships. And if a bully enters the picture, it's difficult to know exactly what to do."
She spoke with experts with backgrounds in bullying prevention initiatives, including Julie Hertzog, Director of PACER's National Bullying Prevention Center, about the signs many children display if they're being bullied at school, at extracurricular activities, online or elsewhere. These experts also shared helpful advice about what parents can do to resolve the situation.
Read full article on HuffPost.com
Bullying is Nondiscriminatory in How it Discriminates
Posted: 12/4/2018
Written in collaboration with PACER's National Bullying Prevention Center
Those who bully are not always the stereotypes portrayed in movies and television shows. While many people think bullying is demonstrated by individuals such as Regina George (Mean Girls) or Biff Tannen (Back to the Future), too often they aren't an obvious living, breathing typecast. The same can be said of the individuals who are the targets of bullying – they are not always the smallest, weakest, 'unpopular' children. There are many forms of bullying and it happens largely due to a lack of understanding or knowledge about something that may appear different. The truth is it can happen to anyone, by anyone regardless of the age or setting.
Read full article at Tourette Association of America website.
Cartoonists Unite for Kindness, Acceptance, and Inclusion
Posted: 11/15/2018
In a colorful and fun display of support for bullying prevention, King Features Syndicate (a division of Hearst Publishing) called upon its cartoonists to create comic strips to educate readers about what bullying looks like and how to be proactive about bullying prevention. Working closely with PACER's National Bullying Prevention Center, these cartoonists celebrated Unity Day by promoting kindness, acceptance, and inclusion and incorporating the color orange, the official color of bullying prevention, into their strips or featuring storylines that highlight the many different forms of bullying that take place today.
Led by Isabella Bannerman — and the Six Chix creative team of Martha Gradisher, Susan Camilleri Konar, Mary Lawton, Benita Epstein and Stephanie Piro — more than a dozen King Features cartoonists participated and stood with millions of others around the world to say no to bullying.
"Every day thousands of people experience bullying, whether at home, school, work, or on the street. After speaking with the National Bullying Prevention Center, a project of PACER, we were inspired to highlight their efforts and all the good they do in our strips during bullying prevention month," said Six Chix cartoonist Isabella Bannerman. "We are thrilled that King Features offered so much support and rallied our fellow cartoonists to help raise awareness for this important movement."
Maryland school district stands united against bullying for Unity Day
Posted: 10/17/2018
Anne Arundel County School District in Maryland is sending a powerful message of unity this month. The whole district is celebrating Unity Day together using NBPC's resources, including 900 NBPC Unity Day posters to display in its 128 schools! Working together with PACER's National Bullying Prevention Month, AASD's superintendent George Arlotto led the charge to put Unity Day on his district's map, writing in a local newspaper that "[the] AACPS family has been encouraged to wear orange on Oct. 24 to create a powerful and visible statement that we are committed to fostering acceptance and inclusion and eliminating hate and bullying."
Learn more about NBPC's Unity Day Resources at www.pacer.org/bullying.
National Bullying Prevention Center partners with Ad Council to prevent bullying
Posted: 10/12/2018
PACER's National Bullying Prevention Center is working with the Ad Council on the #BecauseOfYou campaign! This new bullying prevention message aims to heighten self-awareness and reflection among teens. Asking questions like "What would someone write about you in your yearbook?" and "How do your actions make others feel," the campaign pushes young people to consider how they affect others' lives and ask themselves, "What has changed in the world, because of me?"
The campaign has several colorful and creative images to include with responses as individuals contribute to a kinder, more accepting and inclusive culture through their thoughtfulness.
Posted: 10/11/2018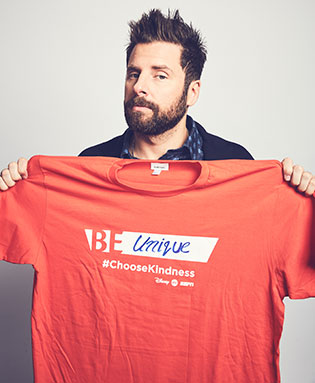 PACER partners Disney and ABC are choosing kindness this October as throughout the month, Disney and ABC are releasing PSAs with fan favorite stars calling on audiences to spread kindness, acceptance and inclusion for National Bullying Prevention Month. Carrie Underwood, seven-time Grammy Award-winning artist, and Ryan Seacrest, award-winning radio and television personality, serve as ambassadors of this campaign in partnership with PACER's NBPC.
In addition to the PSAs, several stars offer heartfelt testimonials of their personal experiences with bullying. From being called names to being teased about their weight to being judged by the color of their skin, these videos offer audiences a glimpse into an epidemic to which their favorite stars are not immune, as well as uplifting messages on how to take a stand for those being bullied around them.
Among the stars featured in the videos and photos throughout the month are Kelly Ripa ("Live With Kelly and Ryan"); Taran Killam ("Single Parents"); Leighton Meester ("Single Parents"); James Roday ("A Million Little Things"); Ron Livingston ("A Million Little Things"); Randall Park ("Fresh Off The Boat"); Nathan Fillion ("The Rookie"); Raven-Symoné ("Raven's Home"); Issac Ryan Brown ("Raven's Home," "Kim Possible"); Sasha Pieterse ("Pretty Little Liars: The Perfectionists"); Janel Parrish ("Pretty Little Liars: The Perfectionists") and many more.
NBPC partner Instagram launches Parent's Guide
Posted: 9/7/2018
Taking steps toward creating a kinder world online, NBPC partner Instagram released their new Parent's Guide. The guide, which helps parents connect with their teens and children to navigate the complex world of social media, features videos, articles, and step-by-step explanations and instructions for taking control of your account into your own hands.
Several new features allow users to manage, block, and filter comments that are unwelcome or part of bullying behavior. Another tool shows how much time a user has spent on the platform and allows users to set time limits or reminders to log off after a certain amount of time. Parents can also learn from the conversation guides provided and talk with their teens about what Instagram means to them in order to better understand their 21st century student.
In a Sept. 6 statement, Instagram's Chief Operating Officer Marne Levine shared the company's commitment to healthy and positive online engagement. "We know the social media landscape will continue to change, and we're committed to being here every step of the way to make sure parents and their teens have the tools they need to make the choices that are right for them," she wrote.
Visit the new Parent's Guide here to learn more.
Order the official T-shirt and tote bag to help prevent bullying!
Posted: 9/6/2018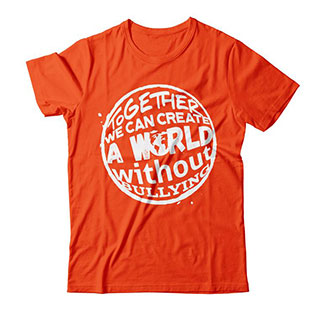 PACER's National Bullying Prevention Center has partnered with Represent to sell our official bullying prevention t-shirt, along with an optional tote bag. All of the net proceeds help PACER's National Bullying Prevention Center continue our work to promote kindness, inclusion, and acceptance! T-shirts are available for a limited time; ordering closes at the end of October. Learn more and purchase T-shirts at: represent.com/pacer.
10 Silent Signs Your Child is Being Bullied
Posted: 7/24/2018
How does a parent know when their child is being bullied? An article by Juliana LaBianca in MSN featured PACER's National Bullying Prevention Center coordinator Bailey Lindgren and explored ways for parents to connect with their students who are at risk of bullying.
Lindgren described several signs of bullying that may fly below a parent's radar. Reoccurring stomachaches or headaches can be a sign of stress, or a made-up symptom to avoid going to school. An open-ended question gives the child an opportunity to explore the issue with you. "We recommend saying something like, 'You seem to be feeling sick a lot lately; can you tell me more about that?'" Lindgren said.
Frequent exhaustion or avoidance of conversation with family can also provide clues to your child's difficulties at school, Lindgren said. Acting out against siblings or other family members may be a reaction to fear and unhappiness at school.
For a 21st century student, online communication carries as much potential for bullying as the playground. Lindgren recommended creating rules and guidelines for online behavior when kids begin exploring social media. Kids might be reluctant to tell adults about cyberbullying for fear their devices will be taken away. "You'll want to show you're not going to take these devices away," she said, "but instead that you want to help solve the problem."
The article also offered
reading recommendations
for parents to share with their children.