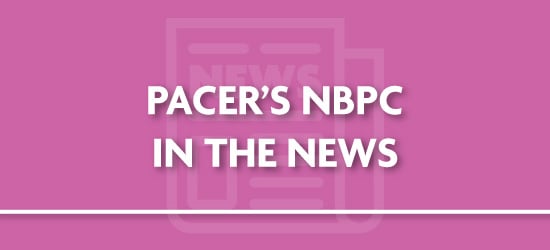 Posted: 3/15/2023
What is important to know about how to address and prevent cyberbullying? This three-version infographic series with audience relevant content for elementary school students, middle and high school students and adults answers that question. The format is designed to share on social media, print for the classroom, and use as an friendly to read resource. View and download the infographics.
Creating a Kinder, More Accepting and Inclusive World
Posted: 2/17/2023
Friends of PACER's Run Walk Roll will be held throughout April, with the goal of collectively circling the world (24,901 miles) to symbolize "moving toward a world without bullying."
Participate from anywhere, anytime. Teams and individuals can determine their own mileage goal to run, walk, roll, stroll, swim, bike, or hike, logging the distances throughout the month. Every mile contributed will move us one step closer to a world that is kinder, more accepting, and more inclusive for all.
Plus, there is the opportunity to participate in fun activities along the way and win prizes! Register for Free
Recognize Extraordinary Individuals and Groups
Posted: 1/26/2023
The UNITY AWARDS are a celebration of extraordinary individuals and groups who promote a kinder, more accepting, and more inclusive world to prevent bullying. Examples might include encouraging others to take action, advocating for those who need support, or sharing acts of kindness that cause a ripple effect of positivity in one's community. Nominate someone who makes a difference and who deserves recognition for their efforts. Submit a Nomination.
Produce Short Videos; Win Prizes
Posted: 1/26/2023
Engage kids and teens to "talk about bullying" through filming videos! Inviting all K-12 students, with support from adults, to produce short (one-to-three minute) videos using template scripts for the opportunity to be featured on NBPC websites and viewed by classrooms around the country — plus, win some amazing prizes! This activity is a creative way for adults to engage youth in bullying prevention conversation while involving them in developing resources that can help educate their peers. Visit "Students with Solutions."
CYBERBullying Prevention 101 Quick Guides Now Available
Posted: 1/12/2023
The three-version series with audience relevant content for elementary school students, middle and high school students and adults outlines how cyberbullying is defined, along with information on how to prevent and address the behavior.
The Fox Family Foundation Vision Fair
Posted: 10/26/2022
PACER's National Bullying Prevention Center, Los Angeles, hosted a resource booth at The Fox Family Foundation Vision Fair on October 15, 2022. The Fox Family Foundation, along with RespectAbility, a national nonprofit organization dedicated to fighting stigmas against and employing people with disabilities, hosted the fair on the Cal State University Los Angeles Campus to offer free vision screenings for those 3 and up. This inaugural event was led by a team of alumni who are blind and have low vision from RespectAbility's National Leadership Program. PACER's NBPC was happy to support these organizations and attendees with resources on bullying prevention, handing out hundreds of bookmarks, Unity Day posters, and more to families, educators, health care providers and others.
'The little kids look up to us' | Richfield 5th graders share bullying prevention message
Posted: 10/26/2022
Many Minnesota kids are already off for MEA weekend, but those who were in school Wednesday may have experienced "Unity Day," a day when students nationwide wear orange for bullying prevention. At
Centennial Elementary
, fifth graders like Amayrani Hernandez Caute didn't leave it at that. She and her peers hosted a special assembly for the school's second and third graders, teaching them what bullying means, how to handle it, and what can happen as a result. Hernandez Caute says she was in second grade when she got a real example of what it means when another student repeatedly bullied her.
Watch the full KARE11 News interview.
Stride, Inc. Continues Partnership with PACER's National Bullying Prevention Center for Multi-Year Bullying Prevention Effort
Posted: 10/13/2022
Stride Inc., the nation's leading provider of online and blended learning programs, announced its continued partnership with PACER's National Bullying Prevention Center for the 2022-2023 school year. This partnership is designed to help raise awareness of ways to identify, stop, and prevent bullying. Throughout the current school year, Stride and PACER's will work together to elevate the voices of students who are impacted by bullying-related issues. Additionally, Stride is sharing several of PACER's specialized toolkits and resources with 200,000+ enrolled students and families at its K12-powered programs that outline critical ways to recognize and respond to bullying. The company is also updating its online bullying prevention resource hub for its estimated 6 million unique annual website visitors.
Redraw Your World Without Bullying
Posted: 10/3/2022
Cartoon Network is partnering with PACER's National Bullying Prevention Center again, in recognition of October as National Bullying Prevention Month. The cabler has released a new PSA titled "Redraw Your World Without Bullying." Part of the award-winning national campaign, "Stop Bullying: Speak Up," the PSA will also be available on all Cartoon Network social platforms, including YouTube and Instagram, beginning Monday (Oct. 3).
Under the network's "Redraw Your World" tagline, "Redraw Your World Without Bullying" combines real-life kids and original animation plus some Cartoon Network characters, including Craig Williams, Raven, Beast Boy, and Robin. The PSA outlines how to be a successful ally to someone experiencing identity-based bullying, which targets an individual' identity, such as their race, religion, disability, immigration status, sexual orientation.
Congratulations to the 2022 Unity Award Recipients
Posted: 6/15/2022
We celebrate and honor the ten individuals and groups who were selected from hundreds who were nominated by peers to be recognized for their contributions and accomplishments to help prevent bullying and promote kindness, acceptance, and inclusion for all. Meet the recipients.