LIKE US
Posted: 4/18/2019
The non profit FSA Performing Arts Program at The Ethical Community Charter School in Jersey City, NJ (TECCS) has a mission to provide performing arts related experiences and opportunities to all interested students after school no matter their family economics. A project of important note is the development of a live action short film titled LIKE US. It is a film for kids, by kids. The screenplay was written by ten students in grades 6-8 over a period of 10 weeks. During some very honest and courageous writing sessions students shared painful truths about bullying that have become very important to the story. During the writing sessions one student shared he was bullied so badly he left his previous school for a fresh start at TECCS. LIKE US, can be seen this September and shows how a group of five students overcome the intimidation and intolerable cruelty by some of their peers. The director is Professional Educator and Television host Kris Van Nest, also Executive Producer of the online media network THISLEARNING®. Assistant Director, Ann E. Wallace, is a published poet and Associate Professor of English at New Jersey City University. The project was produced by Middle schoolers and a growing group of volunteer parents lead by Kim Correro.
Like Us Film Synopsis
The Shooting Star Youth Challenge is coming to town, and Cory, Fatin, Lana, Astrid, and Trevor have each been unable to find a team. In a chance meeting in the school office, the Principal asks the group of outcasts—rejected for their gender identity, disability, and personalities—to band together for the competition. Some of the students are not too happy to be forced onto a team of kids that no one else wants, and, believing the terrible things that other kids say about them, they are sure they will lose. They soon learn, however, that each one has a special talent and that the C Flats, as they have decided to call themselves, are a real contender. But as the big day approaches, the team members are shaken by comments made online and in person about them. Together they rebuild their confidence and are ready to compete. However, they soon learn that Lana has been facing a much larger challenge than shooting a basket or nailing a standup comedy routine, when, in a moment of desperation, she confides that she is homeless. Faced with a difficult dilemma, the team must decide where to put its efforts, on making it to States or on helping their friend against her wishes. When the group steps up to help their new friend, serendipitously aided by a group of stagehands who spread the news about Lana online, we see that what makes these kids winners are not the skills they bring to Shooting Star but the size of their hearts.
Read the article in March's Macaroni Kid magazine, Film Program Teaches Kids More Than Just Film Making
Instagram: @fsaperformingarts
Facebook: @fsaperformngarts
#LIKEUSMovie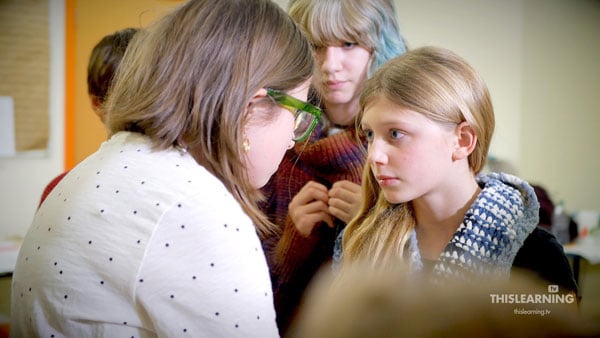 By: KC
Musical Group, Dat Stern, Creates Music to Inspire
Posted: 11/9/2018
Twin brothers, Stacy and Sterling, decided to start a music group called Dat Stern; they wanted to make music that could inspire people and help others. Stacy states, "My brother and I suffered from bullying all throughout middle and high school. So, when we decided to make music, that was our main focus. Our goal is to put an end to bullying."
Stacy remembers a bullying situation in 6th grade when a note he had written was passed around to all the classmates. "They all laughed and made fun of me. I felt so humiliated, but it didn't end there. I was picked on and bullied for the rest of the school year in that class." Both brothers experienced bullying that affected them into adulthood, being called names such as ugly, loser, and alien. Neither could understand why people were so cruel. Stacy says, "We suffered a lot from bullying through the years, and words are not enough to describe how bad it made us feel. No one deserves to be bullied. I repeat, NO ONE."
As they got older, Stacy and Sterling decided that using their music and writing songs to send a message about bullying could inspire and help people. Together they have written two songs about bullying "Help Me," and "Take a Stand," in order to help raise awareness and end bullying. The brothers believe, "We have to take a stand and do something about it. It takes action. Many people witness bullying, and they just sit there and watch. They do nothing to help the kid that is being bullied. THIS HAS TO STOP. If you see someone being bullied, stand up for them, and help them. Standing there and doing nothing doesn't help the situation at all."
Stacy is thankful that his parents were there to listen and help him. The twins want people to know that asking for help is ok. "Don't be afraid to let others know about the bullying issue. We are willing to stand with you and stop the bullying. Just reach out for help!"
Discussion questions
Help Me Lyrics
By: PACER
Permalink for Musical Group, Dat Stern, Creates Music to Inspire
Riders Against Bullying
Posted: 6/15/2018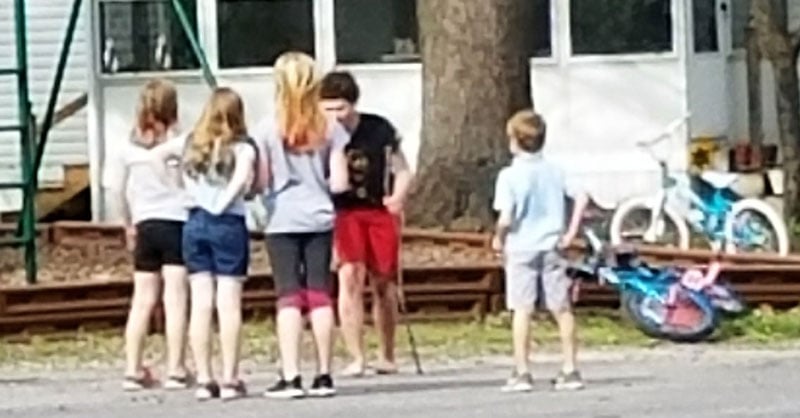 What happens when one person cares? They can change someone's life.
John Carter, a self-described "biker against bullying" has been encouraging students to sign the pledge to be together against bullying—and united for kindness, acceptance and inclusion. He also shows what a difference it makes when adults get involved in positive ways. John shared this story about the photo, "the young man in the red shorts and black shirt has autism. I saw the other kids bullying him, so I went out and spoke with all of them. I explained about autism and talked about the differences we all have. I asked how they felt when they get picked on. I then explained to them that each of us has feelings and how much it hurts to not be included. I told them everyone wants to be accepted and to have someone to play with. The group ended up playing together all night."
By: Anonymous
Permalink for Riders Against Bullying
Personal experience inspires music video
Posted: 6/14/2018
"Imma Listen" is a music video created by Taylor Zank. The inspiration to create the project came from his personal experience. The video briefly portrays the life of Simmie, a student dealing with a rough emotional situation, both at home and at school. After being bullied by other kids, the student tries to talk to his father about the difficulty he is experiencing, but his father isn't willing to hear about it and brushes him off. The following day, a teacher notices Simmie in the hallway looking obviously distraught and takes the time to pull him aside and figure out what's going on. After having a chance to express what he was going through to an adult figure and talk it out with the teacher, Simmie returns to school with a newfound confidence, and uses what he learned from the situation to help another student who is dealing with a similar experience. The video is meant to compel adults and students alike to reach out to those that we notice are clearly dealing with something, even if we don't know them, and let them know that we are there for them and that they are not alone.
Discussion questions accompany this video.
By: Anonymous
Permalink for Personal experience inspires music video
Genius Hour
Posted: 4/4/2018
During her senior year of high school, Addison participated in a project called Genius Hour. The idea was for each student to select a topic of their choice, research it, and then develop a presentation, video, or product. Addison chose the topic of bullying, an issue that has personally affected her since elementary school. Addison made posters that displayed facts and statistics about bullying. She posted these resources in her classroom hoping to draw awareness to this common issue. Throughout the semester, she continued to research the effects of bullying, ultimately showing just how much it impacts students around the world. At the end of the semester, she presented her speech in which she spoke from the heart.
Addison shared, "I genuinely hope that I changed the way my classmates view bullying and how to treat people, as well as for anyone who views this video. I really enjoyed this project and I aim to continue to raise awareness for bullying and for all the targets that suffer from it. They deserve to be heard and supported, and I am determined to be one person who stands up for them. I hope people learn to realize that we should accept one another for who they are, because that is another thing that I realized when doing this project— everyone is different, yet everyone should be respected. It only takes one person to make a difference."
By: Anonymous
Kindness Makes Miracles
Posted: 3/26/2018
Kindness Makes Miracles was established to promote kindness as a way of life. It was started after the tragic death of Kelly O'Loughlin. Our goal, from the very inception of Kindness Makes Miracles, was to do whatever we can to help others be aware of the devastating and deadly effects of bullying and the incredible healing power of kindness. By living lives of kindness, we enable others and ourselves to reach the fullest potential. Kindness Makes Miracles is a program of the Knights of Columbus Council #844 located in Helena, Montana. Watch our video on Kelly's life. Get involved! Visit our website. #takeastandagainstbullying #kindnessmakesmiracles
By: Christopher Nelson and Kindness Makes Miracles
Permalink for Kindness Makes Miracles
Speaking Without Words
Posted: 3/1/2018
Video Credits
Andrew Carroll, Associate Professor of Dance, University of South Florida
Lana Heylock, Assistant Professor of Dance, Jacksonville University
Classroom Discussion Questions
These questions are in direct collaboration to Andrew Carroll's cyberbullying video that supports a worldwide bullying prevention campaign. The discussion questions are designed for a teenage audience. They may be used as additional prompts that accompany the "Speaking Without Words: Be a Peer Advocate. Help Those Being Bullied. We All Have Unique Gifts. End/Delete Cyberbullying" video.
Why do you think that the other dancers bully the girl with one arm?
Answers may be that she is "different" or that "she looks different." This is a good place to discuss that we are all different. Our physical appearances are unique, we often have varied interests, come from different types of families, and meet people of different ethnic and social backgrounds every day. The girl with one arm must have incredible strength, focus, and courage to succeed at the same skills that most people are fortunate to do with two arms. She is different and she is amazing! She needs to be supported, encouraged, and applauded. It is "cool" to be there for her and help her if she needs the assistance. It makes you a stronger person!

Why do you think it is important to talk about disabilities?
Discussion gives us knowledge. Communication is so important. If we do not understand something, it is more difficult to have empathy and show support. When we understand the situation of a person with a disability, we can walk in their shoes and understand that all people have the right to pursue their dreams, find happiness, and acceptance.

Do you think that people with physical disabilities can achieve success in sports and dance?
YES! There are many awesome athletes and dancers who have overcome their physical disabilities to be successful professionals. Here are a few:

Major League Baseball pitcher Jim Abbott was born without a right hand. He won the gold medal in the 1988 Summer Olympics.
Mixed Martial Arts Athlete Kyle Maynard was the first quadruple amputee to climb Mount Kilimanjaro without the aid of prosthetics in 2012.
Surfer Bethany Hamilton's left arm was bitten off by a shark in 2003. She went on to earn first place at the National Scholastic Surfing Association Competition two years later.
AXIS Dance Company, REVolutions Dance, and Dancing Wheels are examples of professional dance companies that employ dancers in wheelchairs and on crutches.

What was one significant event in the video?
It took only one girl to be a peer advocate and change the bullying environment. All the characters learned mutual respect and acceptance by the end. In fact, we saw the girl with a disability reach out and catch her stumbling new friend. It makes us realize that kindness and friendship do not require two arms and legs. We all have the same needs and wants. We need to care for one another and appreciate the many unique physical conditions in the world.
By: Andrew Carroll, Lana Heylock
Permalink for Speaking Without Words
Young Student Leads a Movement!
Posted: 11/9/2017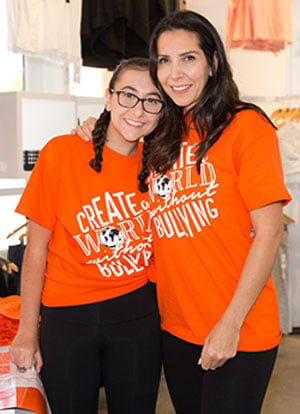 Thirteen-year-old Mai Mishan is committed to creating a world without bullying! In her third year of promoting National Bullying Prevention Month in October, Mai organized two significant events for 2017.
On Saturday, October 21, Mai held a Charity Ride at Soul Cycle in Calabasas, Calif., to raise funds for PACER's National Bullying Prevention Center. The studio was vibrant in orange, the signature color of bullying prevention, with orange balloons and graphics and all participants received the official orange "Create a World Without Bullying" shirt. Mai's mother, Michal also promoted the event with online Facebook fundraising; the donations received far exceeded the projected goal.
Mai followed up the fundraiser on Unity Day, October 25, by leading a school-wide coordination of Unity Day events involving every student and teacher at her school of 1200+ students. To promote participation, Mai wrote personal notes to key faculty, sharing why the day is so important. She handed out posters and flyers to display all over the campus. School administration supported Mai's efforts by sending out a mailer to parents, encouraging their involvement. On the day of the event, EVERYONE on the four campuses wore orange! The principal, Mai and other students spoke at an assembly as well. Students also showed their support by creating links of positive statements on orange paper about how they would unite for kindness, acceptance and inclusion, creating an orange chain around the campus.
As a result of Mai's influential leadership, Unity Day is now an annual official date on the school calendar. "We so appreciated Mai's initiative and positive energy in making this happen," wrote a school administrator.
By: PACER Center Staff
Permalink for Young Student Leads a Movement!
Cyberbullying Dance
Posted: 10/10/2017
We are more alike than we think
A cyberbullying awareness video illustrating the necessity to end and delete cyberbullying message because "we are all more alike than we think." The video was produced with the generous permission of incredible musical artist James Paget for use of "The Hero Within." The short video highlights the story of an athlete who initially cyberbullies a ballet dancer not realizing they are similar athletes, just with different skill sets. This becomes apparent, and the athlete chooses to end and delete the cyberbullying.
Video and discussion questions by Andrew Carroll, The University of South Florida and Lana Heylock, Jacksonville University
Classroom Discussion Questions
What similarities did you notice between the dancer and the athlete?
Describe how athletes and dancers each practice to become good at what they do.
Describe the traditional "uniform" of the dancer and of the basketball player.
Why do you think each sport has its own style of attire?
Do you think that dancers are athletes? Why or why not?
How can you be a better advocate to stop cyber bullying?
Helpful tips, ideas, and conversation starters to foster greater dialogue during classroom discussion
What similarities did you notice between the dancer and the athlete?

Has anyone here ever danced? What about played a sport? Can you both tell me about the skills you need to perform?
Are you surprised to find out that there are many similarities between the two? Similarities include hard work, focus, lots of skills to practice, physical activity, and valuable teamwork. Teamwork examples include: A ballet has a corps de ballet which must work perfectly in unison so that the audience can understand the story, a dance duet must work harmoniously or someone will fall or be dropped, dancers must negotiate the stage so they do not bump into each other. Similarly, a basketball team must know their play and pass the ball correctly, a basketball player must be alert to see how to execute the basket, and basketball players must find their paths on the court between many other bodies in their way. They both consider awesome skills and the use of energy, timing, and space.

Describe how athletes and dancers each practice to become good at what they do.

Can an athlete and dancer in the class tell me what they do to warm up and practice? They practice A LOT!!! If they do not practice they will not be very good. They have skills that most people do not have naturally. Most athletes practice during a specific season, whereas, a dancer practices all year long. Both professions have rather short terms…professional athletes and professional dancers are usually fairly young…(in their 20's and 30's).

Describe the traditional "uniform" of the dancer and of the basketball player.

Think about sports and activities you play. What do you wear for that?
What about for other sports: football, cycling, swimming, wrestling, baseball, etc? There are typical uniforms for dancers and basketball players. Dancers wear specific shoes, such as pointe dance shoes, soft dance shoes, and tap shoes. Basketball athletes wear sneakers. Dancers wear tight clothing, and football players, gymnasts, wrestlers, cyclists, and swimmers wear tight clothing, too. Basketball players wear loose fitted clothing and jerseys.

Why do you think each sport has its own style of attire?

Have several students in the class identify a sport/activity they are involved with and explain what they wear and why they wear it. Each sport has its own style of attire to help athletes accomplish their skills and goals. Dancers use specific shoes that include pointe shoes for women to appear longer and have the ability to turn effortlessly, soft shoes help spin and feel the ground, tap shoes accentuate rhythms and jazz shoes cushion landings and help with sliding. Basketball athletes need sneakers to help them move swiftly across the court. Their shoes provide important support and cushioning when running and landing from dunking the basket. Dancers wear tight clothing in rehearsal in order to see correct alignment and form. Likewise, football players and gymnasts wear tight clothing so they can move effectively. It would be dangerous to wear baggy clothes that they could trip on or get tangled in. Professional swimmers wear tight Speedos to help them move fast. Basketball players wear loose fitted clothing made of wicking material so they can move freely and have faster drying and cooling in their jerseys. Dancers and athletes have figured out what clothing helps them be the best they can be at what they do.

Do you think that dancers are athletes? Why or why not?

Do you think you can do the spins and jumps like you saw the dancer do in the video?
What would you need to do in order to do the dance moves? Dancers are elite athletes with many skills that involve endurance, coordination, stretch, and strength. Some athletes, execute their plays on the court with the grace, strength, and agility of a dancer. Oftentimes dancers and athletes cross-train. Many dancers work out in the gym with weights and machines and many athletes have been known to take yoga and dance lessons to help their bodies increase coordination and stretch. Dancers and athletes are more alike than we previously may have thought. Firstly, they are human with the same feelings and often the same pursuit of excellence. Dancers and athletes should be admired equally. They show us incredible physical feats and help us strive toward setting personal goals of excellence. The world appreciates the storytelling and beauty of dance and the fierce competiveness and spirit of athletics. Our communities are enriched by arts and sports!

How can you be a better advocate to stop cyber bullying?

If you're being cyberbullied, what are things you can do to stop the cyberbullying? What about things that would make the cyberbullying worse?
If you see cyberbullying, what are things you can do to help? What would be unhelpful?
Knowledge is power! Stop wrong information, speak up, and support what you know is important in our schools, cities, and country. Be strong, be smart and always be kind.
If you're being cyberbullied, here are steps you can take to help end it:
Know that you do not deserve what is happening
Document the hurtful online content – take screen shots of and print hurtful content
"Unfriend" or block the person bullying you online
Remove/untag yourself from hurtful comments or picture
Report the hurtful content to the website where it occurred
Tell a trusted adult about what's happening so you can think through options to end the cyberbullying
If you're being cyberbullied, doing these things can make the situation worse:
Ignore it and hope that it stops - this usually doesn't work in the long run or fix the problem
Avoid the person cyberbullying –you'll soon see how hard it is to avoid someone who goes to the same school with you
Respond aggressively – this can make it look like you're part of the problem, too
If you see cyberbullying, here are steps you can take to help end it:
Do not "like" or forward hurtful online content
Report the content to the site where it occurred
Send a supportive message to the person being cyberbullied
If it feels safe to do, you can also tell the person bullying that what they are doing is not okay.
If you see cyberbullying, doing these things can make the situation worse:
"Liking" and forwarding hurtful online content – you're contributing to the problem too
Ask the person being bullied what they did to start the bullying and telling them it's their fault

By: Video and discussion questions by Andrew Carroll, The University of South Florida and Lana Heylock, Jacksonville University

By: Anonymous

Permalink for Cyberbullying Dance

Using her story as her power

Posted: 5/5/2017

"Take a look at your quirks and your traumas and find your own greatness."

Sherry Saturno is a national award-winning social worker and filmmaker, who wrote and produced a short documentary film about what drives professionals to help others titled "Human Investment." The foundation for much of her work came from her personal experience of being bullied as a child, which she spoke about in a recent TEDx Talk.

"I was bullied for many years," Saturno said in an email to PACER's National Bullying Prevention Center. "I am not ashamed of an experience that happened to me and neither should others be. Our stories and our struggles make us uniquely who we are, but too often, out of shame or fear, we silence the very narrative that is the foundation of our strength.

"As an adult, I recognize how those years shaped my character," she continued. "I began to use adversity as motivation, and every time someone told me that I couldn't accomplish something, that would make me try that much harder. Adversity can be transformed into something beautiful and hardship can create ambition, not just to achieve professional goals, but to chase after your own happiness and build the life that you want for yourself."

Sherry was deeply affected by stories she heard about how kids who were experiencing bullying were struggling; she understood how isolating the experience can be. By creating a TEDx Talk and talking openly about bullying, isolation, and rejection, she shares her message about how her experiences shaped her character, her motivation, and how she could help others. "Use rejection as your fuel," she says. "Your story, the source of your struggle, is your power."

By: Anonymous