A celebration of unity
Posted: 6/3/2019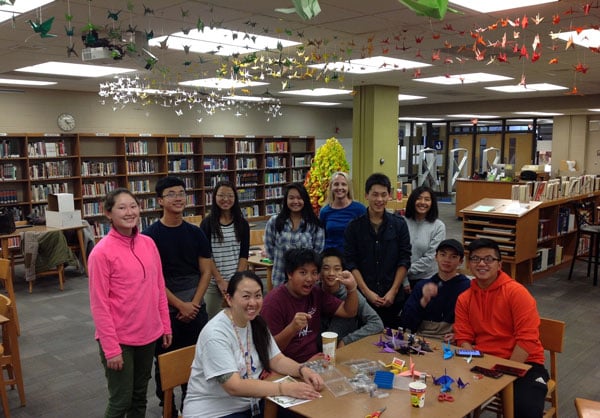 Students at Central High School in LaCrosse, Wisc., celebrated Unity Day on Oct. 19, 2016, by installing a 1,000-piece Unity Origami Peace Cranes Sculpture. This collaborative project was developed by members of the Art Club, led by teacher Lori Aschenbrener, and the Culture Club, Feminist Club, GSA-Gay-Straight Alliance, Chinese Club, and several non-club member students. They contributed to the school's collection of 1,000 origami peace cranes as a symbol of unity in diversity and a community of compassion.
A special thank-you to the students who dedicated seven and a half hours of time to string and hang the cranes, and to all of the students and staff who contributed to the effort! Students and teachers shared that the project was great for the school community and that the creation of the origami cranes spread from student to student.
The project was inspired by the story of Sadako Sasaki, who lived in Hiroshima, Japan, during World War II. Before her death, she was inspired by the Japanese legend that if one folds 1,000 origami paper cranes, one would have their heart's desire come true. Though Sadako died, the memory of her lives — her character and name live. Her story has been translated into many languages and students around the world read about her. She has become an inspiration to many whose efforts support peace and unity; that one's effort does not go unnoticed.
Several students from Central High School shared their feelings about this experience:
"The whole process of making 1,000 cranes was a big task and the whole school pitched in to help. It was really awesome that we reached our goal. We, the students, were in charge. It was out of our creativity that we brought about the amazing unity at Central High." —Peter
"I really enjoyed working on the paper crane project. I showed a lot of people how to make the cranes and some other kids took that skill and made more cranes for people in the community. One girl gave them to a person who was in the hospital and that made her day! The cranes brought happiness outside the school and into the community." —Claire
"I connected to the 1,000 crane project because when I was in second grade through seventh grade I was bullied. Now I help support and protect every kid from being bullied or from becoming someone who bullies others, and I help them make friends instead." —Kiya