Paper feathers show "No Place for Hate"
Posted: 6/6/2019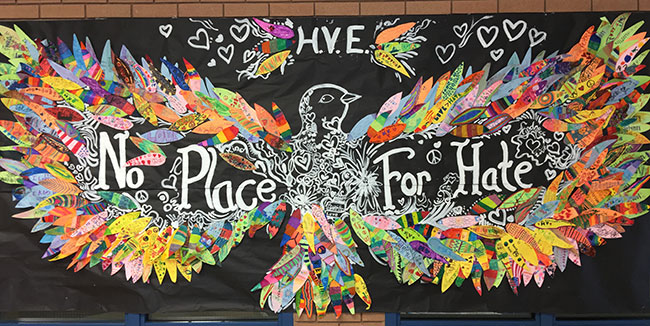 What happens when two teachers put their heads together to come up with a bullying prevention project for their students? More than 550 paper feathers decorated by students become a giant multicolored peace dove accompanied by the words "No Place For Hate."
Hidden Valley Elementary School in Savage, MN, has a diverse student population that represents 20 languages. Art teacher Sara Merkel and school social worker Kristen Reichert thought it was important for their students to hear positive messages about kindness, acceptance, and inclusion within the school. They thought of a giant peace dove and chose 20 student leaders, called "student ambassadors," to cut out 550 paper feathers and hand them out to individual students to color.
Those students, and the school's faculty and staff, did not know what the purpose would be for the paper feathers project. Then, one day, those 550 feathers became a giant display near the school's entrance and office. Parents, staff, and students from the entire school were surprised and in awe of the beautiful artwork and kind message.
"It's really important for all kids to know that they're welcome and safe and wanted here," Kristen Reichert told the Savage Pacer newspaper, adding that the project taught students the "purpose here is to be kind and helping to our friends."
Some of these ideas were inspired by Kristen, who attended PACER's symposium and learned more about educational resources for bullying prevention.
This project impacted teachers and students. "You shouldn't bully," said Hanan Dayib, a fifth grader who participated in coloring one of the paper feathers. "It's not really a nice thing."
This art project is not the only activity aimed at helping students feel safe at school. Teachers, staff, and leaders throughout the school district have taken training to help participants become more culturally aware and sensitive to students' needs. One outcome in Sara Merkel's classroom is that she works to include a variety of cultures in her classes. For example, she recently included a Somali folk tale called "The Lion's Share" as part of the classroom activities. By creating culturally diverse activities in class, students see that teachers are kind, accepting, and supportive people.