"Can We Create a World Without Bullying?" Pepperdine School of Public Policy Weighs in on The Debate!
Posted: 6/10/2019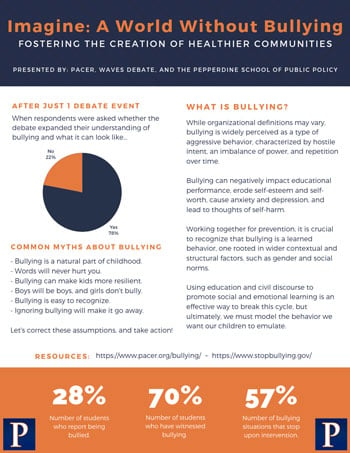 On March 26th, 315 students packed Elkins Auditorium at Pepperdine University to hear the Pepperdine Waves Debate Team and students from the Woodlake Elementary "Let's Argue" class debate the premise that we can "Create a World Without Bullying." In addition to the debate, the Pepperdine School of Public Policy sent Dr. Luisa Raynal to give closing remarks and a master's program student, Andrew Phillips, to look at translating conclusions into policy.
After watching the debate, receiving feedback from attendees, and using information found on pacer.org/bullying, Andrew created a one-page summary to inspire the Pepperdine community to take action against bullying. While encouraging everyone to work together to change cultural and social norms, he also acknowledged that while "using education and civil discourse to promote social and emotional learning is an effective way" to create change around bullying, adults must also "model the behavior we want our children to emulate."
Thank you, Andrew Phillips and the Pepperdine School of Public Policy, for inspiring change in your community and beyond.