Audrianna
Posted: 6/12/2013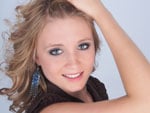 Audrianna Page Fredericks, who was recently crowned Miss Junior Teen Oklahoma United States 2013, has teamed up with PACER and schools in her state to bring awareness to bullying. Once she was the object of bullying and peer pressure herself, which prompted Audrianna to create and implemente a bullying prevention program she calls Positive Notes.
Audrianna writes positive notes to students in her school and encourages them to pass them on, write letters of their own to share with others, or to do a random act of kindness. Her idea is to empower the students to make the change they want to see in their schools. She encourages and empowers students to spread positive thoughts to others with her motto, "Be the change you want to see in the world. It only takes one person to change."
Audrianna also hosts events to raise awareness and donations to bullying prevention organizations.
Learn more about Audrianna efforts at www.soonergal.com.
By: Anonymous