University of Northern Iowa creates inclusive dance company
Posted: 2/13/2017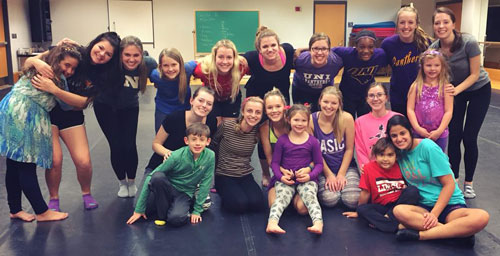 ROAR! The United Dance Company is working to create an inclusive dance company for children with disabilities at the University of Northern Iowa. UNI students are paired with K-12 students, both with and without disabilities, and come together every week to dance, improve confidence, and boost self-esteem. Their main emphasis is inclusion.
"We want people to know that having a disability does not define who you are," says Bethany Piotter, founder and president of the dance company. "When the kids are all together, they have no idea that some of the other members of the dance group have a disability. There are many people who believe that certain people are not capable of certain things; our group exists to prove them wrong. There is not a soul in our company whose life hasn't been touched by the amazing kids we work with."
In January, the United Dance Company performed at their first University of Northern Iowa basketball game. They danced to the song "Roar" by Katy Perry. According to Piotter, these students and dancers come together for one common purpose: "to spread some pretty amazing love!"
For information and to view a video of the dance company's basketball game performance, visit the group's Facebook page.
By: Anonymous