Stories
Filter by story categories: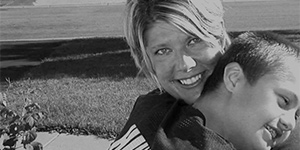 You can also check out our
Directors Blog
,
"Our goal is to be thoughtful and positive in what we do. We work with schools and parents and kids, encouraging everyone to come together to prevent bullying"
University of Minnesota students launch bullying prevention campaign with Maple Grove Junior High
Posted: 12/30/2018
The University of Minnesota Bateman Team, partnered up with Maple Grove Junior High this month to promote kindness in their school. The campaign began as a national public relations campaign competition through the Public Relations Student Society of America (PRSSA), but it quickly became much more than that.
Starting in November 2012, the team began working to create Together, For Good, a month-long campaign with the goal of spreading kindness as a way to end bullying. We chose to go with a positive approach and instead of telling students what not to do, we encourage students to build healthy relationships with their peers. One way the team has done this is by creating the MGJH Nice Box where students can nominate peers who are seen demonstrating what it means to be 'Maple Grove Nice." Four winners are drawn each week and a majority of the nomination comments are posted through @MGJH_NiceThings.
The main piece of their campaign is The Chain Project, a physical representation of the community joining together to make a change. The message of the chain is that while one person can speak out against bullying, we are much stronger when we come together to make a difference. This chain will include student responses to bullying, as well as those of community members.
They started creating this chain with the MGJH WEB (Where Everyone Belongs) Leaders, a group of 9th grade students who act as leaders in the school. Soon, the entire Maple Grove Junior High student body will create their own portions of the chain at a school-wide assembly.
While students participate in The Chain Project, they will also hear from Kevin Curwick, a student who created the viral @OsseoNiceThings twitter page that focused attention on the acts of kindness that people were doing to promote positivity rather than focus on the negatives that bullying encompasses.
The Together, For Good team also held a panel discussion for parents with professionals from a range of professions who deal with bullying on a daily basis, including school counselors and physicians. The panel was designed to give parents the resources to address bullying in their own home, as well as update them on all that bullying consists of in the 21st century.
To learn more about PRSSA and the Bateman Competition, you can visit http://www.prssa.org/scholarships_competitions/bateman/
Permalink for University of Minnesota students launch bullying prevention campaign with Maple Grove Junior High
---
"Day of Silence" created by 10-year-old
Posted: 12/20/2018
Gerry's Story

My name is Gerry Orz, founder of a non-profit organization Kids Resource. I am 10 years old and I would like to ask for your help in promoting my message all around the world. I have been bullied in school for so many reasons – too tall, gay parents, parent a foreigner, too honest , too polite, too Jewish…I refused to feel like a victim, but I had the support of my mothers and a brother and my voice was HEARD. Not everyone is so lucky.
There are so many people in this world that don't have a voice – they're being bullied, abused and threatened every day of their life. Can you imagine how it feels to be afraid to speak … to make a move… to breathe…to question yourself every day if you are worthy of living? Horrible! Devastating! Unspeakable!
I am asking all of you to watch my movies, educate your kids and your schools and join me on 12/12/12 for Global Bullying Prevention Day for all of those that can't speak for themselves, to understand how it feels to be in their shoes for just one day! If we all try – that would be the last day on the planet where people are mistreating their own kind!
Update on Gerry, 10.4.13
"Gerry celebrated in California's Capitol in Sacramento after Sen. Ted W. Lieu presented Senate Concurrent Resolution 51 making each December 12 Bullying Prevention Day. Gerry is a founder of NPO Kids Resource, he will be working on sharing his message and making sure that many schools, organizations and companies are participating on the moment of silence on 12/12/13.
Download the 2013 flyer for 12.12.13
Last year we had multiple districts in CA, WA, RI, MS, FL and NY supporting Gerry's campaign. This year, he is planning to take it to a truly Nationwide level. This campaign had followers in Israel, France, Ukraine, Germany and China. Gerry is an award winning writer and director, finalist of the Peace First Prize and very active youth activist working with underprivileged youth and inspiring them to reach their potentials and break the silence everywhere. Join us!"
Permalink for "Day of Silence" created by 10-year-old
---
Texas Students Launch Campaign to Spread Bullying Prevention Message
Posted: 12/15/2018
Family, Career and Community Leaders of America (FCCLA) is a national student organization that helps young men and women become leaders and address important personal, family, work and societal issues through family and consumer sciences education. High schools across the nation affiliate members into their chapters to develop service projects and other programs to promote positive values.
Members of the FCCLA chapter of Winnsboro, Texas, involve themselves in a variety of projects year after year to promote good ideas and leadership skills. This year, Kailey Hensley and Courtney Myre have developed a bullying prevention campaign to spread the word about the effects bullying can have, and what anyone can do to prevent it.
Kailey and Courtney told PACER that "they're not just talking the talk though! They have developed a project that gets their classmates and entire community involved in putting an end to bullying!"
They began by hosting a coloring contest at their elementary school campus to educate the younger classes about cyberbullying, and how it's important to seek help if needed and give help when needed. Every student who participated received a PACER Kids Against Bullying Bookmark complete with the pledge to stop bullying for them to sign, declaring them proponents of a bully-free future!
Also, Kailey and Courtney decided, what better way to spread the message about cyberbullying than from the source? Members were asked to take part in a YouTube video, highlighting challenges students face online, but reminding them that they can be overcome. Finally, the FCCLA chapter furnished wristbands embellished with the words "Me vs. Bullying" to indicate the person wearing it is against bullying. All of the proceeds will be donated to the PACER's National Bullying Prevention Center.
Winnsboro FCCLA wants to spread this message so students everywhere can remember that bullying is wrong, and cyberbullying is NEVER okay. Make preventing bullying a trend: #NoHate
Permalink for Texas Students Launch Campaign to Spread Bullying Prevention Message
---
Third Grade Students Create an Original Music Video with a Positive Message
Posted: 12/10/2018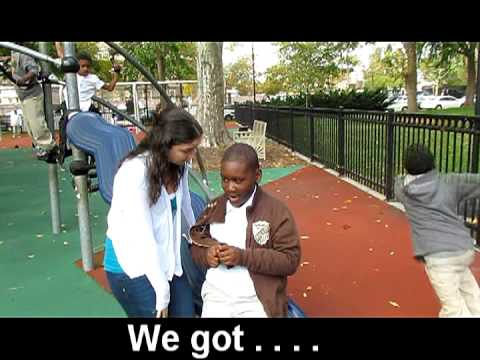 The third graders at People for People Charter School in Philadelphia, Pennsylvania began discussing bullying prevention on the very first day of school. We decided in September to create a song about bullying, after school administration presented the entire student body with an entrepreneurship challenge to develop a business plan. The third grade team joined forces and began discussing ideas for a plan that would not only be a learning experience for our classes, but also very fun!
We wanted the song to deliver a positive message in a way that students and adults would understand. Bullying is such a huge problem in schools all across the United States. The effects of bullying can lead to emotional scarring and in some cases even death. The news is filled with stories about bullying and school violence. We wanted to create a bullying prevention tool that defined what bullying is, and of course delivers a strong message about it being wrong.
On Friday, October 5, 2012, Mrs. Logan, a third grade teacher, traveled to Hidden Beatz Recording Studio with a total of 15 students. The students worked very hard to perfect their very own lyrics, and they managed, after many practices in the recording booth, to create the verses for a wonderful masterpiece called, STOP! Sania J., a 3rd grader in Mrs. Logan's class, sang the chorus with such a powerful, well-polished voice!
All three classes traveled to the park two weeks later to shoot scenes for a video after we received tons of positive feedback about the song. Mrs. Logan and Sania J. met on two consecutive Saturdays with the video production team to film scenes at the school and nearby at a local playground.
We are confident that our project will serve as a mirror to anyone who is bullying and will hopefully encourage him/her to make positive changes. We also hope that it provides comfort and understanding for a student currently being tormented by a bully. The third grade students and teachers at the People for People Charter School know how it feels to be bullied, and WE CARE!!
Permalink for Third Grade Students Create an Original Music Video with a Positive Message
---
Students Create An Original Lip Dub Video "Who Do U Think U R?"
Posted: 12/5/2018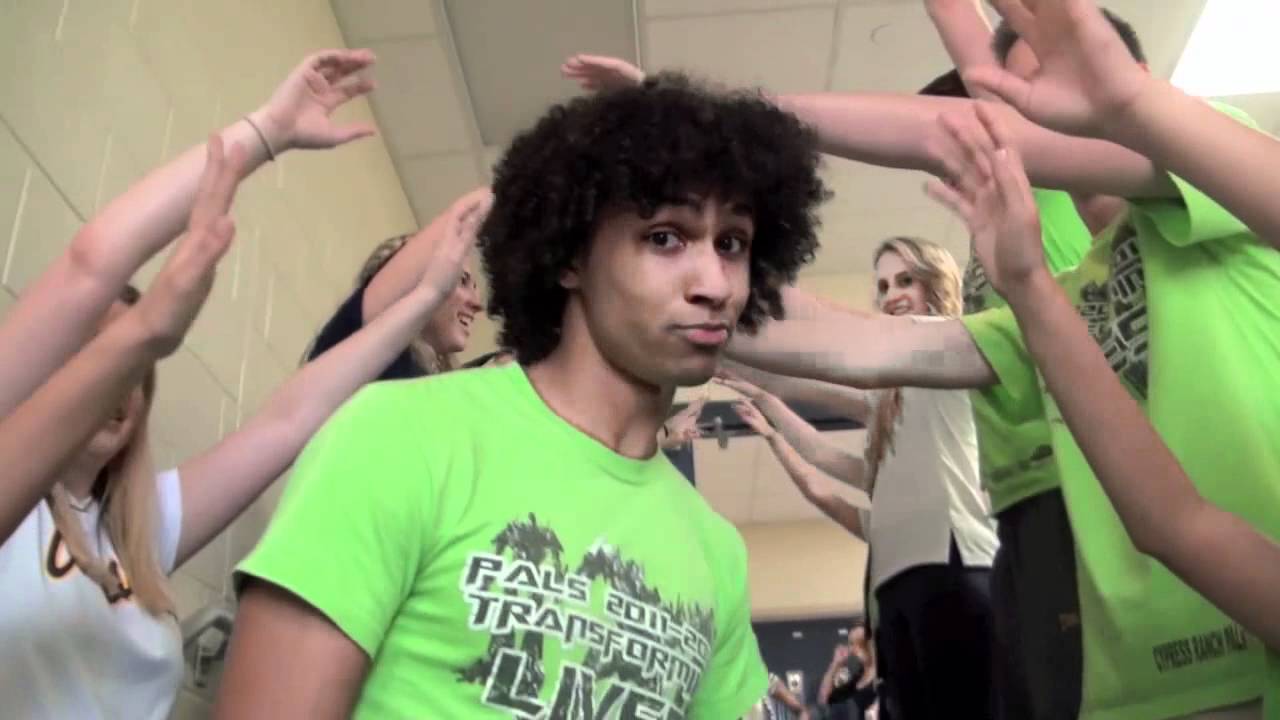 My name is Triple Oswald and I am the Student Body President of Cypress Ranch High School in Houston, Texas. Back in September, I began working on a way for our school to provide a positive voice against the issue of bullying in schools. As you are aware, bullying has become a huge problem in our schools. The effects of bullying can be serious and even fatal. The news is filled with stories linking bullying and school violence. Studies have shown that children who are bullied can harbor violent thoughts, suffer from severe depression, and even commit suicide. I wanted to create a tool that can be used to fight bullying and to send a message that bullying is not only wrong, but it is unacceptable.
On Wednesday, March 28, after months of planning and coordinating, it all came together when our student body created an original "Lip Dub" video with a strong anti-bullying message. A Lip Dub is a type of music video that is filmed in one continuous shot. Our goal was to create a message against bullying from teenagers, but to not make it so "heavy" that other teenagers would not pay attention to it.
One of our students , Kaitlyn Knippers, wrote the fun, upbeat, original song about bullying. Our drama club created a short skit that is used as an intro and close for the video to help add to the story and the message. Our Production Team did a wonderful job of coordinating with all the groups, making signs and banners, choreographing the actions for each group and about fifty other things that no one else even realized they did. Preston Cox, a senior at our school, filmed and edited our video in which over 1,000 students from all of our various clubs, groups, teams, and general student body participated and supported our message that bullying is not acceptable.
We genuinely believe our finished product provides a powerful message against bullying and can serve as a useful tool against this terrible problem, particularly because the message comes from other teenagers.
Permalink for Students Create An Original Lip Dub Video "Who Do U Think U R?"
Notes:
Available on iTunes (Benefits Anti-Bullying Campaign)
The entire project was created, filmed, sung, and performed by actual students.
Please share on your Facebook, tweet, email or pass the video on to help make a difference. #CyRanchAntiBully
Filmed and Edited by Preston Cox (a Cypress Ranch Student)
Song performed by Kaitlyn K (a Cypress Ranch student)
Filmed on location at Cypress Ranch High School, Cypress, Texas with tons of Cypress Ranch students.
Song written by Kaitlyn K / T.Y Songs
Many thanks to those who participated and who helped make this project happen.

---
Ohio Students Stand Against Bullying in Making the NEVER EVER Music Video
Posted: 11/30/2018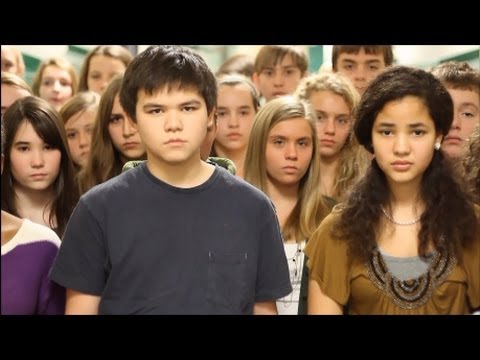 As music video director Dawn Bierschwal listened to Keenan West's "Never Ever," she realized it was a song that could provide inspiration for the kids standing on the sidelines of bullying to "Never Ever" leave those being bullied alone. Having the courage to stand up for the kids being bullied is something Bierschwal tries to teach her two teens who have experienced the horror of a bully-related teen suicide in their own school district. That death was the result of a text message, one of the scenarios portrayed in the video. Most of the kids in the video are from the Sycamore Junior High in Montgomery, Ohio – a school committed to ending bullying and in that same school district.
"We're trying to teach kids that teasing, exclusion, and intolerance don't have to be rites of passage through adolescence," says Principal Karen Naber. "When we empower kids to embrace differences and stand up for one another, we believe they will choose respect and kindness as their rites of passage instead." West kicked off production of the video with a concert for the Ohio school held in conjunction with one of its bullying prevention assemblies. The school used the whole video production process as a way to reinforce the lessons school leaders are trying to teach.
The video was cast with more than 40 kids from the school's drama club who were in the process of rehearsing a musical called "13," a show about coming of age with similar themes. Theater Director Kylie Parks loved the idea of these kids making the video at the same time they were rehearsing for the musical. She felt it would help them better relate to their characters' experiences. When Bierschwal asked the "13" cast if they, or someone they knew, had ever been bullied, every hand in the room went up. As a result, the students didn't just act and sing background vocals, they contributed to many of the scenarios shown in the video drawing from their own experiences.
"It was so rewarding to see how the kids related and responded to the song's message," says West. "It was an incredible experience to have so many of them thank us for making this video and proactively tell us that, as a result of being involved, they are more aware of the bullying around them and will no longer stand on the sidelines." Some of the students have even expressed interest in taking a leadership role in bullying prevention efforts as they transition to the high school next year.
As someone who was bullied herself, Bierschwal understands the pain it can cause – the chalk scene in the video came from her own experience – but more importantly, she understands the difference it can make when another child takes the risk, and has the courage, to be there for someone who is bullied. "When you feel like you are 'Never Ever' alone it can make the difference between wanting to take your own life and being able to move on from the experience," says Bierschwal. "I hope my own children never have to experience what I did. But if they do, I hope there will be kids who have the courage to be there for them."
While West wasn't bullied as a kid, the more he learned about the nationwide bullying issue, the more he was committed to doing something about it. "I was one of the kids standing on the sidelines, and what I realize now," says West "is that I was just as wrong as the bullies themselves. We need to make it cool to stand up to bullying."
Bierschwal and West approached PACER's National Bullying Prevention Center about partnering with the organization because PACER's focus and message is similar to what they wanted to convey through their video. As they talked to PACER about wanting to give kids the courage to stand up against bullying, they learned that PACER was developing its "FIND THE COURAGE" campaign. The goal of the campaign is to creatively provide students with the education and empowerment to take action. PACER has now made the video a key part of the campaign and West is donating 50 cents from every digital download of "Never Ever" to support PACER's work.
Permalink for Ohio Students Stand Against Bullying in Making the NEVER EVER Music Video
Notes:
Purchase NEVER EVER on iTunes. For every download PACER receives 50 cents.
Also:
Play the NEVER EVER music video in your classroom, club and organization and follow up with discussion questions that are listed below.

What is the main message of the video?
How did you feel when you saw those kids getting picked on?
What do you think the kids getting picked on felt?
What can having a friend or having support do for those being bullied or picked on?
How does one person showing courage impact others?
If you were being bullied, do you think it would mean more to you to have another teen or an adult stand up for you?
What are some ways to show support for someone being bullied without having to directly confront the bully?
One of the student who was bullying ultimately stands against bullying. Why do you think he does?
Why do you think bullying happens? How does the video show that?
Can a group of students change how their peers are treated?
---
Voice of Students Was Heard at the Minnesota State Capitol Students Demanding Change Rally Draws Media Attention
Posted: 11/20/2018
The voice of Minnesota students was heard Feb. 11, 2012 at the State Capitol in St. Paul as more than 100 teens wearing orange rallied to support stronger bullying prevention legislation. Organized by Students Demanding Change, with the support of PACER's National Bullying Prevention Center, the rally generated substantial media coverage. There were multiple television news reports on the Minneapolis-St. Paul affiliates of ABC, CBS, and NBC, as well as stories on Minnesota Public Radio (MPR) and in the Minneapolis "Star-Tribune" newspaper.

Students Demanding Change believes that student perspective is vital if the State Legislature is going to successfully write a new law to prevent bullying, both in schools and in social media. The current state law is just 37 words long and is one of the weakest in America.

Actor Colin Ford, one of the stars of the film "We Bought a Zoo," appeared at the rally via Skype, offering his support for the students' bullying prevention efforts. State Representative Jim Davnie (DFL- Minneapolis) addressed the crowd in the Capitol rotunda. Julie Hertzog, director of PACER's National Bullying Prevention Center, and her son David shared their personal story. And organizer Audrey Berdahl-Baldwin led the participants in a raucous chant to close the rally.

In an interview with MPR, organizer Sydney Eberwein said students would feel better if they knew state law required teachers and school administrators to take action when bullying occurs. "That provides a little more hope for students, which is what we want to accomplish," said Eberwein, one of four Mounds Park Academy students who led the rally. "We want to provide students with hope that it will get better."
Permalink for Voice of Students Was Heard at the Minnesota State Capitol Students Demanding Change Rally Draws Media Attention
Notes:
---
Send Us Your Story or Video
Submit a video, story, poem, artwork, or audio clip expressing how you feel about bullying, how you think it affects students and schools, what you have done to prevent bullying, or what others can do to prevent bullying.