Stories
Filter by story categories:
All Stories
A Dreamer Against Bullying
Posted: 5/30/2019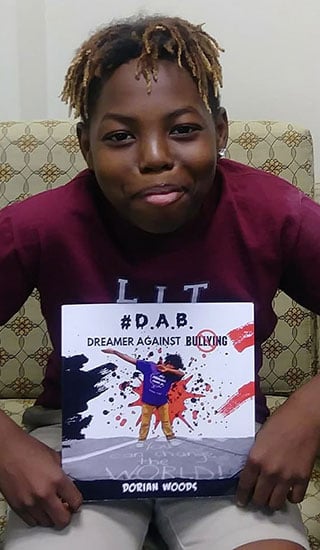 Dorian learned at a young age that it is important to care about others and to be involved in the community. When Dorian hung out with friends, they told many stories about how they were bullied. He tried to stand up for classmates at school when they were bullied, but he was discouraged when he was called a "tattletale" or told to sit down. This upset Dorian, who wanted to help. He went to his mother and asked for her advice.
With his mother's support, Dorian wrote and had published a book called DAB, Dreamers Against Bullying. He decided he wanted some of the proceeds from his book to be donated to PACER's National Bullying Prevention Center. Dorian also became the leader and organizer of Bikers Against Bullying, a youth event that holds bike nights in his community. He takes pride in speaking at several schools and has created dance skits related to bullying prevention.
Dorian wants other kids to know that bullying is wrong, and that they can stand up for themselves and others who are experiencing bullying. Dorian says, "I just want to inspire others to do good things and let them know it is okay to speak up."
Permalink for A Dreamer Against Bullying
---
Peace Rally Says No to Bullying
Posted: 5/30/2019
Lockhart School in St. Thomas has been involved with PACER's Unity Day and other bullying prevention efforts over the past few years. This April, they held a Peace Rally to create kindness and prevent bullying in their school. During the week they had an amazing time with skits, poetry, music and dance, all while emphasizing respect, tolerance and kindness. Joanne Saunders, a teacher at Lockhart Elementary who planned the rally, says, "We truly believe in our mission to help all students learn to get along, be respectful and considerate of each, and stop bullying." Read more about how Lockhart School says no to bullying and yes to peace here >>>
Permalink for Peace Rally Says No to Bullying
---
Project on Bullying and Social Pressure
Posted: 5/29/2019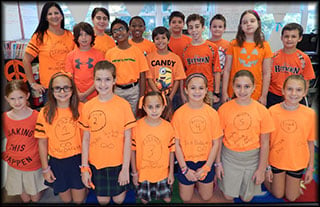 Ms. Dermer's 5th grade class at Morikami Park Elementary School in Delray Beach, FL, was thinking about peer relationships and bullying. As part of their International Baccalaureate Program they are required to complete a yearlong study on a topic of their choice; the class chose bullying and social pressures. The students wrote to PACER's National Bullying Prevention Center to help answer their questions regarding peer pressure, bullying at school, and how social media plays a part. The class has been busy all year long: they created a website, sponsored Unity Day, read the book One to all kindergarten students and did an activity called the "Wrinkled Heart," and held a "No-Uniform Day" fundraiser. As part of the "No-Uniform Day," students were allowed to pay $2 to dress casually at school. At the conclusion of this project, Ms. Dermer's class decided to donate the money raised to PACER's National Bullying Prevention Center!
Permalink for Project on Bullying and Social Pressure
---
I Have A Dream
Posted: 5/28/2019
A powerful video created by the student group "istand" at Citrus Grove Elementary in Palm City, Florida. Shawna Hixon, along with Sharon Moody and Alicia Carter, coordinates the efforts of these amazing students and shares, "People don't realize bullying occurs in elementary school. If adults took a chance to sit down with a group of kids, like we do with this group, they would realize that bullying is there and students don't know how to deal with it. The students came up with this project and I think you can see from their message when watching this video that they really care and want to help others. We are here to help teach them strategies early, before middle and high school, to deal with bullying and how to share them with others. But, most importantly, that we are here to listen, help and stand beside them when they feel so alone."
---
I Want You to Know
Posted: 5/25/2019
"I want you to know that you are not invisible, you are not forgettable; you are wonderful."
This is one of many kind lyrics in Grace Rembinski's new song titled, "I Want You to Know." She co-wrote this song, recorded in both English and Spanish, for "friends and for anyone who has ever been told that they are not good enough. To show them that no matter how awful people make you feel, how hopeless life may seem, things do get better; and many others have been in your shoes. If you believe in yourself, that's all you need and with that, anything is possible."
Grace first experienced bullying when she was in 6th grade by a group of people she considered her friends. It began when she started singing and performing in the local community theatre. Soon after, she found out they were finding any reason to make fun of her. "My "friends' would walk by me in the school halls or in our neighborhood like I wasn't there. I was being made fun of for my 'big crooked teeth,' for being a 'nerd,' for dressing differently than everyone else, and for the way my hair looked. They said I was 'different,' and I was feeling left out of everything," said Grace.
One day Grace decided she didn't deserve to be treated that way. "I was done going through the things I had gone through. I stopped trying to make excuses for the way I was, and made new friends that loved me for me. I also just didn't care what people thought anymore. This was probably the hardest thing for me to do. To embrace the things that made me 'different' and to just be myself."
After connecting with a music producer in Nashville, Grace realized that through music, she could show others that they deserve to be treated with kindness. Due to the affects bullying had on her, Grace really wanted to build a song about self-love, and she did just that with "I Want You to Know."
"Now, I have a wonderful group of friends, who unfortunately have also experienced bullying. My hope is that people, adults and kids, can listen to this song and feel inspired to be themselves."
Permalink for I Want You to Know
---
Bully Free Starts with Me
Posted: 5/20/2019
As a young girl, Haley Bird was diagnosed with a severe peanut allergy. She could not touch, breathe, or be in the same room with peanuts. As a result, she grew up knowing what she could and could not eat. As Haley got older, things began to get more difficult. Her peers would tease, call her names, and even wave candy in her face. Teachers would hang-up signs in the classroom to show that no peanuts were allowed, which made her even more of a target. When the bullying got worse, Haley's parents met with her school to implement a 504 plan to insure she was safe on school grounds.
"I always knew I was different and faced many obstacles because of my food allergy," says Haley. "However, I am fortunate that my parents have been so supportive of the issues regarding my food allergy, as well as my experiences being a target of bullying because of it. That is why it is so important to tell someone you trust if you are being bullied or if you witness bullying behavior."
For these reasons, Haley, now Miss Arkansas International 2017, chose the platform of "Bully Free Starts with Me." She is educating young children to know where to turn if they are being bullied and to not let the words, actions, or ignorance of others defeat them. She is sharing this message with as many people as she can, including Arkansas state senators, representatives, and the governor who care so much about bully prevention. "I am working as a voice with them," says Haley.
"No matter what people say to you it does not define the person you are. Yes, I was bullied in school, but I now use my story to empower those around me. If we all foster love, I believe that bullying will eventually end. One word or action can change a person's life. Stand up for those around you."
Permalink for Bully Free Starts with Me
---
NLE Explorers Tweet to Prevent Bullying
Posted: 5/20/2019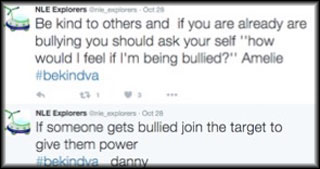 Students at Newton-Lee Elementary School took a unique approach to bullying prevention by sharing their questions, ideas, and advice about bullying on Twitter. This Twitter Chat encouraged students to support one another as they work to make their school a more accepting and inclusive environment. Check out what the NLE Explorers have to say!
Permalink for NLE Explorers Tweet to Prevent Bullying
---
Good Friends Do Not Bully
Posted: 5/15/2019
Gabriella Aguirre is a junior in high school, and is currently Miss Southeast Iowa's Outstanding Teen for 2017. She is exceptionally enthusiastic about dancing, singing, and playing the piano, along with possessing a passion for politics.
Gabriella first experienced bullying in middle school, where she was one of 16 students. Due to small class sizes, finding friends that she had things in common with was difficult. She felt isolated from both her peers and teachers because they did not agree with her beliefs. Therefore, Gabriella turned to one of her many passions, dance, to explore new friendships. Unfortunately, she was then bullied by the person she least expected.
"We were halfway through the dance season when my best friend told me she didn't want to be friends with me anymore. Throughout the rest of the season, she was talking about me behind my back and spreading rumors. I was so scared to go to dance and face her. Who knew that one of my best friends would bully me?"
Through her personal experience with bullying, Gabriella understands the importance of standing up for others, and that true friends treat each other with kindness. She felt supported by her mom, her sister, and her dance coach. When Gabriella's dance coach stood up for her, she realized what an impact that can make for someone who is going through a hard time, and that others should start standing up for what is right.
"For the longest time, I was wondering why my old best friend did not want to be my friend anymore. It was eating me up inside, but eventually I came to the conclusion that good friends do not bully. Kids today should be taught that you stand up for one another, not stand by someone that is "cool" or "popular" which could hurt others. It certainly made a difference when my dance coach stood up for me."
Gabriella has been sharing her story and talking about bullying prevention at schools in her community. She also plans to organize a community-wide bullying prevention event!
Permalink for Good Friends Do Not Bully
---
Teen author writes books to send positive messages to young children
Posted: 5/10/2019
Justine Danielle Del Monte is currently in the 11th grade in California. She really enjoys traveling and attended a semester abroad in South Africa. When she was eleven she began her writing with "Drew's Dancing Drum," and continued Drew's adventures with her second book, "Drew Meets Boo," written at age 12.
Her most recent story, "Drew and the Cyber Bully," was written at age 13, and it continues to educate children on bullying; she aims to send positive messages about acceptance to young children. She likes writing for kids as she relates to many of the struggles they face at such a young age, and her passion for writing has enabled her to turn her books into her Girl Scout Gold Award. (Justine has also earned the Bronze and Silver Girl Scout Awards.)
What started as a simple literature assignment for school turned into a book series (with discussion points), interactive Apps available in English, Spanish, and Mandarin, and an animated short film. Justine and the illustrator, Brendon King Chappell, had the honor of being keynote speakers at the Solano BookFest in 2015. Justine has done international community service in Nicaragua, Bali, Singapore, and Peru. She has also been a guest speaker at numerous schools and for Girl Scout Troops and is deeply honored that her simple stories are encouraging others to be "nice" and treat others with respect.
Justine says, "I wrote the books because bullying is so prevalent and kids need this information at a young age, far before middle school. It's also important to understand why kids bully and to see not only how they are hurting others but how they are hurting themselves." The books provide "important lessons about self-esteem and how to handle challenging situations."
Find more information at Drewsbooks.
Permalink for Teen author writes books to send positive messages to young children
---
He Finds the Hero in Himself
Posted: 5/5/2019
Caleb first experienced bullying in the 7th grade. The bullying continued into 8th grade and then into his freshman year. He was told by his peers that he would never amount to anything, but during his freshman year, Caleb's life changed.
"One day during English class, we watched a student-led bullying prevention presentation by upper classmen," Caleb said. "The presentation educated me about the different types of bullying, the effects of bullying, and how to stand up to bullying, and they showed videos of students sharing their experiences with bullying. Their motto was 'Anyone Can Be a Hero' and stand up for bullying. It was in that moment that I wondered if I could."
One year later, it was Caleb giving that same bullying prevention presentation to freshman. By the following year, he was in charge of the entire school program, including expanding the effort to the middle school where he was first bullied.
The program offers a survey about bullying at the beginning of the year to collect data. The presentation includes NCT (Name It. Claim It. Tame It) Scenarios, the students sign a Be a Hero pledge, and feedback is gathered from the freshman about what they learned, what was most effective, and what could be improved to make more of an impact.
Feedback from students has been positive, which includes: "It changed my life," "I now feel I have the courage to stand up against bullying," and "I now know that I don't have to fight bullying alone."
"Since the student-led bullying prevention presentation has been implemented, we have seen the rate of bullying dramatically go down and countless lives touched," Caleb said. "I know that there are so many young adults struggling with mental health and that the rate of bullying is growing every day, and that there are many teens out there who feel completely and utterly alone, helpless, hopeless, and powerless. I want to empower others to do incredible things with their lives, and perhaps, even more importantly, truly impact the lives of others."
It is Caleb's goal to expand this student-led program to all public schools in Portland, Oregon, and to other schools nationwide!
Permalink for He Finds the Hero in Himself
---
Send Us Your Story or Video
Submit a video, story, poem, artwork, or audio clip expressing how you feel about bullying, how you think it affects students and schools, what you have done to prevent bullying, or what others can do to prevent bullying.