Inspiration in a song
Posted: 2/12/2015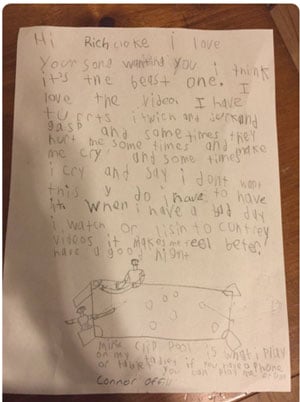 When Connor experienced bullying at school, he turned to his favorite country artist for comfort. Being able to sing along with Rich Cloke's song "Wanting You" brought this young boy with Tourette Syndrome delight. To thank Rich for all the happiness his song had given him, Connor sent him a wonderful letter.
Hi Rich Cloke
I love your song wanting you I think it's the beast one. I love the video, I have turrts, I twich and jurk and gasp and sometimes they hurt me. Some times they make me cry and some times I cry and say I don't want this. Y do I have to have it. When I have a bad day I watch or lisin to country videos it makes me feel better. Have a good night.
This message touched Rich, as he saw the joy his music brought Connor after experiencing bullying. In response to this meaningful message from Connor, Rich decided to reach out with an amazing message of his own.
Hi, Connor, it's Rich Cloke, and this is a special message just for you, because you're an awesome guy. Your letter meant a lot to me. And I was blown away by the video of you singing along to "Wanting You".
Living with Tourette's can be a pretty big challenge, especially when you get bullied. Kids bully for all sorts of reasons. But, know this, it's not your fault and you don't deserve to be treated that way. There are people you can count on for support, like your mom, your friends, teachers and other adults, and it's good to ask them to help. There are lots of people who care about you, and now I'm one of them.
I'm really proud to have a fan like you, Connor, and you should be proud, too. I want you to stay strong and believe in yourself. And when you get sad, remember that you're not alone and that everything is going to be OK. Hang in there, little buddy!
This powerful story shows that bullying is truly a community issue, as it involves students, parents, educators, and even country artists! When we all stand together, no one has to stand alone.
By: Anonymous