The Not Perfect Hat Club — Celebrating Each Child's Unique Gifts
Posted: 4/10/2015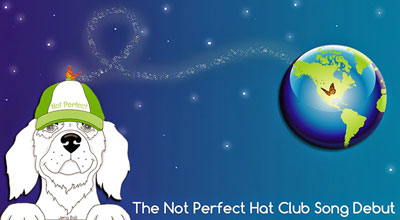 CritterKin's "Not Perfect Hat Club" is an engaging, entertaining and delightfully playful way to teach kids that perfection is not an option. It grew out of CritterKin's visits with elementary school students who repeatedly said negative things about themselves and their work. It was clear we needed to find a way to help the kids set their judgments aside and trust both themselves and the creative process.
In its first incarnation, the "Not Perfect Hat Club" was not a club at all, just a battered, green sun hat that Jena wore to class one day to make the kids laugh. When they asked why she was wearing it, she told them it was her "Not Perfect Hat" and asked them why it's important to wear one. A lively discussion followed about what it means to be "Not Perfect," in which the kids imagined and described their own "Not Perfect" hats.
The Not Perfect Hat Club has since grown into an illustrated CritterKin storybook, lesson guides and a variety of project based learning activities that encourage kids to throw perfection to the wind, trust themselves and explore their creativity.
$1 from every book CritterKin's book sold will be donated to PACER's National Bullying Prevention Center.
By: Anonymous