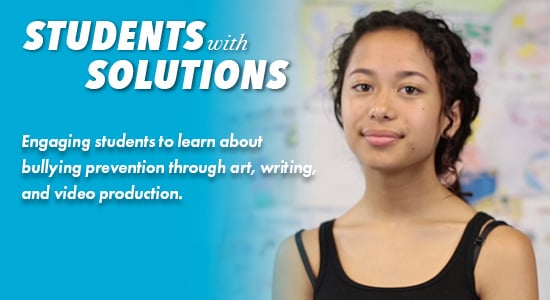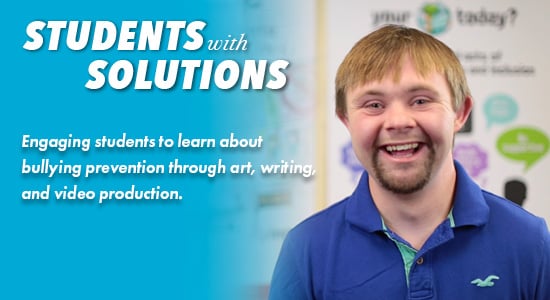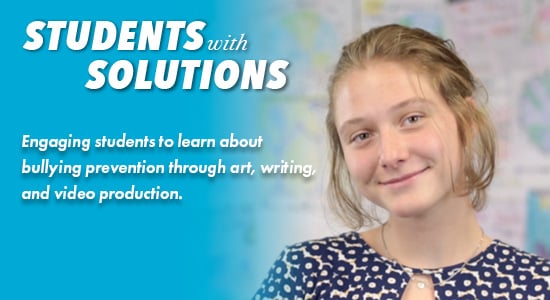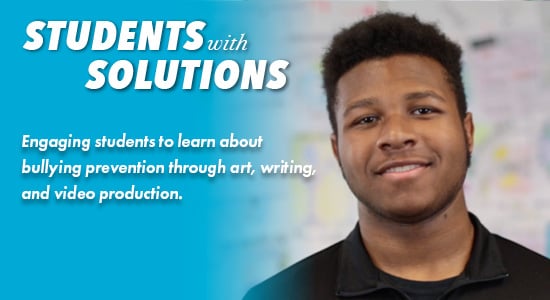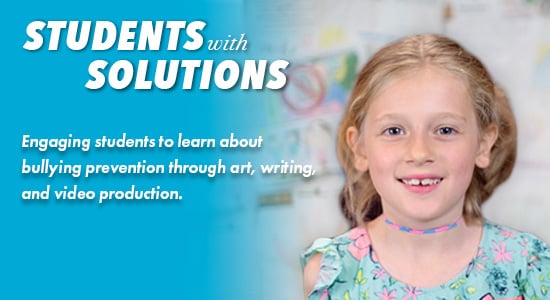 — 2023 Top Entry, Kids —
There's Always Room for One More
Grade 5 Class at Empire Public School
Waterloo, Ontario, Canada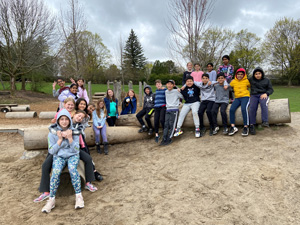 Why did we participate in the video contest?
At Empire Public School we try to encourage acceptance and inclusion and remind students when playing on the playground or working together in class that 'there's always room for one more.' Nobody wants to be left out. For the most part students at our school have created an environment where all feel welcome. However, students in P7 were experiencing some uneasy feelings of being left out and this sparked a class wide discussion about bullying. We watched some of the NBPC videos and had some lively discussion about how we could take responsibility to end bullying. When we saw the video competition, we thought it would be a great way to share our learning with others.
What impact did creating the video have on those involved?
Working on the bullying prevention videos allowed us to carry on our discussions about bullying, but more importantly it allowed us to take some action. It was empowering to watch students work together as a team to produce their individual videos and hear them share their ideas on screen. They put a lot of effort into their submissions and should be so very proud that they are standing up to bullying. Every single one of us has a responsibility to stand up to bullying.
It reminded us to not bully and that we should never bully. We had an opportunity to stop bullying around the world and learn to stop bullying and how to defend ourselves. Sadie, Grade 5
We talk about bullying because people are getting bullied and we want to prevent that from happening. People can see our video all over the world and they can try to be kinder, nicer and more. That's why we do it. Kate, Grade 5
We learned that bullying is common and no one should bully. Also that you should always be kind. Help people. Soumya, Grade 5
Creating the video reminded me and my peers what to do and what not to do. It felt good to be part of something that makes a change. Krithi, Grade 5
We learned that we have to work together. Anshita, Grade 5
We learned how bullying is very common and should be stopped! And to be kind. Juna, Grade 5
We got opportunities to learn how to stop bullying and to teach others too. We also got to use teamwork and find how others had different strengths than us. Hasan, Grade 5
We got the opportunity to do this and some of us got to the finals. It reminded us that bullying hurts us and other people around us. Ashlynn, Grade 5
We could talk about bullying and learn lots about it. We are helping people stand up. We can talk openly without being shy about bullying. Maahi, Grade 5
We worked hard and tried to make a positive video. Ameen, Grade 5
We talked about bullying and how it is bad. We thought about what we were saying. Ismaeel, Grade 5
We made this video to stop bullying because bullying is not right. This world would be so good if bullying is not here. Emad, Grade 5
I felt so happy that bullying is being solved and people were wondering what they can do. Reia, Grade 5
It was a good experience to talk about bullying openly to people you know and feel comfortable with. Also, it was great to learn about bullying in different forms and to learn how to stop it. Sophie, Grade 5
It helps to make people aware of bullying. Ayla, Grade 5
Don't ever bully. It's not funny. It hurts, so don't ever bully. Sanchit, Grade 5
It tells people who bully that it hurts more than they think. Ethan, Grade 5
It makes people feel they helped someone somewhere and that you're not a bystander. Nathan, Grade 5
I learned how to be nicer to others and myself and to stand up for myself and others. Mia, Grade 5
Our class got kinder, more respectful and strong and to stand up for themselves and others. Benny, Grade 5
It helped us understand how important anti-bullying is. Jerry, Grade 5
It tells those who bully that it hurts more than they think. Ammaar, Grade 5
It gives examples of not to bully and what to do when you see bullying. Don't be a bystander. What can YOU do to stop bullying? Jinah, Grade 5
What advice do you have for others who want to be part of making real change in the world?
We can stop bullying and you can too. We can make a difference in the world for others and learn new strategies from others. Stop bullying. Stand up. Reach out. Sadie, Grade 5
We are trying to tell them that bullying does not feel good and it hurts. We are trying to tell them to be kind, nice and so much more. And telling people that no one should be bullied. Kate, Grade 5
Always be kind and keep peace. Tell more people to be kind. Never bully or be rude, ever. Soumya, Grade 5
The best thing you can do is to never be a bystander or worse, be a bully yourself. Also, if possible, try to make peace and make change. Be an upstander. Krithi, Grade 5
Be kind to others always. Anshita, Grade 5
Always be kind and never bully. Tell more people to stop bullying and/or tell more people to stop bullies. Juna, Grade 5
Be creative, make it so that many others will be inspired by you. Give nice messages, solutions and remember, there are almost no bad ideas when everyone is on the same track. Hasan, Grade 5
Don't be scared to stand up because if someone is not treating you right, you have the right to stand up. Maahi, Grade 5
Stand up to bullies. Ameen, Grade 5
Make a video like this. Ismaeel, Grade 5
Stop Bullying! Emad, Grade 5
BEE Kind and do the right thing. Reia, Grade 5
Try to change the world with your kindness. Don't let anyone stop you. Sophie, Grade 5
Spread Kindness. Sanchit, Grade 5
Don't give up and keep going. Ethan, Grade 5
Don't be a bystander and help others who are being bullied or are struggling. Nathan, Grade 5
Don't bully. Be kind. Don't be like bullies who bully because they think they are better than everyone else. Mia, Grade 5
If you bully, it makes no one happy. If you be kind, it makes everyone happy. Benny, Grade 5
Don't give up and keep going. Jerry, Grade 5
Never give up on your dreams. Ammaar, Grade 5
Don't bully. Be kind to others. Stand up to bullies. Jinah, Grade 5