— 2023 Unity Award Recipient —
Chris Truffer
Arnold, MD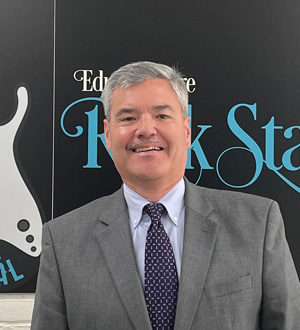 Mr. Christopher Truffer is a Regional Asst. Superintendent in the Anne Arundel County Public School system in Maryland. He is a true educational leader who facilitates and guides the bullying prevention efforts in the Arundel/Crofton/South River area. For the past five years, Mr. Truffer has chaired a district committee which focuses on bullying, specifically at the middle school level. This committee looks at data, national trends, and articles related to bullying. As a strong advocate of student voice, Mr. Truffer organizes meetings with students to ensure our committee hears directly from those we serve. His chairmanship has resulted in district wide Unity Day celebrations, School Kindness Cup Competitions, and Upstander Campaigns. Through his leadership, we are able to communicate important information regarding bullying prevention with principals and other school-based staff, ensuring systemic practices are being used with fidelity at all middle schools. Mr. Truffer's focus this year is on cyberbullying and educating parents on the healthy usage of social media.
As a result of Mr. Truffer's efforts, our school is creating safer and kinder learning environments for our students. Nominated by Shirley Jackson-Avery
Why are you personally passionate about addressing bullying and promoting inclusion?
I am personally passionate about addressing bullying and promoting inclusion because I believe that by all of us making this a priority in our schools and communities we can have students and staffs that are truly happier and able to really focus on learning and building stronger connections with one another. I also believe that we need to go deeper than inclusion and really look at accepting one another for who we are in order to minimize isolation and foster a greater sense of belonging for both students and the adults that serve them. While I have focused most of my work in this area at the middle school level I believe we can look more broadly at this as a continuum across all age groups where students can see the connection between their words and actions and the effect they have on themselves and others.
Why is it important to create a world without bullying?
Imagining a world without bullying is imagining a world with less anger, more joy, less angst and anxiety, and more happiness, less turmoil and more peace. While this may sound idealistic I do believe this is an attainable goal for all of us to strive toward. Simply making small changes in our own behavior and helping others do that same could make a huge difference in our immediate surroundings and the greater world around us. We can definitely do this!