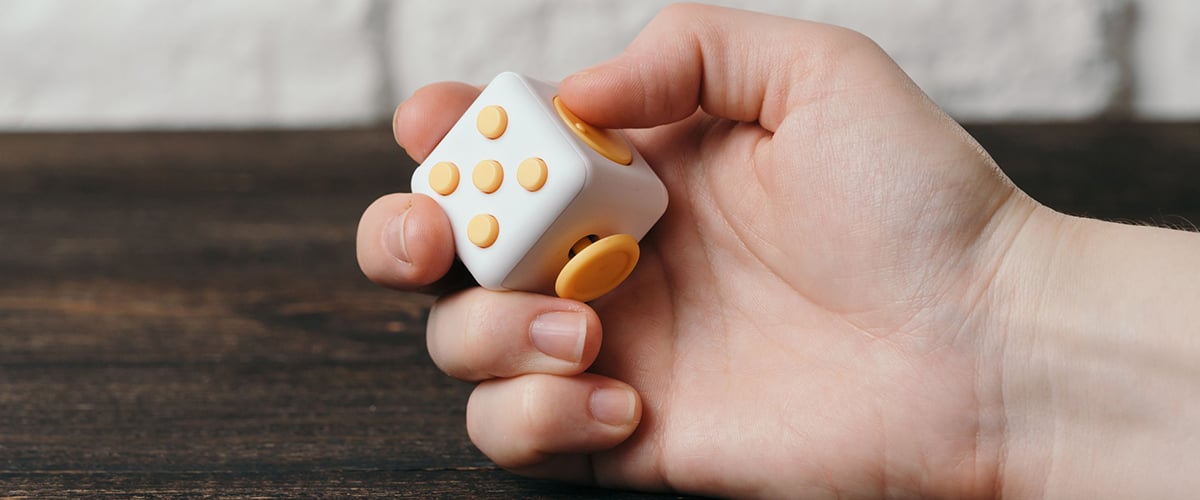 How "Fidget Toys" Are Helping Kids With ADHD
According to recent studies, fidgeting may help children who have Attention Deficit Hyperactivity Disorder (ADHD) by increasing their concentration. And now, specially-designed objects known as "fidgets" are helping them do just that. While fidgets may look like everyday toys, in reality, they're therapeutic devices — and they can have a big impact.
According to Bridget Gilormini, director of PACER Center's Simon Technology Center, "Fidgets give the user an opportunity to give their hands or bodies something to do, and allows their brain to then focus on the task at hand, such as listening to a teacher or reading."
Fidgets are especially helpful when a student needs to focus, juggle more than one task, plan work, and remember information. The right fidget can make a huge difference to someone with ADHD; just ask Emma, the mother of 10-year-old Jackson.
"The sheer number and type of fidgets is mind-boggling," Emma says.
And she's right — a fidget can be a squishy little ball, or a bendable multi-textured ruler. Clear, silky-feeling putty and bendable pencil erasers are also specially designed for fidgeting. At home, those who use their feet to fidget might use a yoga ball chair or therapy bands tied to chair legs.
"We tried several fidgets before finding a couple that work well for Jackson," says Emma. "Jackson really struggled to stay still during class. He didn't want to stick out among his classmates. They weren't shy about speaking up when they were distracted by Jackson chewing his fingers or tapping his feet on the floor."
According to his mom, Jackson hated calling this kind of attention to himself; but at the same time, these movements really helped him to concentrate.
"Since we found the right fidgets, Jackson's so much happier, and his teacher says he's doing great," Emma shares. "Last week I was at his school a little early; I was picking him up to go to an appointment. I peeked in the classroom door and saw him sitting quietly in class, focused on reading a book. He had his fidget in his lap. He was moving the connected pieces, which are covered in a soft rubberized material that's designed to feel good in his hands."
"In the car, he told me that the class had just started the fourth chapter in a book," she continues. "He told me about it in great detail – and was very excited to relate that he earned an 'A' on the quiz for the third chapter."
Fidgets aren't only useful for kids with ADHD; they can also be useful for those on the autism spectrum or with sensory disorders. In fact, Gilormini says that many adults and people without disabilities can benefit from fidgeting.
"Maybe you twirl your hair, play with your ring or doodle during a meeting," she explains. "Almost everyone fidgets at one time or another. Fidgeting is a way to use movement to help concentrate; sometimes it helps us with nervous energy."
"For those with ADHD or autism, fidgets are even more important," adds Gilormini. "They help kids concentrate, focus, and learn."
For more information about devices that help children with disabilities participate more independently within their environment at home or school, go to PACER.org/stc.