STC - Navigation Menu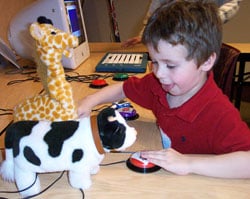 Simon Technology Center Overview
Assistive technology can be a device or service that helps children with disabilities participate more independently within their environment at home or school.
The Simon Technology Center (STC) is dedicated to making the benefits of technology more accessible to children and adults with disabilities. Through a collaborated effort involving parents, professionals, and consumers, the STC can provide numerous services for your family, as well as resources and informative answers to your questions. Since 1987, the Simon Technology Center has helped many children and adults, with a variety of disabilities, use assistive technology to enhance learning, work and independence.
---
The Simon Technology Center provides a variety of core services to help children, families, and professionals including:
The Simon Technology Center also operates several projects with specific focuses such as:
Featured Services and Projects
The STC Lending Library has launched a new modern online catalog of items!

With more than 1,900 items, the Lending Library lets you try out and borrow some of the newest educational and disability-specific software and devices on the market including:

Text-to-speech software for reading accessibility
Speech-to-text software for improved written communication
Universally designed toys for playtime accessibility and inclusion
Communication devices for communication freedom
Computer access adaptations for independence
Talking calculators for improved independence with math

The Simon Technology Center Lending Library allows you to try assistive technology before making a purchase decision and is open to Minnesota residents.  Families, educators, and consumers who become library members benefit from personalized assistance, convenient hours and services.  As a member, you can:

Receive personal assistance in selecting and checking out materials.
Try out devices and software.
Reserve, check-out, or renew items online, by phone, email or in person.
Schedule quick pick-up during regular business hours or library open hours.
Have items mailed to you for free if you live in Greater Minnesota.
Upcoming STC Workshops & Events
see the flyer

for The Science of Taste

Tech for Girls Club :

The Science of Taste

Date: Saturday, April 24, 2021 — 10:00 AM - 11:00 PM CST

Location: Online Web Streaming

Join us in this virtual Tech for Girls workshop for two hands-on experiments to explore how your senses work together to help you taste and enjoy food. Needed supplies: 1 apple, cotton ball, vanilla extract, one small pack of jelly beans (with at least 3 different flavors), 3 small bowls or cups, one kitchen towel.

see the flyer

for Part 3: Tools for Notetaking and Writing

Google Chrome for Students :

Part 3: Tools for Notetaking and Writing

Date: Tuesday, April 27, 2021 — 2:00 PM - 3:00 PM CST

Location: Online Web Streaming

This session will explore Google tools for taking notes, using dictation, and writing school papers. This workshop will be helpful for students in middle school through college.

see the flyer

for Coding Websites

Tech for Teens Club :

Coding Websites

Date: Saturday, May 1, 2021 — 10:00 AM - 11:30 AM CST

Location: Online Web Streaming

An introduction to the basics of coding for the internet. Students will create their own unique website and publish it online. This workshop is designed for all levels of coding experience.
---
The Simon Technology and its projects are generously sponsored by private donations and the following foundations: 3M, Best Buy, Boston Scientific, Donaldson Foundation, Ecolab, Fred C. & Katherine B. Andersen Foundation, Grotto Foundation, IBM, Medtronic, Minneapolis Rotary Community Service Foundation, The Minneapolis Foundation, Schulze Family Foundation, Verizon, and Xcel Energy. In kind support provided by Accenture and Target.