STC - Navigation Menu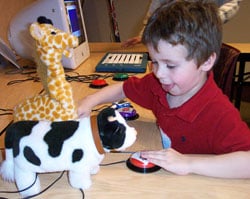 Simon Technology Center Overview
Assistive technology can be a device or service that helps children with disabilities participate more independently within their environment at home or school.
The Simon Technology Center (STC) is dedicated to making the benefits of technology more accessible to children and adults with disabilities. Through a collaborated effort involving parents, professionals, and consumers, the STC can provide numerous services for your family, as well as resources and informative answers to your questions. Since 1987, the Simon Technology Center has helped many children and adults, with a variety of disabilities, use assistive technology to enhance learning, work and independence.
---
The Simon Technology Center provides a variety of core services to help children, families, and professionals including:
The Simon Technology Center also operates several projects with specific focuses such as:
Featured Services and Projects
The STC Lending Library has launched a new modern online catalog of items!

With more than 1,900 items, the Lending Library lets you try out and borrow some of the newest educational and disability-specific software and devices on the market including:

Text-to-speech software for reading accessibility
Speech-to-text software for improved written communication
Universally designed toys for playtime accessibility and inclusion
Communication devices for communication freedom
Computer access adaptations for independence
Talking calculators for improved independence with math

The Simon Technology Center Lending Library allows you to try assistive technology before making a purchase decision and is open to Minnesota residents.  Families, educators, and consumers who become library members benefit from personalized assistance, convenient hours and services.  As a member, you can:

Receive personal assistance in selecting and checking out materials.
Try out devices and software.
Reserve, check-out, or renew items online, by phone, email or in person.
Schedule quick pick-up during regular business hours or library open hours.
Have items mailed to you for free if you live in Greater Minnesota.
Upcoming Webinars / Events / Conferences
Language Acquisition through Motor Planning (LAMP) Workshop

Date: Friday, January 11, 2019
Location: PACER Center
Fee: $119

Time: 8:30 am – 3:00 pm CT

LAMP is an augmentative alternative communication (AAC) approach designed to help communication users express themselves using a communication device. This course will cover the components of LAMP which include readiness to learn, engaging the learner, and learning language through a unique and consistent motor plan paired with an auditory signal and a natural consequence. Discussion will include how this approach addresses the core language deficits of autism, device features that are beneficial to teaching language, and how to use those features to implement LAMP components. Videos will be used to illustrate the treatment components.
Upcoming STC Workshops & Events
A Recipe for Success: A Healthy Start with Augmentative Communication at Home

Date: Thursday, November 29, 2018 — 6:00 PM - 7:30 PM

A recipe for success with Augmentative and Alternative Communication (AAC) starts with consistency and opportunity. Join us to learn how to create communication opportunities at home using AAC and how to get off to a healthy start. During this session we will practice modeling on an AAC system and review other tips and tricks to include it in your daily activities and routines. This session will be presented by Elizabeth Barry, Assistive Technology Specialist at PACER Center, and Meghan Kunz, Augmentative Communication Consultant with Prentke Romich Company (PRC).

Using Smartphones, Watches, and Wearables to Support Executive Function for All Ages

Date: Monday, December 3, 2018 — 4:00 PM - 5:30 PM

This workshop will explore ways that smart phones, smart watches, and other wearable can support executive function skills for people of all ages. Participants will learn ways to increase time awareness and focus, how to use reminders, explore tools to organize and prioritize, and discuss task initiation and completion. The tools and strategies demonstrated will benefit people with disabilities such as ADHD, executive function disorder, autism spectrum disorder, and blind or low vision.

see the flyer

for Artbots – Part II

Tech for Girls Club :

Artbots – Part II

Date: Saturday, December 8, 2018 — 10:00 AM - 11:30 AM

This workshop expands on skills learned in the November Tech for Girls workshop. Girls with disabilities, ages 11-18, will continue to learn how to code the Hummingbird robot. They will build a creature out of recycled materials and craft supplies. Once their creature is built, girls will make it come alive! This workshop is led by TPT, Twin Cities Public Television. Attending the November workshop is encouraged but not required. No programming experience is necessary; all skill levels are welcome.

see the flyer

for Building Websites

Tech for Teens Club :

Building Websites

Date: Saturday, December 15, 2018 — 10:00 AM - 12:00 PM

This workshop will introduce teens with disabilities to the basics of coding for the internet with HTML and CSS. Students will create their own unique website and publish it on the Internet using Mozilla Thimble. Students will be able to experiment with code and see the results online in real time. This workshop is designed for students with basic computer skills, but no previous coding knowledge is required. Students of all abilities are encouraged to attend.

see the flyer

for A Star Wars 3D Printed Universe

Tech for Teens Club :

A Star Wars 3D Printed Universe

Date: Saturday, January 12, 2019 — 10:00 AM - 11:30 AM

A guest speaker from a galaxy far far away will present the basics behind 3D printing. Teens with disabilities are invited to watch a 3D print from start to finish and to experiment with the 3D design software called SketchUp. Students of all abilities are encouraged to attend. Curiosity is the only requirement.

see the flyer

for Building a Robot

Tech for Teens Club :

Building a Robot

Date: Saturday, February 9, 2019 — 10:00 AM - 12:00 PM

In this workshop, teens with disabilities will assemble a robot and program it to respond to the environment. Students will learn about the entire process of building a robot, from assembly to executing code. This workshop is designed for students with basic computer skills but no previous coding knowledge is required. Students of all abilities are encouraged to attend.
---
The Simon Technology and its projects are generously sponsored by private donations and the following foundations: 3M, Best Buy, Boston Scientific, Donaldson Foundation, Ecolab, Fred C. & Katherine B. Andersen Foundation, Grotto Foundation, IBM, Medtronic, Minneapolis Rotary Community Service Foundation, The Minneapolis Foundation, Schulze Family Foundation, Verizon, and Xcel Energy. In kind support provided by Accenture and Target.