STC - Navigation Menu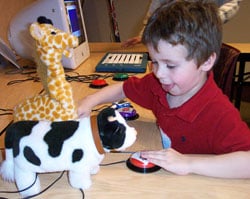 Simon Technology Center Overview
Assistive technology can be a device or service that helps children with disabilities participate more independently within their environment at home or school.
The Simon Technology Center (STC) is dedicated to making the benefits of technology more accessible to children and adults with disabilities. Through a collaborated effort involving parents, professionals, and consumers, the STC can provide numerous services for your family, as well as resources and informative answers to your questions. Since 1987, the Simon Technology Center has helped many children and adults, with a variety of disabilities, use assistive technology to enhance learning, work and independence.
---
The Simon Technology Center provides a variety of core services to help children, families, and professionals including:
The Simon Technology Center also operates several projects with specific focuses such as:
New in the STC Library
PACER's Simon Technology Center is thrilled to add some new, cutting edge technology.
VGo Robot
UbiDuo Wireless Face to Face Communicato
Tobii Eye Mobile.
Featured Services and Projects
The STC Lending Library has launched a new modern online catalog of items!

With more than 1,900 items, the Lending Library lets you try out and borrow some of the newest educational and disability-specific software and devices on the market including:

Text-to-speech software for reading accessibility
Speech-to-text software for improved written communication
Universally designed toys for playtime accessibility and inclusion
Communication devices for communication freedom
Computer access adaptations for independence
Talking calculators for improved independence with math

The Simon Technology Center Lending Library allows you to try assistive technology before making a purchase decision and is open to Minnesota residents.  Families, educators, and consumers who become library members benefit from personalized assistance, convenient hours and services.  As a member, you can:

Receive personal assistance in selecting and checking out materials.
Try out devices and software.
Reserve, check-out, or renew items online, by phone, email or in person.
Schedule quick pick-up during regular business hours or library open hours.
Have items mailed to you for free if you live in Greater Minnesota.
Upcoming Webinars / Events / Conferences
Study Skills 3: Managing Focus and Attention

Date: Thursday, May 3, 2018

Time: 11:30 am – 12:30 pm CT

This CTD event is the third of a 3-part series focusing on study skills. Managing one's focus and attention can be challenging for students of all ages, and yet often crucial for academic success. This webinar will cover strategies for boosting one's focus. Demonstrations will include timers that support focus, apps to track smartphone use, and tools to manage online distractions. The presenters will also discuss methods and strategies to support attention that incorporate the visual, auditory, tactile, and vestibular senses. Livestream only event.

The Center on Technology and Disability is handling registrations for this event. Register here.

Assistive Technology: What it is and How to Use it

Date: Wednesday, May 16, 2018

Time: 11:00 am – 12:00 pm CT

Students with disabilities can benefit from using assistive technology (AT) to support a wide variety of skills. But what is assistive technology and how do you select and appropriately use it? In this introductory CTD event, we'll cover what assistive technology is, the legal consideration process for choosing assistive technology and some of the different types of tools that are available for students of all ages. Livestream only event.

The Center on Technology and Disability is handling registrations for this event. Register here.
Upcoming STC Workshops & Events
see the flyer

for Digging for Dinosaurs

Tech for Girls Club :

Digging for Dinosaurs

Date: Saturday, May 19, 2018 — 10:00 AM - 11:30 AM

Join us to see what it's like to be a paleontologist! Middle school girls with disabilities will go on their own dinosaur dig to uncover fossils and put them together to create a complete dinosaur skeleton. Participants will learn about dinosaurs and the science behind paleontology. Visit the

Tech for Girls Club

webpage for additional summer sessions.

see the flyer

for Lego Robotics

Tech for Girls Club :

Lego Robotics

Date: Saturday, June 02, 2018 — 10:00 AM - 11:30 AM

Building with Lego is a lot of fun, but have you ever tried to make a motorized machine using the colorful blocks? Don't miss this exciting hands-on workshop for middle school girls with disabilities focusing on building techniques, basic programming, and simple machines using Lego. Led by the Green Girls, a team of middle school students from Eagan Robotics, this workshop will give participants the opportunity to design and build something cool that moves on its own.

APPY Hour :

Apps for Independent Living – Managing Money, Budgets, and Shopping

Date: Tuesday, June 05, 2018 — 1:00 PM - 2:00 PM

This "APPy Hour" will be a fast-paced overview of mobile apps that can help youth with disabilities live on their own. The focus will be on the essential independent living skills of creating a budget, managing money, and shopping for groceries. A variety of apps will be discussed for both smart phone and tablet devices (including Apple's iOS and Android). The presentation will include demonstrations of as many apps as time allows. Apps will include money calculators, tracking of money spent, managing a budget, and creating a shopping list.

Tech for Teens Club :

A Star Wars 3D Printed Universe

Date: Saturday, July 14, 2018 — 10:00 AM - 11:30 AM

A guest speaker from a galaxy far far away will present the basics behind 3D printing. Teens with disabilities are invited to watch a 3D print from start to finish and to experiment with the 3D design software called SketchUp. Students of all abilities are encouraged to attend. Curiosity is the only requirement.

see the flyer

for Creatures of the Ocean

Tech for Girls Club :

Creatures of the Ocean

Date: Saturday, July 14, 2018 — 10:00 AM - 11:30 AM

Roll up your sleeves and get your hands wet while learning about the ocean! Middle school girls with disabilities will learn about the differences between fresh water and salt water, ocean zones, and what creatures can be found in each zone. They will take a virtual field trip to explore the ocean and make their own ocean in a bottle.

Tech for Teens Club :

Building a Robot

Date: Saturday, August 18, 2018 — 10:00 AM - 12:00 PM

In this workshop, teens with disabilities will assemble a robot and program it to respond to the environment. Students will learn about the entire process of building a robot, from assembly to executing code. This workshop is designed for students with basic computer skills but no previous coding knowledge is required. Students of all abilities are encouraged to attend.
---
The Simon Technology and its projects are generously sponsored by private donations and the following foundations: 3M, Best Buy, Boston Scientific, Donaldson Foundation, Ecolab, Fred C. & Katherine B. Andersen Foundation, Grotto Foundation, IBM, Medtronic, Minneapolis Rotary Community Service Foundation, The Minneapolis Foundation, Schulze Family Foundation, Verizon, and Xcel Energy. In kind support provided by Accenture and Target.