Moving toward a kinder, more accepting and more inclusive world.
Join us next year!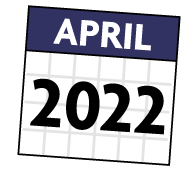 Congratulations and thank you to everyone who supported the April 2021 event. Collectively, you ran, walked, rolled 3.5 times around the world. Every mile symbolically moved us one closer to creating a world without bullying and one that is a little kinder, more accepting, and more inclusive for all.
See more exciting highlights from the 2021 event .
Register
Registration for the April 2021 event is now closed.
Please plan to join PACER's National Bullying Prevention Center in April 2022 for the VIRTUAL Run, Walk, Roll Against Bullying.
Go Farther Together Day
Celebrating every step taken to create a kinder, more accepting and more inclusive world.
Held the 3rd or 4th Saturday in April
A day to support each other in reaching the goal of circling the world and to go even farther.
Everyone is encouraged to:
Run, walk, roll a mile or more
Enter your miles (link is sent with registration)
Share on social media how you run, walk, roll with a post
With your important support, we all go farther together.
Event Merchandise
Orders for 2021 Merchandise are now closed.
Order custom designed t-shirts, bandanas and wristbands to show everyone that "we can go farther together" to create a world without bullying, plus your purchase supports the important work of PACER's National Bullying Prevention Center as proceeds from sales help provide free resources to students, families, and educators.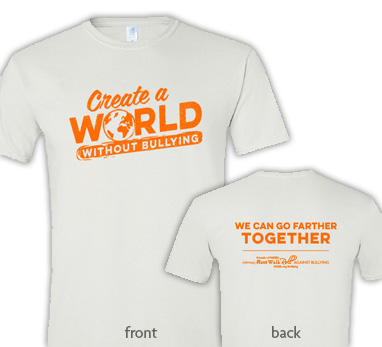 T-shirt, $25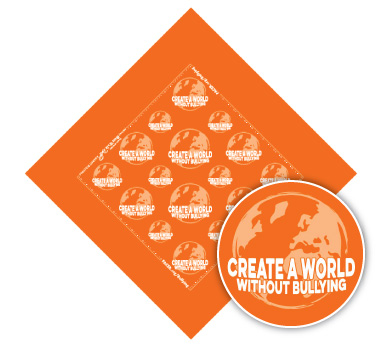 Bandana, $10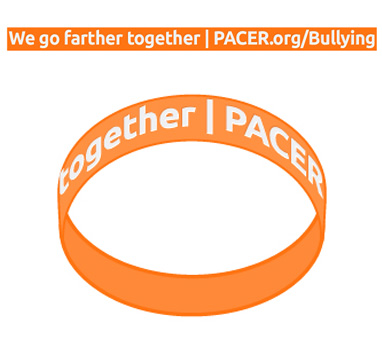 Wristband, $5
Pricing
Items available for individual purchase, featuring:
T-shirt, $25
Bandana, $10
Wristband, $5
Special offers include: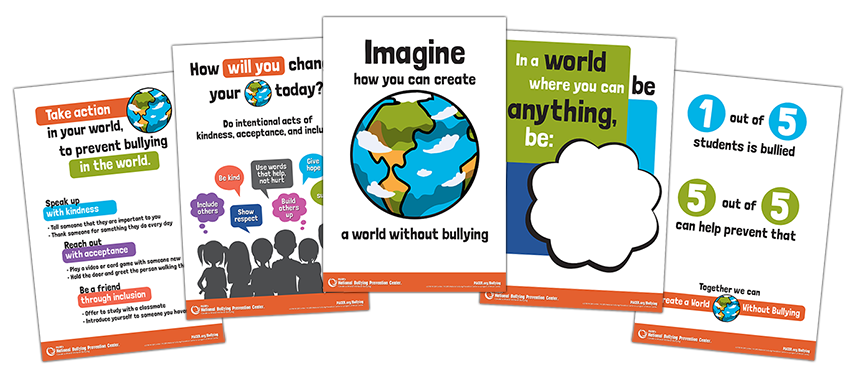 A special package is available of all three items - t-shirt, bandana, and wristband - for $30. To celebrate reaching our initial goal of 24,901 miles, we will be including a FREE 5-poster series in all orders placed through April 30.
Package of 10 wristbands for $25.
All prices include shipping.
Order Information
Available through April 30
Most orders arrive within 3 business days after ship date
Can ship only within the U.S.
All items for this event are custom made per your order, no returns or exchanges
All sales are final
Ways to Support
Share
Post photos of how you are participating and tag #VirtualRWR.
Donate
While registration for the event is free to allow everyone to participate, donations and fundraising are encouraged and appreciated. Participants can contribute $25, $50, $100, or more. At each level of giving, you'll be supporting the important work of PACER's National Bullying Prevention Center and helping to provide free resources to students, families, and educators.
Fundraise
Team members pledge to contribute an amount per mile or for total miles
Ask a business to provide a donation based on mileage goal
Become a Sponsor
You are invited to become a sponsor for Friends of PACER's Annual Run, Walk, Roll Against Bullying!
Sponsorship is a great opportunity to reach a nationwide audience of students, parents, educators, and communities by showing that you care about students' emotional and physical well-being at school and in the community. Become a sponsor of this year's nationwide event to help prevent bullying and promote kindness, acceptance, and inclusion.
Thank you to our 2021 Sponsors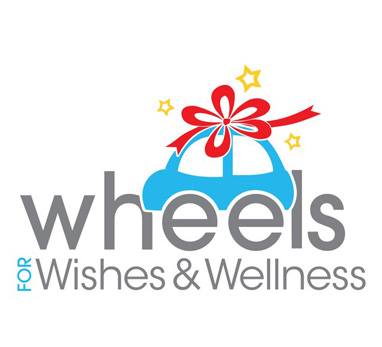 Presenting Sponsor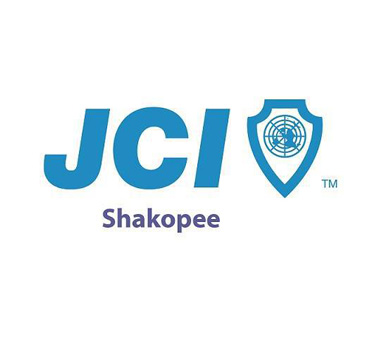 Contributing Sponsor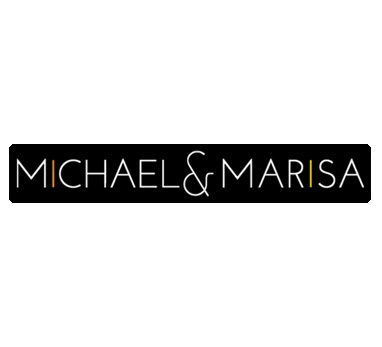 Contributing Sponsor
For more information on corporate and individual sponsorships, please contact Bailey Huston: [email protected]
FAQs
When should I participate?
Your mileage can be done anytime! We suggest creating a goal of how many miles that you want to add towards our collective total and then complete them when you can! Whether you "move" one day or every day, every mile matters!
As a team lead, how can I add additional team members?
As a team lead, there are a few options on how you can add additional team members. If team members want to get event updates via email and access to the registrant's page, then either (1) when creating a team, leads can enter additional team members names and emails or (2) individual team members can also fill out the registration, choose the option to join a current team and then enter their team name. If you have individuals on your team that do not want their email shared (such as students in your class), you can just share the link to the Google Form for tracking with them directly to log their miles.
How often do I need to record mileage?
Record mileage at your convenience, once a day, once a week, or all together at the end of the month really anytime, do what works best for you. We will be sending out weekly updates about the current overall event mileage, as well as updating a tracker on our website!
Once I create a team, when will I see our team name in the Google Form?
The team names are added manually into our Google Form, so you should see your team name added within 24 - 48 hours of creating a team. If you do not see your team name after that, please email [email protected]
Since 2010, Run, Walk, Roll Against Bullying events have been held in person during National Bullying Prevention Month in schools, businesses, and communities across the country.
A special shout out to CustomInk for their continued support of Run, Walk, Roll Against Bullying. Thanks for the shirts!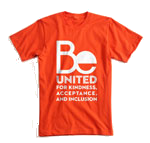 Wear ORANGE on UNITY DAY, Wednesday, Oct. 19!
CustomInk launches its 6th annual "Be Good to Each Other" T-shirt campaign in support of PACER's National Bullying Prevention Center.