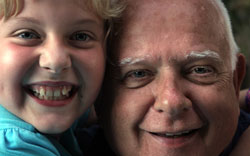 "I was overjoyed to walk into a room of people who understood how I felt without explanation. No one knows as well as someone who's been there."

- A Minnesota grandparent of a child with a disability
PACER's Grandparent Group reflects PACER's mission to improve and expand opportunities that enhance the quality of life for children and young adults with disabilities and their families. While there are services in the community to meet the needs of children and parents, the grandparents are often an underserved population. PACER Center recognizes that a grandparent's life is impacted by the birth of a child with a disability.
Grandparents can influence a family's adjustment as well. They are often called upon to provide support to the entire family. They serve many purposes for a child that no parent can fulfill, and they can lend both generations the strength and love of the extended family. To be effective supporters, grandparents must first have their own needs and concerns addressed. Grandparents have the potential to be each other's best resources.
Goals
To support, inform and empower grandparents to act as effective advocates for their grandchildren with special needs.
To meet other grandparents of children with special needs and share joy, concerns, grief, and common interests.
To learn helpful strategies that enable grandparents to be helpful to their children and families, and to encourage communication between generations.
To provide support, both physical and emotional, to our children - the parents of children with disabilities, thus enhancing the grandparenting role.
To learn about resources available for children with disabilities and families.
Monthly Group Meetings
Grandparents meet via the internet as a group from 6:30 pm to 8 pm on the third Tuesday of each month from September to May.
They share concerns, proud moments and grief with other grandparents who are in a unique position to empathize. A special speaker on topics of interest presents for a portion of each meeting. This group offers grandparents opportunities to discuss the impact of their grandchild's disability on them and the entire family, and to obtain up-to-date information about what are their grandchild's rights and opportunities. Most importantly, grandparents have a chance to meet other grandparents who share their unique concerns.
Join The Group
Contact PACER Center at 952-838-9000 or email us at [email protected] for more information about when the Grandparent Group meets.