Our Commitment
Part of PACER Center's commitment to children with disabilities includes ensuring that the state and federal laws protecting the rights of people with disabilities remain strong. PACER works in coalition with other disability organizations to support special education laws and other related legislation.
Print Version
2020 State Legislative Priorities
Reducing Barriers to Conciliation Conferences
Conciliation conferences have been an extremely successful, efficient, and cost-effective way to resolve disagreements between parents and Individualized Education Program (IEP) teams. PACER supports legislation that would reaffirm districts' responsibilities to offer conciliation conferences when a parent objects to a proposal.
Removing Barriers to Use of Private Nurses in Schools
Students with complex medical needs require the same level of care at school that they receive at home. PACER supports a requirement that school districts allow private nurses to accompany students to school when deemed medically necessary, at no cost to the school.
Decreasing Exclusionary Discipline Practices
PACER supports legislations that promotes increased use of positive behavioral interventions and decreased use of suspensions, expulsions, and seclusion.
Support Training Time for Paraprofessionals
PACER supports increased professional development and training time for paraprofessionals so they can better understand students' needs and help improve student success.
Increasing School-Based Mental Health Services
PACER supports initiatives that increase student access to school support staff and mental health services.
Ensuring Adequate Funding for Special Education
PACER seeks increased state funding to ensure that the nearly one out of five Minnesota students who qualify for and receive special education services are well prepared to become an integral part of the Minnesota's future labor force.
Supporting Employment and Independent Living for Young Adults with Disabilities
PACER supports policies that improve young adults with disabilities' access to postsecondary education, employment, and housing opportunities that increase their capacity to live as independently as possibly in community settings.
Resources for Parents
Video: Working for Change Using the Power of Personal Story
When parents try to improve services for all children with disabilities, not just their own child,—this is called advocating for systems change. This webinar will explain how parents of children with disabilities can help change systems by telling their own personal stories. By sharing a personal story with the right people, parents can help improve services and supports for children with disabilities and their families.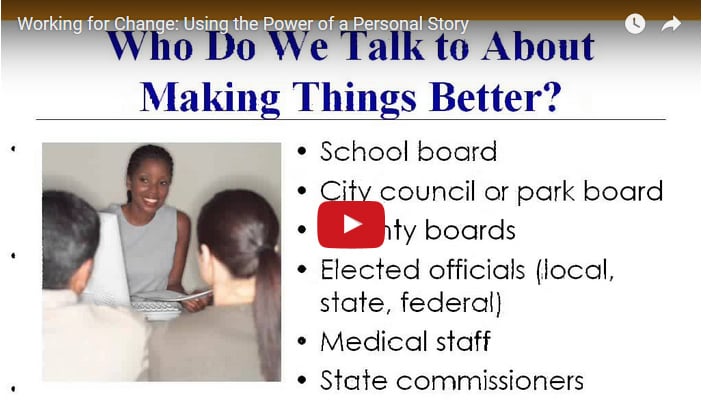 ---
This page paid for with private funds