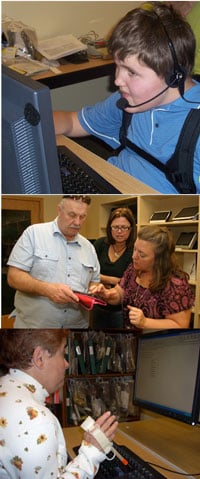 Individualized Training Sessions
Do you have a software program, app, tablet, augmentative and alternative communication device, or piece of computer hardware and need help exploring how to use it? PACER's Simon Technology Center can help! From taking the technology out of the box to learning how to customize sophisticated software, PACER's specialists can provide the one-on-one support you need to learn how to maximize your potential with assistive technology. Individualized trainings are intended for people who currently own a piece of technology and need support in learning how to use it. These trainings are customized to meet individual needs whether the user is a beginner or an advanced user of technology.
Comments from others on Individualized Training Sessions:
"You have no idea how much you helped me. Now that I have the basics, I am off and running. You showed me that the program is not complicated, and it definitely is easy. I wish I had come to you sooner instead of worrying about my lack of understanding of this program for so long. Thank you so much for all your help and patience."
– Mother of an adult who uses an augmentative and alternative communication app for speech

"Thank you! The specialist who worked with us was well-prepared and talked in an organized and understandable way. The software program we came in for training on had been sitting for a year unused, but since our session with you our daughter and I have both been customizing the software and have much more confidence about how to use the program. Now we have a powerful tool to help my daughter access information and to be able to express herself. Thumbs up the whole way around!"
– Mother of a daughter with a learning disability
To learn more about how the Simon Technology Center can help you develop your technology skills through an Individualized Training, call 952-838-9000 or complete the Individualized Training Application. Individualized Trainings are $50 per hour, and the number of attendees is limited to three per session.
Individualized Training Application