In The News
Posted: 3/2/2017
Congratulations to Eloise, who was recognized as a distinguished finalist in the Prudential Spirit of Community Awards for her community service work. Eloise first connected with PACER's National Bullying Prevention Center following her own experience with bullying. She interned with PACER in the summer of 2016, where she created "Ask Jamie," an advice column that offers advice and support to teens about bullying. She continues to respond to the hundreds of students that write in with questions about bullying. Special thanks to Eloise for all of her continued work on this important issue!
NBPC marks Eating Disorders Awareness Week
Posted: 2/27/2017
PACER's National Bullying Prevention Center is supporting National Eating Disorders Awareness Week 2017, which takes place Sunday, February 26 through Saturday, March 4.
Spearheaded by the National Eating Disorders Association, the goal of National Eating Disorders Awareness (#NEDAwareness) Week is to shine the spotlight on eating disorders and put life-saving resources into the hands of those in need. This year's theme is "It's Time to Talk About It."
NEDA is encouraging everyone to get screened for an eating disorder. Eating disorders have the highest mortality rate of any mental disorder and these illnesses often hide in plain sight. But recovery is possible and early intervention greatly improves the chances of success.
A three-minute screening, as well as additional resources, are available at www.nedawareness.org.
Clarisonic joins the bullying prevention cause by supporting PACER's National Bullying Prevention Center
Posted: 2/9/2017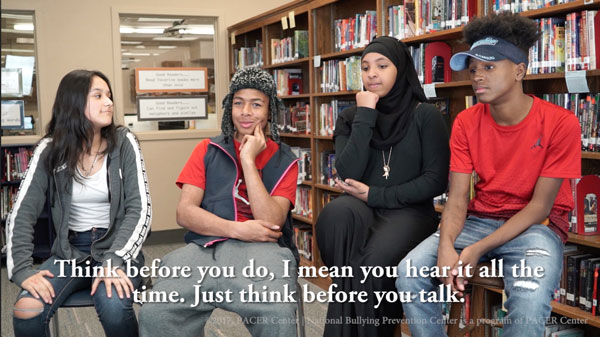 Clarisonic, the creator of the most recommended skin cleansing devices by U.S. dermatologists, was founded with the belief that healthy, beautiful-looking skin can help people be their most confident selves.
In an effort to help address bullying, Clarisonic has made a commitment to support PACER's National Bullying Prevention Center – encouraging young people to love the skin they're in, and to be confident advocates for themselves and others.
"PACER has made an incredible impact on countless kids across the country and all of us at Clarisonic are thrilled to help support its remarkable bullying prevention programs," said Dr. Robb Akridge, co-founder of Clarisonic.
Paula Goldberg, Executive Director of PACER Center shared, "The support of Clarisonic is appreciated as it allows the opportunity to reach out to a broader audience with the important message of what all of us can do to help prevent bullying."
The relationship between Clarisonic and PACER's National Bullying Prevention Center will kick off with the Students with Solutions campaign in early 2017, which engages students to use art and writing to creatively think through ways to prevent bullying and be supportive of peers being bullied. In addition, the relationship will focus on other initiatives designed to educate and provide students with information and resources to build a culture defined by kindness, acceptance, and inclusion.
Singer/songwriter Laura Michelle donating profits to PACER's NBPC
Posted: 12/27/2016
Pop singer and songwriter Laura Michelle has released a tender and serene medley of "Silent Night" and "Hallelujah" for fans just before the holiday season. Proceeds from the sale of all downloads will go to PACER's National Bullying Prevention Center.
The accompanying video for "Silent Night/Hallelujah" features personal photos of the singer taken throughout her childhood and closes with an image of her father, who died when she was 15 years old yet continues to influence her work. In less than a week, the video has amassed nearly 900,000 views.
Laura is glad to partner with PACER's National Bullying Prevention Center.
"I spent time with an amazing group of high school students and the Los Angeles associate for PACER's Bullying Prevention Center at a recent concert of mine, and it really reinforced the importance of what PACER does," she said. "I fell in love with the service that PACER provides and want to support them in every way possible."
"Silent Night/Hallelujah" delivers a message of inner strength, but with an intensity and somber earnest that is unlike her earlier work. The song is available on iTunes for $0.99.
For information about Laura Michelle, visit www.lauramichelle.com.
NBPC applauds Wisconsin school for bullying prevention initiatives
Posted: 12/15/2016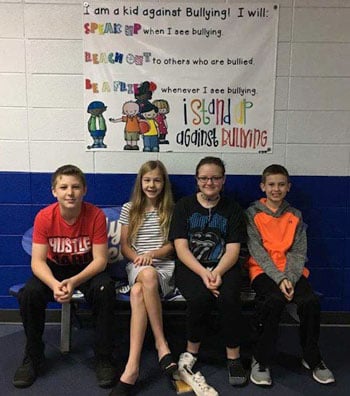 Riverview School in Silver Lake, Wisc., received a $1,000 mini-grant from the Wisconsin Department of Public Instruction to install an outdoor buddy bench. The Buddy Bench was first introduced to the school in October 2015 as part of PACER's National Bullying Prevention Month, according to an article on MyKenoshaCounty.com.
Students and faculty planned for the purchase of the Buddy Bench last November, developed an assembly for K-4 students, and planned anti-bullying activities throughout the school year.
Activities included spirit wear Friendship Fridays, a poster contest, all-school assembly on bullying prevention, a parent presentation on bullying prevention and a school-wide "Stand Up Against Bullying Pledge," provided by PACER's Kids Against Bullying website.