In The News
Gov. Mark Dayton proclaims October as Bullying Prevention Month
Posted: 9/27/2016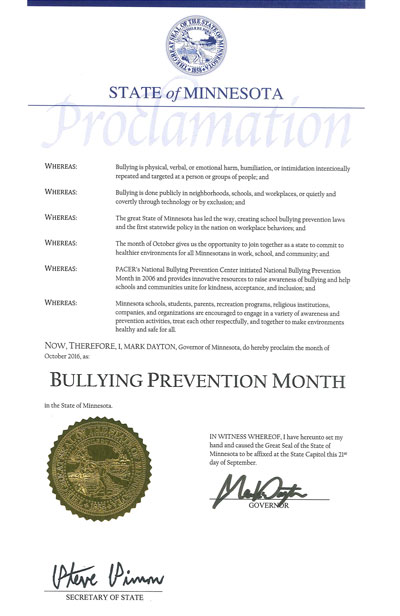 Minnesota Gov. Mark Dayton has proclaimed October to be Bullying Prevention Month. The proclamation acknowledges PACER's National Bullying Prevention Center and its National Bullying Prevention Month, which was initiated in 2006. It further recognizes PACER's "innovative resources to raise awareness of bullying, and help schools and communities unite for kindness, acceptance, and inclusion."
The governor's proclamation encourages students, parents, schools, companies, and organizations to engage in a variety of awareness and prevention activities, treat each other respectfully, and make environments "healthy and safe for all." National Bullying Prevention Month is a worldwide campaign that takes place each October.
NBPC contributes to Reader's Digest article
Posted: 9/19/2016
PACER's National Bullying Prevention Center contributed to a recent Reader's Digest article titled
"10 Silent Signs Your Child is Being Bullied."
NBPC Associate Bailey Lindgren was one of the experts who described several behaviors that can be a red flag for parents. Among the behaviors that can be indicative of bullying are a reluctance to go to school, a change in friendships, trouble sleeping, and an obsession or withdrawal from devices. "If your child is not as talkative as they normally are, or if they go straight to their room after school, those could be things to look out for," Lindgren says.
The basics about bullying of students with disabilities
Posted: 8/24/2016
The latest edition of Disability Connection, an email newsletter from Disability.gov, provides "10 Things to Know Before Going Back to School." On the list is the basics about bullying, particularly the bullying of students with disabilities.
The newsletter cites PACER's National Bullying Prevention Center and the information it provides about this issue. It encourages parents to teach children to recognize the signs of bullying and take steps to learn about bullying and disabilities.
Children with disabilities are two to three times more likely to be bullied than their nondisabled peers. PACER's National Bullying Prevention Center offers valuable information, such as statistics, rights and policies, tools for self-advocacy and peer advocacy, guidelines for using person first language, and activities and resources.
Disability.gov is the federal government website for comprehensive information about disability-related programs, services, policies, laws, and regulations.
Federal Bullying Prevention Summit
Posted: 8/18/2016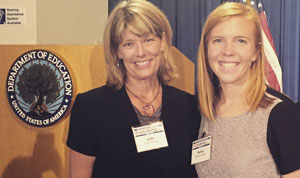 PACER's National Bullying Prevention Center (NBPC) was represented at the 2016 Federal Bullying Prevention Summit on Aug. 12 in Washington, D.C. The summit was titled "Keeping Kids Safe: Promoting Tolerance and Inclusion Among Students to Prevent Bullying."
This year, the summit put a special emphasis on the issues facing transgender youth, Muslim and Sikh students, and students with disabilities. NBPC Director Julie Hertzog spoke at the summit as part of a panel titled "Supports, Interventions and Best Practices to Prevent Bullying of Students with Disabilities."
"The presentation brought to light the important issues faced by students with disabilities, who are two to three times more likely to be bullied than their nondisabled peers," Hertzog said. "I was honored to discuss the tools and solutions that PACER provides, such as social inclusion strategies, self-advocacy, and peer advocacy."
The summit was sponsored by the Federal Partners in Bullying Prevention Steering Committee, which includes representatives from the U.S. Departments of Agriculture, Defense, Education, Health and Human Services, Interior, and Justice, as well as the Federal Trade Commission and the White House Initiative on Asian Americans and Pacific Islanders.
PACER's National Bullying Prevention Center has created a new web module with information specific to students with disabilities. For information, visit PACER.org/bullying/resources/students-with-disabilities.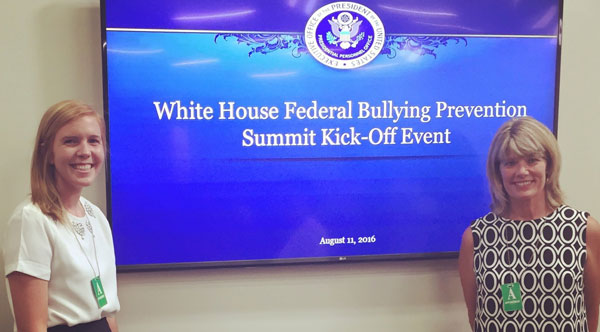 YouTube star honored for work with PACER's NBPC
Posted: 8/18/2016
YouTube star Bethany Mota was honored on Aug. 16 at Variety's Power of Young Hollywood event for her work with PACER's National Bullying Prevention Center. Bethany has spoken at middle and high schools in the Los Angeles area, sharing her own experience with cyberbullying and empowering students to take action against bullying. Mota understands that her voice can be powerful, especially among her teen and preteen fans. She currently has 10 million subscribers on her YouTube channel, 3 million on Twitter, and 5 million on Instagram.
Along with being recognized at the Hollywood event, she is featured in Variety's August issue.
"For me, if I'm not inspiring or helping in some way, I'm not happy," Mota told the magazine.
Mota's YouTube videos feature DIY tips and tricks, and she has a line of school supplies at Target. She also has a line of clothing, accessories, and fragrance line at Aéropostale, an upcoming book, and a budding music career.
Mota's Variety article can be read online. PACER thanks Bethany Mota for her continued support of the National Bullying Prevention Center!
Wear Orange and Be United
Posted: 8/2/2016
CustomInk, the leader in custom apparel and accessories for groups and events, has partnered with PACER's National Bullying Prevention Center to create an exclusive t-shirt marking the 10th anniversary of National Bullying Prevention Month. As part of the sixth annual Be Good to Each Other campaign, between August 1 and October 31, CustomInk will donate profits (up to $100,000) from the sales of bullying prevention t-shirts to PACER.
For more information and to order your official shirt go here!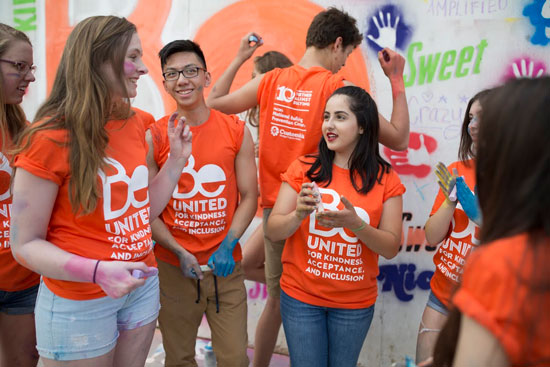 Vote for PACER's NBPC during election season
Posted: 7/26/2016
Dr. Seuss's beloved character, The Cat in the Hat, has declared his candidacy for President of the United States in the 2016 election, with Thing 1 and Thing 2 as his running mates. As part of his campaign, Dr. Seuss Enterprises and Random House Children's Books have partnered to support national charities, including PACER's National Bullying Prevention Center!
The campaign represents all that Dr. Seuss believed about children — that they have the intellect, imagination, and power to impact our world positively, while also having fun doing so. As the Kids Candidate, the Cat in the Hat will show kids that every vote counts and every voice matters!
Votes can be cast for the Cat in the Hat to work with one of his supporters and their selected cause, and Random House Children's Books and Dr. Seuss Enterprises will make a $10,000 donation to the winning charity. Vote for Kindness for All to support PACER's National Bullying Prevention Center, with Horton from Horton Hears A Who! Voting will run through Election Day, Nov. 8.
For information and to download a ballot, visit www.CatInHat4Prez.com.
T-shirt campaign intends to redefine normal
Posted: 5/24/2016
Colleen Stine and her business partner Colleen Berkowitz have launched a campaign called "Let's Redefine Normal" through their business, Mama Said Tees. They are selling T-shirts with the word "normal" printed on them.
Stine and Berkowitz imagine a world without stereotypes or discrimination — a world where it is normal to be different.
"We're not saying you have to support other people's decisions, we just want you to be nice and not judge," Stine told a weekly Indiana newspaper.
The video for "Let's Redefine Normal" can be found on mama-said-tees.myshopify.com. The video features families of all types — adopted, biracial, same-sex, as well as parents and children with disabilities — all being asked to define what normal means to them.
"Through this campaign, we want people not just to talk about the golden rule, treat others the way you want to be treated, we want them to really do that," Stine says in the video.
Berkowitz adds, "We don't want you to be basic, we don't want you to be like everybody else. We want you to embrace your uniqueness."
A percentage of sales of the Normal T-shirts will go to PACER Center's National Bullying Prevention Center.
Book the Ninja Turtles' lair and support PACER's NBPC
Posted: 5/23/2016
Complete with professional graffiti art, New York City subway signs, and piles of pizza boxes, the home of Michelangelo, Raphael, Leonardo, and Donatello is officially open to guests, according to a listing on Airbnb.
The space in lower Manhattan has been transformed to resemble the world of the franchise down to the last detail, including a light-up basketball court with glow-in-the-dark basketballs, a state-of-the-art home entertainment system, and the original Teenage Mutant Ninja Turtles arcade game from 1989.
The rental is part of the promotion for Teenage Mutant Ninja Turtles: Out of the Shadows, which opens in theaters on June 3. For the moment, there are no more available dates, but Twitter users who follow @TMNTMovie can receive hints on when the lair will be available again.
For every guest that is lucky enough to stay, a donation in their name will be made to PACER's National Bullying Prevention Center. Say the turtles, "Together we can shell shock bullying, 'cause that's what bros do."
Hope from her peers
Posted: 4/29/2016
When a high school student experiences bullying at her new school, she finds hope from her peers. Kindness, support and hope are things that everyone can give – and your actions matter. When peers and adults show that compassion and respect are important, they create a culture that raises the standards of behavior for everyone. Special thanks to kouraproductions for creating and producing this powerful video!