In The News
October is National Bullying Prevention Month
Posted: 10/7/2015
StopBullying.gov featured a story about the history of PACER's National Bullying Prevention Month and Unity Day on its Stopbullying Blog. "National Bullying Prevention Month has grown more than we could have ever expected," said Paula Goldberg, PACER's executive director. "In less than 10 years, PACER has helped to create a bullying prevention movement with millions of individuals across the globe." Read more>>>
You are Braver, Stronger and Smarter Than You Think
Posted: 10/6/2015
Have you ever felt like the whispers, giggles, note passing, and looks were directed at you or someone you care about? Imagine if all that attention was channeled into positive action. Disney is supporting PACER's National Bullying Prevention Center in hopes of inspiring social change among young people everywhere.
The Power of Unity: Communities Connect to Prevent Bullying
Posted: 10/6/2015
Treetop Commons shared information about Unity Day, Wednesday, Oct. 21, in its Noble Hour blog. The post shares several ideas for students, schools, and communities to get involved, including wearing orange, posting on social media, creating banners, holding ribbon cutting events and school-wide discussions, and signing the online petition. Read more>>>
Babble.com asks, 'What if your child is the one doing the bullying?'
Posted: 10/6/2015
That's the question being addressed by PACER during National Bullying Prevention Month on Babble.com, the highly acclaimed online magazine and blog network published by the Walt Disney Company for parents. Seeing your child become the target of bullying can be heartbreaking, but what if your child is the one doing the bullying? In its monthly Babble post, PACER offers perspective and tips for parents whose children engage in bullying behavior. Read more.
Oregon teen channels painful bullying experience into advocacy
Posted: 10/2/2015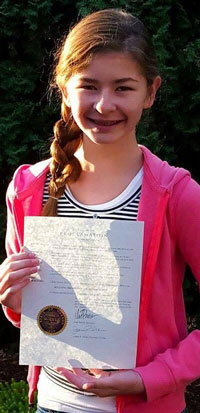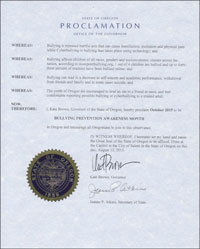 When Taryn was bullied for a short period of time, she didn't let the painful experience bring her down. Instead, she rose up above the bullying and became an advocate in her school and community. Taryn recently submitted a proclamation to the Governor of Oregon to make October Bullying Prevention Month in the state, and it was signed. Way to go, Taryn!
Doctor Radio shares tips from National Bullying Prevention Center
Posted: 10/2/2015
PACER's Julie Hertzog was the featured guest on About Our Kids, a show on Doctor Radio—Sirius/XM110 hosted by child psychologists from the New York University Child Study Center and New York University School of Medicine. During the half-hour segment, Julie shared information about PACER's National Bullying Prevention Center and National Bullying Prevention Month, offered tips for parents to help address bullying, and answered questions from listeners.
National Bullying Prevention Center featured on Bloomington Today
Posted: 10/1/2015
PACER's Jenna Hanson appeared on "Bloomington Today," a local cable news show run by the City of Bloomington, Minn. In her interview, Jenna discussed the mission of PACER Center and the National Bullying Prevention Center. She also shared details about the Friends of PACER's 6th Annual Run, Walk, Roll Against Bullying event on Saturday, Oct. 3 at Mount Normandale Lake in Bloomington.
Kindness in Chalk
Posted: 10/1/2015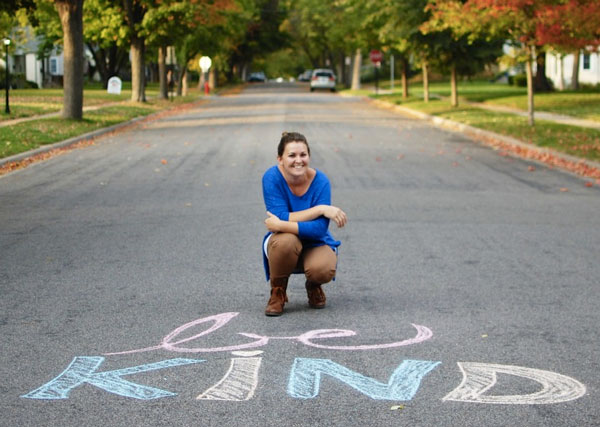 Sometimes the smallest gesture can make a huge difference in someone's day. Nicki Brunner, who writes the MinneMama Adventures blog, was inspired by the smiles she saw on strangers faces in response to a sweet message from her 2-year old written in chalk on her sidewalk. She decided that the idea could contribute to making the schools in her community kinder, more accepting, and free from bullying. So on Friday, October 9th, she's encouraging people around the country to write messages of love, peace, hope and acceptance in chalk at their school, park, home or community – all with the goal of bringing smiles to the faces of those who need it most. To share photos of your chalk creations or to find out more, visit http://www.minnemamaadventures.com/kindness-chalk/.
Tallahassee student runs against bullying: Spencer aims to bolster awareness about bullying and raise funds
Posted: 9/23/2015
Spencer Amsellem was bullied throughout elementary and middle school, and often felt like he was all alone. Now in 8th grade, Spencer has gone from a target to an activist working to bring awareness to the painful issue of bullying. To celebrate National Bullying Prevention Month, Spencer has organized a Run, Walk, Roll Against Bullying event in Tallahassee on Oct. 3, 2015, with all of the proceeds going to PACER's National Bullying Prevention Center. Spencer's advocacy efforts have also sparked the Leon County Schools to take a closer look at their bullying prevention measures. Read more>>>
What do you do if your child bullies?
Posted: 9/16/2015
When Julie Hertzog, director of PACER's National Bullying Prevention Center, started at PACER 15 years ago, bullying was still accepted as a rite of childhood passage. "Now, people are really understanding the serious, negative consequences," she said. "There have been a lot of community conversations along the way."
Seeing your child as the target of bullying behavior can be heartbreaking. But so can witnessing your child bullying another. So what do you do? In this St. Cloud Times article, Julie shares helpful tips for parents on both sides of this important issue. Read more>>>