PACER Center
952-838-9000
Champions for Children with Disabilities
Project KITE - Kids Included through Technology are Enriched
A Free assistive technology training and coaching program for parents and educators designed to increase the independence and inclusion of young learners with disabilities.
Now Accepting Applications for Fall 2014
Why Participate in Project KITE?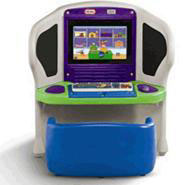 Participants are provided fantastic resources including:
Three Young Explorer computers (pictured), gifted to the participant's school at the end of the training. The computers are donated by IBM and are valued at more than $2,500.
Three iPads with hundreds of assistive technology apps (loaned to teams during the length of the training).
Free 1- year memberships to the Simon Technology Center's lending library of more than 3,000 assistive technology hardware and software titles.
Project KITE travels to its participants' town and occurs during convenient times set by its participants.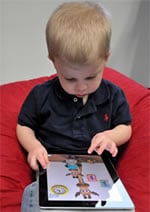 Project Kite creates a collaborative environment for parents and educators to learn about and use assistive technology by:
Delivering 5 workshops focusing on different categories and uses of assistive technology for young learners.
Training participants in assistive technologies for literacy, communication, behavior, and other important skills vital to young learnersí education and daily life.
Collaborating with PACERís Assistive Technology Specialists to find trial and use assistive technologies for their student/child.
How Do I Participate in KITE?
The goal of Project KITE is to increase the independence and inclusion of 3 children (ages 3-8 with a disability) through innovative uses of assistive technology. To reach this goal, each child is represented by a team consisting of:
A parent of a child (ages 3 to 8) with a disability
The child's teacher
A related service provider working with the child, such as an occupational therapist, speech language pathologist, paraprofessional, or others.
For more information or to apply contact Project KITE Coordinator John Newman via email at John.Newman@Pacer.org or call (952) 838-9000. Application deadline is September 30th 2014 .