Stories
Filter by story categories: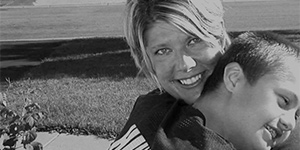 You can also check out our
Directors Blog
,
"Our goal is to be thoughtful and positive in what we do. We work with schools and parents and kids, encouraging everyone to come together to prevent bullying"
PARTY WITH A PURPOSE
Posted: 3/15/2013
Dear National Bullying Prevention Center,
Enclosed is my son's birthday invitation. Instead of having his friends bring birthday gifts, we asked each child to donate $5 to the National Bullying Prevention Center. We were able to raise $155 at the party, with a matching donation from my husband and I.
My son encountered issues with another boy early in the school year. Things have gotten better, but he is still aware of the bullying and how bad it feels. We hope that this donation helps in your efforts to make life easier on the millions of kids out there who face it every day.
Please accept this donation in honor my son's school, Grade 4C
By: Anonymous
Permalink for PARTY WITH A PURPOSE
---
DANCING FOR DONATIONS
Posted: 3/15/2013
To the National Bullying Prevention Center,
This past February, our Student Council hosted our annual SnoBall Dance. It has been a tradition to donate part of the proceeds from the dance admission tickets to a charitable organization. This year's theme was "We R Who We R," a tribute to embracing our differences in an effort to stop bullying and emotional issues associated with it.
I am happy to send along this check to your great organization. Our council hopes that you are able to use the funds to help as many young people as possible deal with the issues associated with bullying.
Thank you for all of the work your organization does on behalf of the youth.
Sincerely,
Bay Port High School
By: Anonymous
Permalink for DANCING FOR DONATIONS
---
COLLECTING CHANGE FOR THE CAUSE
Posted: 3/15/2013
Dear National Bullying Prevention Center,
Recently our school participated in "No Name Calling" week and collected change to donate to PACER's National Bullying Prevention Center. During the week the students brought in change to donate to bullying prevention. Enclosed you will find Pioneer Elementary School's donation.
Our school hopes this will help you in your efforts to prevent bullying.
By: Anonymous
Permalink for COLLECTING CHANGE FOR THE CAUSE
---
CLIMBING THE TALLEST MOUNTAIN
Posted: 1/7/2013
In September of 2012, Nicki Francis will join five other women from New Jersey who will climb Mount Kilimanjaro. Located on the border of Tanzania and Kenya, the mountain is Africa's highest peak at 19,341 feet above sea level. To heighten the experience, each of the climbers came up with a unique way to bring awareness to the organizations that have helped their families in a personal way.
Nicki chose PACER Center. She is climbing to bring out a voice of courage to help people recognize the many struggles families live with every day. She is also climbing for her son who has sensory processing disorder and her daughter who was recently diagnosed with dyslexia. She wants people to understand that things happen for a reason and these life changes have only given her a stronger perspective on what it means to live and accept the life you have been given. "I climb for the courage to end bullying," she writes on the team's website. "Young people need courage every day to be true to who they really are… I am climbing for the courage to be the voice of the children I work with every day who are truly amazing but have been dealt a very unfair hand in life."
Together, these six women are setting out on a journey with the hope to gain a voice in order to recognize the many organizations that have done so much and continue to give full support to families in need.
By: Anonymous
Permalink for CLIMBING THE TALLEST MOUNTAIN
---
Send Us Your Story or Video
Submit a video, story, poem, artwork, or audio clip expressing how you feel about bullying, how you think it affects students and schools, what you have done to prevent bullying, or what others can do to prevent bullying.