Put on a Community Event!
As part of PACER Center's National Bullying Prevention Month, children, teens, adults, schools, and communities across the country are encouraged to hold a special event to show they care about this important issue. The event can include music, give-aways, special speakers, petition signing, and more as people unite to join the movement against bullying.
New Student Event Toolkit
Need help planning a student-led bullying prevention event? PACER has partnered with Facebook to create a practical Student Event Toolkit that will make it easier to hold events in your school or community.
Tell Us About Your Event
Does your school, community organization or nonprofit have a community event planned for National Bullying Prevention Month in October?
Event Sign Up Form
Complete the form below to have your information posted on this page.
Submissions will be reviewed, approved and posted within approximately five business days.
Information Flyer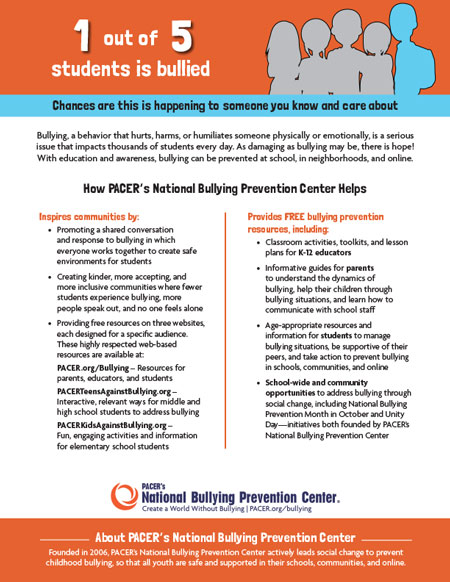 Download Flyer
Download this free, colorful, and informative 8 ½ x 11 (2-sided) flyer that outlines the creative resources, outreach activities, and opportunities available from PACER's National Bullying Prevention Center. Print the flyer and use it for your local event, activity, or fundraiser. Limited quantities of pre-printed flyers are also available by emailing [email protected] and providing your name, organization, address, information on the event/activity/fundraiser where you'll be using them, and the quantity being requested.
Upcoming Events
Walk, Run, Roll Over Bullying
Date: 4/28/2018
Time: 2:00 PM
Menomonie , WI
County Rd P, Menomonie, WI 54751
Join us in Bullying Prevention and Awareness on April 28th, 2018 from 2 pm to 5 pm at the Riverside Park in Menomonie, WI.

This is the 2nd Annual Walk, Run, Roll Over Bullying presented by Dunn County Partnership for Youth in efforts to bring awareness and prevention of bullying. There is NO registration cost for this event - come and show your support. 

There will be games for the kids to play, music, food, door prizes, and more! This event is FREE! Includes bib, activities, and a
post-run food! 
---
Clearmont Days Run, Walk, & Roll
Date: 6/16/2018
Time: 11am
Clearmont, WY
1605 Pennsylvania Ave.
We are holding our annual Clearmont Days event on June 15-17, 2018.  There will be a 1k through town, ran by several high school students!
---