Stories
Filter by story categories: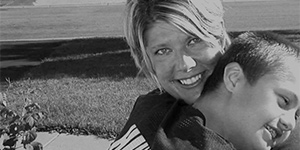 You can also check out our
Directors Blog
,
"Our goal is to be thoughtful and positive in what we do. We work with schools and parents and kids, encouraging everyone to come together to prevent bullying"
Kyle Kleiboeker - Accept no one's definition of your life; define yourself
Posted: 8/21/2013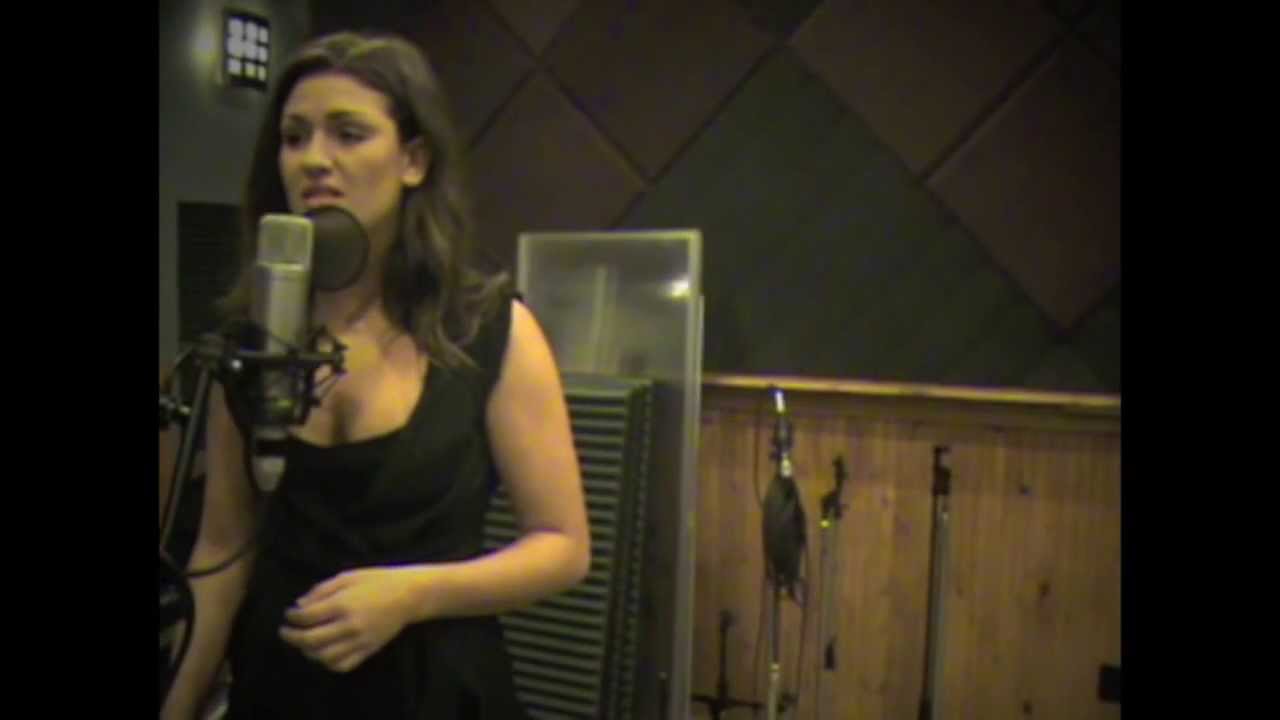 Growing up in a small town, I always knew I was unique. Instead of playing T-Ball, I wanted to be in dance class. Instead of playing at Recess, I was designing costumes for my future "Sold Out World Tour." I can vividly remember at 7 years old performing for just about anyone who would watch me. It wasn't until 2nd Grade when I was "The New Kid" at school that I realized Bullying existed. I danced in my school talent show and from that moment on my life would never be the same. I performed in a purple sequin jacket with matching purple biker shorts. The guys teased me because 'dancing was for girls' and the girls teased me because 'boys play Soccer.' After this performance, the kids teased me so badly that I remember not even wanting to attend school.... and all for just being myself and doing what made me happy. Through the constant support of my family I faced adversity in small town middle America, and kept performing while holding on to the hope that one day… things would get better.
Bullying stops us from being who we want to be and prevents us from expressing ourselves freely. Bullying can hurt children and have damaging effects on the rest of their lives. Now, as a successful grown adult looking back… I know that these kids bullied me because they were scared of me. At such a young age I had the courage and conviction to be exactly who I was. I possessed strong traits that they couldn't comprehend and the only way they knew to deal with their fears was to lash out and bully me.
Throughout "Summer Camp" airing on Television I have received thousands of messages from youth and even adults across America. Whether it was a young kid hoping to make it big on Broadway, a teen being harassed at school or a young gay person struggling to fit in… They all had recurring themes. They all want to feel good about themselves- they all want to be loved. After each episode aired I would sit with a cup of coffee spending countless hours responding to each and every one. While driving in my car one day I heard Macklemore's new song "Same Love" for the first time. The message of this song was so genuine and refreshing to hear coming from the sometimes disappointing music industry. I was so inspired with his words that I teamed up with Mayme Marshall to create a music project aiming to spread more awareness and encouragement to love. We found songs that we both related to that had strong messages. We decided to call this project "Who You Are."
To any child or person out there that feels like they can't be who they are, there is a world of possibilities out there waiting for you. I am now living out the dreams that I created when I was 7 years old and one day you too will be celebrated for the special unique qualities that make you, you. Accept no one's definition of your life; define yourself. Push the boundaries of love and acceptance- spread tolerance and equality for ALL people.
Show your support for bullying prevention, all proceeds donated to PACER's National Bullying Prevention Center, by wearing a special t-shirt designed by Kyle. Check it out here.
By: Kyle Kleiboeker
Permalink for Kyle Kleiboeker - Accept no one's definition of your life; define yourself
---
UNI: Babson College's Summer Entrepreneurship Program
Posted: 7/31/2013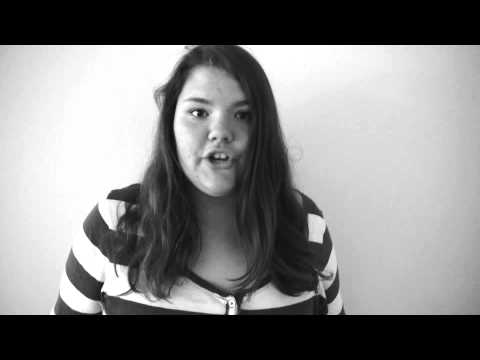 We are a group of young entrepreneurs named UNI. We are a non-profit organization in that we give all our profits to charity. In the case we choose PACER's National Bullying Prevention Center. We feel particularly connected to this cause because many of us have been bullied before and have first-hand experience with it.
The purpose of our business is to raise awareness for bullying. We do this by selling certain products. We sell coloring changing water bottles to represent being the change and making a difference. We also sell pencils which say "Erase bullying. Write your own story!" and stickers that have our logo on them. Additionally we created a pamphlet that explains our business, outlines some shocking statistics, explains the different types of bullying, and then explains how you can help stop bullying. We thought this would be good to hand out along with the products. One thing that we are really proud of is our bullying awareness video. We created, filmed, and edited the entire thing. We are hoping that this would be a good addition to promoting our cause.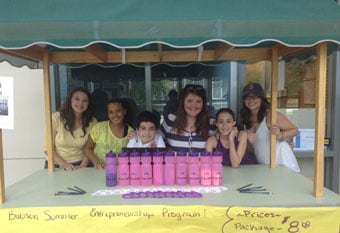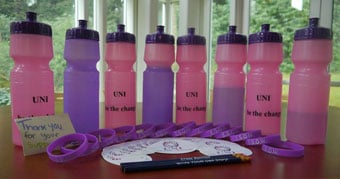 By: Anonymous
Permalink for UNI: Babson College's Summer Entrepreneurship Program
---
Be a Buddy . . . Not a Bully
Posted: 6/25/2013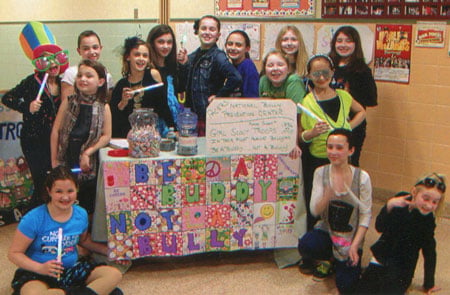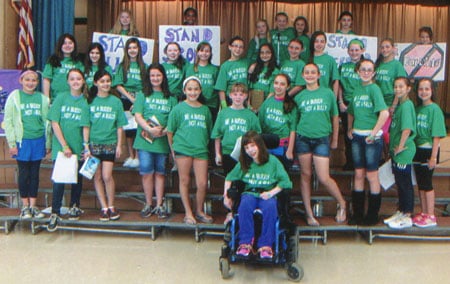 Dear PACER!
We are Junior Girl Scout Troops. We are currently in 5th grade and just finished working on our Bronze Award. Our subject was bullying. Our slogan was, "Be a Buddy… Not a Bully." We used your website as a guideline for our project.
We had a week-long event at our school. (Be a Buddy… Not a Bully week). Every day we would visit different classrooms from K- 3rd and do puppet shows, or skits and a presentation about bullying. Everyone in our school took a pledge and received a "Buddy" bracelet with our slogan. We also had an assembly presentation and did several skits. We also made a "quilt" that now hangs in the 5th grade hall as a reminder to all.
Every year our school has a Family Dance. The money raised always gets donated to a charity or cause. Because of our project it was decided that money would go to – Pacer's National Bullying Prevention Center- this year. So THANK YOU for all the work that you do. We hope that in some way we have helped to make a difference.
Girl Scout Troops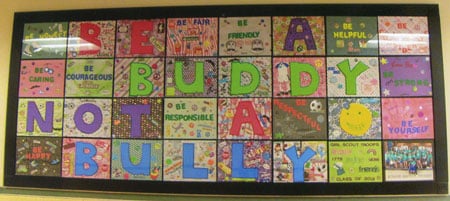 By: Girl Scout Troops
Permalink for Be a Buddy . . . Not a Bully
---
Glenwood MS "Midnight Madness" Event—Family Fun To Build Community and Raise Funds!
Posted: 5/20/2013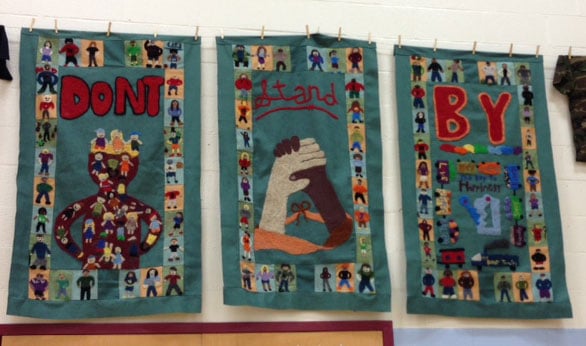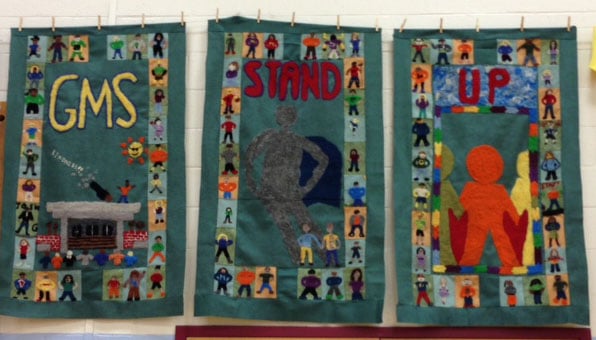 Midnight Madness is the biggest school event of the year and almost all of the students at Glenwood Middle School participate! The teachers, student's parents and custodial staff volunteer their time to make this fundraiser event possible. A huge portion of the community, the students' immediate family, comes to Glenwood Middle School to help support the fundraiser and to be involved in the fun! There are student basketball games going on all afternoon and into night, silent auctions, head shaving (where money is donated to a previous student's Relay for Life Team), plenty of food and smoothies to buy, faces painting and so much more!
One of our biggest events is the Team USA and Team America basketball games. These games are adapted for those students who may need some changes, such as wheel chairs or a different kind of basketball hoop, in the game to be successful. Our adapted PE teacher organizes these teams of students to work with and support our students that need adapted physical education. The energy is amazing at this event and there is always a strong feeling of community support and excitement.
Midnight Madness raises money for different organizations every year, as the students play in basketball games until midnight on the day of the after-school portion of Midnight Madness. This year we decided the theme should be "Stand Up, Don't Stand By", which brought us to the decision to have the major portion of our fundraiser raise money for PACER's National Bullying Prevention Center!
The guidance counselors gave seminars to all of the students in the school about bullying and how others should be treated, which is a big focus in our school. During this in-class session the counselors took pictures of every student holding a sign, which they made, that said what they would do if they saw someone being bullied. These pictures were played in a slide show at the front of the school during Midnight Madness, and they were also hung all along the hallways near the gym and cafeteria.
Some students wrote things like "I will change the subject" or "I will stand up for the victim". The school and community always comes together to put on an amazing Midnight Madness event each year, and this year we were very excited to have a strong focus on the serious problem of bullying.
We hope that this focus has impacted our students to stand up against bullying.

By: Glenwood Middle School
Permalink for Glenwood MS "Midnight Madness" Event—Family Fun To Build Community and Raise Funds!
---
SoLuna Studio will donate a portion of proceeds from GODSPELL
Posted: 4/26/2013
Drawing on a recent wave of cyber bully attacks on many of the studio's students, director Karen Braun focused SoLuna's production on GODSPELL's central themes of community and love. One of the musical's key musical numbers demonstrates how bullying is a problem plaguing many teens today. According to creator Stephen Schwartz, "GODSPELL is essentially about a community of people coming together." With this production, SoLuna Studio hopes to bring the local community together to raise awareness about the prevalence and effects of bullying.
GODSPELL will run for a total of 9 performances on Friday and Saturday evening with matinees on Sundays beginning on May 10. Tickets are $20 for adults, $15 for students and seniors. For more information about the show, please watch the sneak-peek here.
About SoLuna Studio
Founded in 2011, SoLuna Studio is a performing arts studio located at 659 Old Willets Path, Hauppauge, NY, which offers a variety of acting, dance, musical and musical theater classes for children, teens, and adults. SoLuna Studio also offers a full professional season, has included FAME, NEXT TO NORMAL, and THE WEDDING SINGER so far in 2013. More information about SoLuna Studio can be found at www.solunastudiony.com.
By: Anonymous
Permalink for SoLuna Studio will donate a portion of proceeds from GODSPELL
---
SPERIAMO (ITALIAN for "LET'S HOPE")
Posted: 3/19/2013
Dear PACER's National Bullying Prevention Center,
My name is Alex. I am a 10th grader in a Connecticut school. I have been selling T-shirts that I designed for a cause that is very important to me. Enclosed, please find my initial donation and a sample of my T-shirt.
I felt that the best way to support the bullying prevention movement was to reach out to the strongest bullying prevention center in our country.
For the most part we are all really lucky. Most of us have not seen bullying at its peak. With that, we have all seen it to some extent and we are all guilty of letting it happen; too scared to say anything or just unsure of the real impact it can cause. I am hoping to take a stand against bullying by selling my T-shirts and raise money to help those three million kids that have been bullied this year.
Thank you and I hope to donate to your organization in the future.
Sincerely, Alex
To order Alex' T-shirt, visit the ZAZZLE website
By: Anonymous
Permalink for SPERIAMO (ITALIAN for "LET'S HOPE")
---
A Letter From Oskar
Posted: 3/19/2013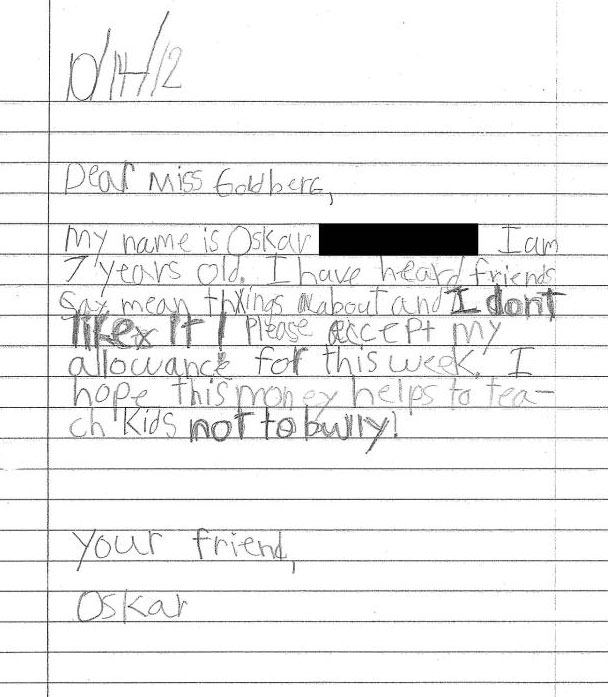 Dear Miss Goldberg,
My name is Oskar. I am 7 years old. I have heard friends say mean things about and I don't like it! Please accept my allowance for this week. I hope this money helps to teach kids not to bully!
Your Friend,
Oskar
By: Anonymous
Permalink for A Letter From Oskar
---
MAKING A DIFFERENCE THROUGH MUSIC
Posted: 3/15/2013
A musician from Rochester, N.Y. "I am pleased to send you this enclosed check that is a result of my bullying prevention benefit concert," she wrote. The artist put on a show earlier this year and generously donated all of the proceeds to PACER's National Bullying Prevention Center. "I just wanted to make sure that I did something," she said in an interview.
In the article, she opened up about being a victim of bullying in both middle school and high school. At the age of 16, she picked up a guitar for the first time and realized how writing music allowed her to escape the feeling of low self-esteem. At the same time, music also helped her find a way to be both proud and comfortable with who she is. "If you're different, I think that's a good thing," she said. "I think it's good to be your own person and be original." She says it's something you should truly embrace because it means you've found a maturity within yourself to be OK with standing out as your own person.
The artist has expressed her willingness to fight against bullying, not only through her music but by talking to young teens about bullying prevention and the impact bullying has on society.
By: Anonymous
Permalink for MAKING A DIFFERENCE THROUGH MUSIC
---
UNITING IN ORANGE
Posted: 3/15/2013
National Bullying Prevention Center,
On behalf of the nearly 800 students and faculty at our College Preparatory School in California, we are happy to send you this check from a very successful Unity Day at our school.
Upon learning about Unity Day from your website, the students and faculty raised money by donating at least $1 to wear jeans and orange shirts. Normally our students wear uniforms, but instead we literally turned the school into a sea of orange! Our sixth grade students also held a bake sale at lunch, including selling items like Unity Brownies.
Our school, just like all other middle schools, does face some issues of bullying. However, we believe that our students, faculty, and parents are working hard to ensure that all students are treated with respect and kindness. We appreciate the efforts of the PACER's National Bullying Prevention Center to provide resources and education in the movement to end bullying.
Please use this donation to continue keeping this issue at the forefront. We look forward to having opportunities to support your work in the future.
Sincerely,
College Preparatory School
By: Anonymous
Permalink for UNITING IN ORANGE
---
BENEFIT CONCERT AND DANCE
Posted: 3/15/2013
National Bullying Prevention Center,
On behalf of the our School of Dance and Performing Arts we would like to present this donation. Every year we hold a Benefit Concert to raise money for a charity or organization. Students and instructors have been donating their time and efforts since September in preparation for our annual event. Since bullying has recently affected our area significantly, students agreed that supporting bullying prevention would be the perfect cause this year. We are honored to present this donation to you.
Just to give you a little background about our School of Dance and Performing Arts, we are a small dance and drama school in western New York. We have less than 150 students, of which about 40 performed in different styles of dance. We held a "Donation Welcome" concert on Sunday afternoon and had a wonderful turnout. A beautiful space was donated for us to hold our concert which also helped with its success. Our annual Benefit Concert is one of the events about which our students get most excited. They feel so appreciative to be able to give back to the community by sharing something they love to do – dance!!
Sincerely,
School of Dance and Performing Arts
By: Anonymous
Permalink for BENEFIT CONCERT AND DANCE
---
Send Us Your Story or Video
Submit a video, story, poem, artwork, or audio clip expressing how you feel about bullying, how you think it affects students and schools, what you have done to prevent bullying, or what others can do to prevent bullying.