Stories
Filter by story categories: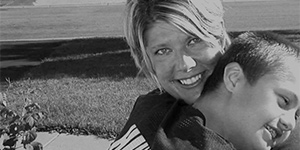 You can also check out our
Directors Blog
,
"Our goal is to be thoughtful and positive in what we do. We work with schools and parents and kids, encouraging everyone to come together to prevent bullying"
All Stories
Good Friends Do Not Bully
Posted: 5/15/2019
Gabriella Aguirre is a junior in high school, and is currently Miss Southeast Iowa's Outstanding Teen for 2017. She is exceptionally enthusiastic about dancing, singing, and playing the piano, along with possessing a passion for politics.
Gabriella first experienced bullying in middle school, where she was one of 16 students. Due to small class sizes, finding friends that she had things in common with was difficult. She felt isolated from both her peers and teachers because they did not agree with her beliefs. Therefore, Gabriella turned to one of her many passions, dance, to explore new friendships. Unfortunately, she was then bullied by the person she least expected.
"We were halfway through the dance season when my best friend told me she didn't want to be friends with me anymore. Throughout the rest of the season, she was talking about me behind my back and spreading rumors. I was so scared to go to dance and face her. Who knew that one of my best friends would bully me?"
Through her personal experience with bullying, Gabriella understands the importance of standing up for others, and that true friends treat each other with kindness. She felt supported by her mom, her sister, and her dance coach. When Gabriella's dance coach stood up for her, she realized what an impact that can make for someone who is going through a hard time, and that others should start standing up for what is right.
"For the longest time, I was wondering why my old best friend did not want to be my friend anymore. It was eating me up inside, but eventually I came to the conclusion that good friends do not bully. Kids today should be taught that you stand up for one another, not stand by someone that is "cool" or "popular" which could hurt others. It certainly made a difference when my dance coach stood up for me."
Gabriella has been sharing her story and talking about bullying prevention at schools in her community. She also plans to organize a community-wide bullying prevention event!
Permalink for Good Friends Do Not Bully
---
Teen author writes books to send positive messages to young children
Posted: 5/10/2019
Justine Danielle Del Monte is currently in the 11th grade in California. She really enjoys traveling and attended a semester abroad in South Africa. When she was eleven she began her writing with "Drew's Dancing Drum," and continued Drew's adventures with her second book, "Drew Meets Boo," written at age 12.
Her most recent story, "Drew and the Cyber Bully," was written at age 13, and it continues to educate children on bullying; she aims to send positive messages about acceptance to young children. She likes writing for kids as she relates to many of the struggles they face at such a young age, and her passion for writing has enabled her to turn her books into her Girl Scout Gold Award. (Justine has also earned the Bronze and Silver Girl Scout Awards.)
What started as a simple literature assignment for school turned into a book series (with discussion points), interactive Apps available in English, Spanish, and Mandarin, and an animated short film. Justine and the illustrator, Brendon King Chappell, had the honor of being keynote speakers at the Solano BookFest in 2015. Justine has done international community service in Nicaragua, Bali, Singapore, and Peru. She has also been a guest speaker at numerous schools and for Girl Scout Troops and is deeply honored that her simple stories are encouraging others to be "nice" and treat others with respect.
Justine says, "I wrote the books because bullying is so prevalent and kids need this information at a young age, far before middle school. It's also important to understand why kids bully and to see not only how they are hurting others but how they are hurting themselves." The books provide "important lessons about self-esteem and how to handle challenging situations."
Find more information at Drewsbooks.
Permalink for Teen author writes books to send positive messages to young children
---
He Finds the Hero in Himself
Posted: 5/5/2019
Caleb first experienced bullying in the 7th grade. The bullying continued into 8th grade and then into his freshman year. He was told by his peers that he would never amount to anything, but during his freshman year, Caleb's life changed.
"One day during English class, we watched a student-led bullying prevention presentation by upper classmen," Caleb said. "The presentation educated me about the different types of bullying, the effects of bullying, and how to stand up to bullying, and they showed videos of students sharing their experiences with bullying. Their motto was 'Anyone Can Be a Hero' and stand up for bullying. It was in that moment that I wondered if I could."
One year later, it was Caleb giving that same bullying prevention presentation to freshman. By the following year, he was in charge of the entire school program, including expanding the effort to the middle school where he was first bullied.
The program offers a survey about bullying at the beginning of the year to collect data. The presentation includes NCT (Name It. Claim It. Tame It) Scenarios, the students sign a Be a Hero pledge, and feedback is gathered from the freshman about what they learned, what was most effective, and what could be improved to make more of an impact.
Feedback from students has been positive, which includes: "It changed my life," "I now feel I have the courage to stand up against bullying," and "I now know that I don't have to fight bullying alone."
"Since the student-led bullying prevention presentation has been implemented, we have seen the rate of bullying dramatically go down and countless lives touched," Caleb said. "I know that there are so many young adults struggling with mental health and that the rate of bullying is growing every day, and that there are many teens out there who feel completely and utterly alone, helpless, hopeless, and powerless. I want to empower others to do incredible things with their lives, and perhaps, even more importantly, truly impact the lives of others."
It is Caleb's goal to expand this student-led program to all public schools in Portland, Oregon, and to other schools nationwide!
Permalink for He Finds the Hero in Himself
---
The Power of Video
Posted: 5/1/2019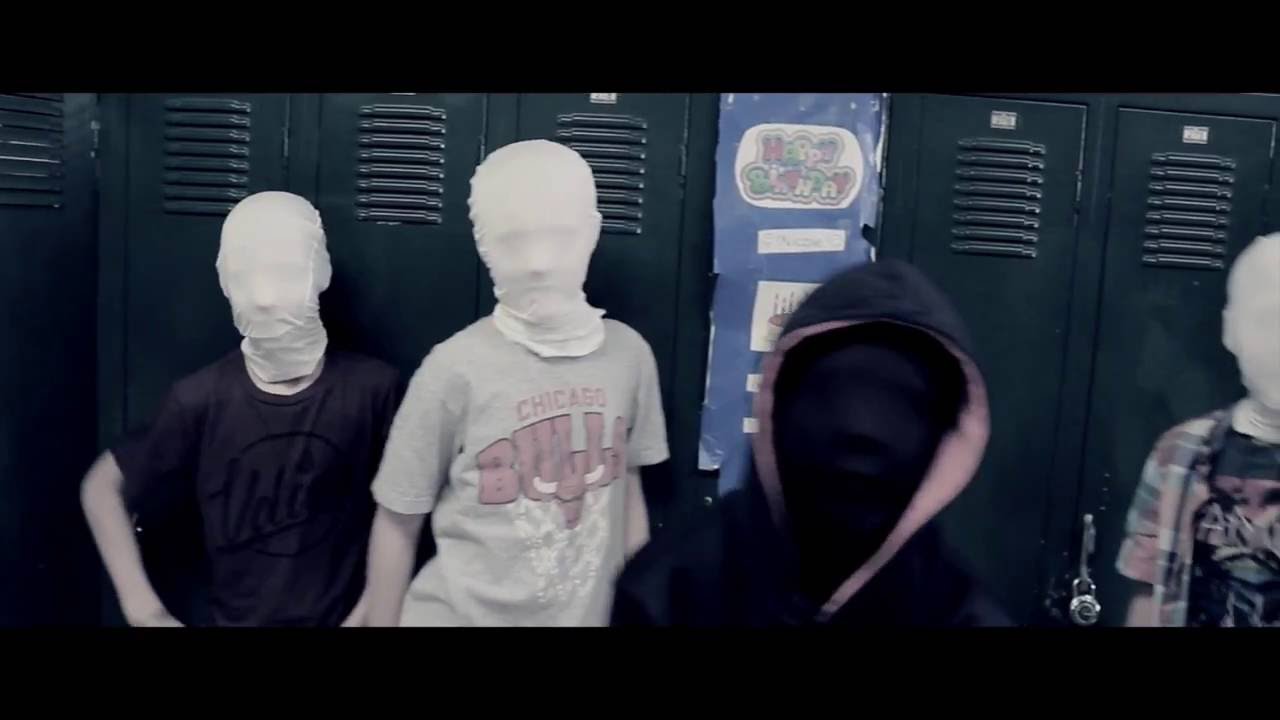 Six minutes and 37 seconds can be very powerful. Just watch Jonah's video.
Jonah and his family moved to Chicago from Ireland when he was in elementary school, and he was the youngest and the shortest in his class. In fifth grade, Jonah was playing basketball during school with some kids who were mean and he realized, "I don't want to hang out with these kids anymore." After several years of experiencing and witnessing bullying, he started thinking about how bullying affects kids and schools.
Jonah is "really big into film," and it doesn't hurt that his dad is a filmmaker and his mom is a dance instructor. Friends from school and his dance class shared some of their bullying experiences by anonymously writing their stories on strips of paper. Jonah took those home and started creating a script from those experiences and his own.
This video demonstrates the impact of bullying on everyone because, as Jonah says, "If you are not part of the solution, you can still be part of the problem." It also draws attention to cyberbullying, in which the kids who bully others are often faceless. It shows that anyone can participate in bullying behavior, and that the experience is very frightening.
Jonah really believes kids are getting it. He believes this video is making an impact on students from all over the Chicago area and beyond- it has reached Ireland, UK, Australia, and Indonesia. Since creating the video, there have been more than 540,000 views. Schools are showing the film in gym and health classes, and coaches are showing it to their teams. Jonah's mother is in awe at how much support they have gotten.
Go ahead and share this film! We want everyone to see it.
Permalink for The Power of Video
---
Together Against Bullying
Posted: 5/1/2019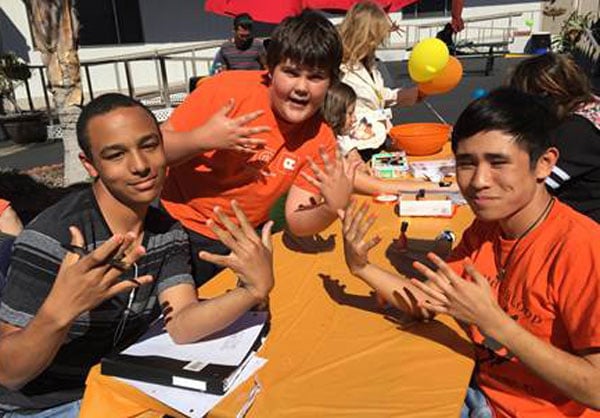 On October 21, 2015, Sequoia Charter School's students and staff members donned their brightly colored orange attire to send a united message of hope, support, and unity against bullying on Unity Day. Sequoia joined schools and communities across the country to support the theme, "Together against bullying - united for kindness, acceptance, and inclusion," as students and staff participated in events designed to educate, inspire, and involve students to prevent bullying and help create a positive and safe school environment.
The day began with a presentation from the Los Angeles County Sheriff's Department Stop Hate and Respect Everyone Tolerance (SHARE) program. Deputy Chatman spoke to an attentive and engaged audience of students about prejudice, respect for individual differences, and tolerance of others. Students actively discussed their role in promoting harmony among individuals from diverse backgrounds in an effort to combat hate crimes and encourage positive leadership roles among campus youth.
The day continued with Project Connect in which students participated in creating a campus-wide chain of links to show their united commitment to stop bullying. In addition, students celebrated their friendships and support for those needing encouragement through written positive affirmations posted to the Unity Day "Positivity Wall." The color orange pervaded the Sequoia campus on t-shirts, nail polish, bracelets, and face paint -- one large orange message of unity against bullying. "Today was a uniquely powerful day for our campus as our students and staff united to demonstrate that bullying is a topic of relevance and can be addressed through awareness, acceptance, friendship, and our shared voice," Shazia Shah, School Psychologist. good example. Bullying is not a rite of passage!"
Permalink for Together Against Bullying
---
Unity Day Efforts in Belle Fourche, SD
Posted: 4/30/2019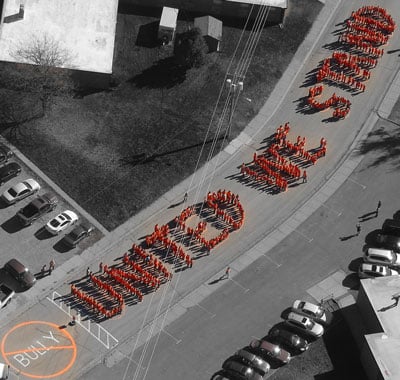 "The Unity Day effort in Belle Fourche, SD was led by our bus drivers. In addition many community members supported the program by donating time and money. Belle Fourche High School National Honor Society students taught Unity Day lessons to elementary students. Teachers, paraprofessionals, office support staff, and janitors were very supportive of Unity Day in a wide variety of ways including scheduling, making sure they all wore orange, and other special efforts. This whole-hearted support for Unity Day made it a day to remember for our students.
Unity Day impacted students and staff by helping us understand what bullying is and how we all play a part in preventing it. Students can prevent bullying through how they treat others, reporting bullying, and standing up for each other. Staff can prevent bullying by teaching social skills, investigating and responding to all reports of bullying, and setting a good example. Bullying is not a rite of passage!"
Permalink for Unity Day Efforts in Belle Fourche, SD
---
Dance In This Dream
Posted: 4/30/2019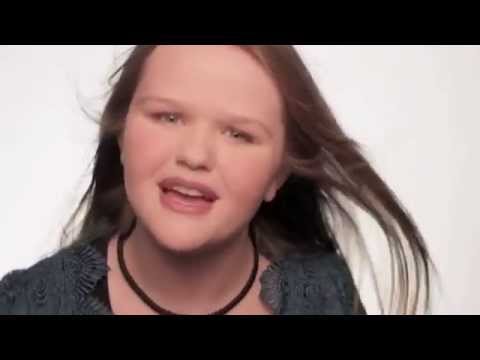 Sara Stevens is a 15 year old singer who enjoys every bit of life! She has also experienced being bullied. She was bullied for being too tall, for drawing too much, for singing in class. Sara says, "I can't help it. I have music inside me and I need to let it out." Sara decided that she wanted to make singing her life-long career and reach out to those who have experienced bullying.
Sara's song, DANCE IN THIS DREAM, which was inspired by what she had gone through, has a powerful message about "looking for the positive and overcoming the negative. The most important thing a person can do is to be him or herself. Don't let anything hold you back, take your chance, find your dream and everything is possible!" She hopes this song will touch many lives.
DANCE IN THIS DREAM
There are dark days we wish to forget
There are times we feel sadness and pain
Twisted words we might someday regret
Bitter memories left out in the rain
But I've learned lessons of love come with tears
Time takes away sorrow and fear
My heart will grow stronger
Surrounded by light
Surrounded by love
I'm not afraid to dance in this dream
I can't believe what's happened to me
I'll find my way through all I believe
Unbroken when I dance in this dream
Many burdens we carry inside
Tender wounds from the struggles we bare
Endless searching for somewhere to hide
Restless longing for dreams we can share
But I've seen visions of hope in these eyes
Life teaches the truth from these lies
My heart will grow stronger
Surrounded by light
Surrounded by love
I'm not afraid to dance in this dream
I can't believe what's happened to me
I'll find my way through all believe
Unbroken when I dance in this dream
Here I stand with my arms opened wide
Do you believe in me
Heaven knows what tomorrow may find
I'm gonna spread these wings I'm gonna learn how to fly
Not afraid to dance in this dream
I can't believe what's happened to me
I'll find my way through all I believe
Unbroken
When I dance in this dream
Not afraid to dance in this dream
I can't believe what's happened to me
I'll find my way through all I believe
Unbroken
When I dance in this dream
Permalink for Dance In This Dream
---
The International Stage
Posted: 4/25/2019
Madison Starr Kunst, Miss Teen Pennsylvania International 2016, was proud to share information about PACER's National Bullying Prevention Center from the international stage at the Miss Teen International competition in Jacksonville, FL. Ten girls from the competition were given an opportunity to speak and even though Madison did not take home the crown, she was able to speak about her bullying prevention efforts and the importance of PACER.
At the age of 12 Madison experienced a very rough time due to bullying. She was diagnosed with severe scoliosis and needed to wear a back brace. She was teased nearly every day by her peers and even by some of her friends. She often asked herself why it was happening to her; why would others tell her she would never be successful? Madison's platform of bullying prevention allows her to share her story and speak to others who do not think it possible to stand up for themselves and get help. She is working with student groups, sharing her "Don't Let Bullying Define You" poster board and bracelets, and inviting them to sign a pledge against bullying. Madison is using her voice to make a change!
Permalink for The International Stage
---
Prom Dresses for a Cause
Posted: 4/20/2019
I guess my freshman year. I spent a lot of time in the girl's bathroom of my school, always scared because of one girl. One girl, who had no consequences for her behavior because her mother was a teacher and none of the other teachers and administrators wanted to get involved. I called my mom from the bathroom at least once a week begging her to come get me. It took an entire school year of crying and constant calls to the school by my mother for us to get help. After all was said and done, I decided to take back my power and use the bullying that I experienced to inspire me. I'm not the only one she has bullied and I'm sure I won't be the last. It is however, the last time I would give her any power in my life.
The next year was so much better and this year, my junior year, I decided to speak out and give back. I want everyone to find their voice and use it loud and proud and if nobody is listening, yell louder! I wanted to find a creative way to raise money and bring awareness to bullying. That is how the Prom Closet started. So many kids don't go to their proms every year but I am determined that it not be because of financial difficulties. We posted a message on Facebook asking if anyone wanted to clean out their closets and get rid of their old prom dresses. The response was overwhelming. Our local mall donated the space to hold the event and so many local businesses have donated things, like dinners, spray tans, flowers, tuxedos, hair do's. To date we have 302 dresses either donated or being sold for $100 or under. If someone donated a dress then 100% of the proceeds go to PACER and if someone brought in a dress for us to sell for them, they receive 90% and PACER receives 10%. Our goal was to try and raise $300 dollars but we have far surpassed that number. We are continuing the project until May 8th, and I hope to pass it down to another junior next year so they can continue to give back. It has been an amazing experience to fight for something so near and dear to my heart and to watch the faces of girls, who would otherwise not be able to afford to go to their prom, walk out feeling beautiful and confident.
My giveback, helps not only girls and boys afford to go to prom and raise money for bullying prevention but we are also allowing students to come in to work their community service hours they need to graduate. It's a triple threat!
Permalink for Prom Dresses for a Cause
---
United in Spokane
Posted: 4/20/2019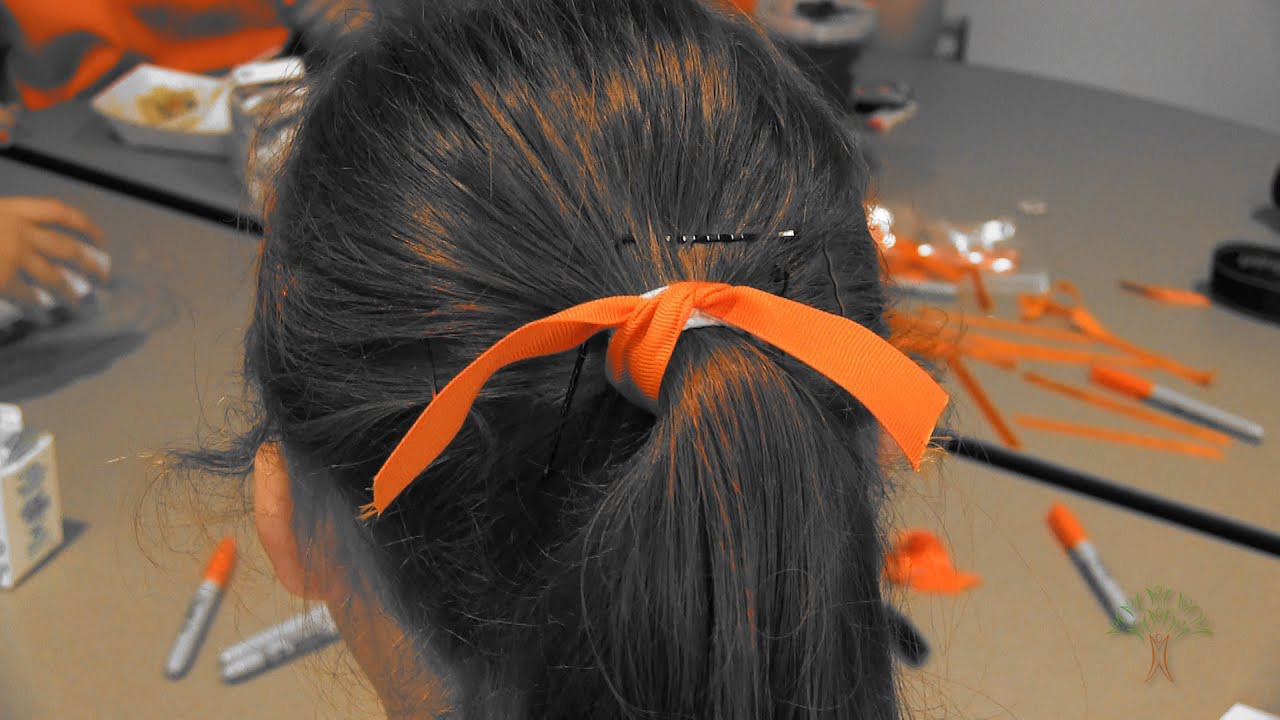 Spokane Public Schools are together against bullying – united for kindness, acceptance and inclusion! This short video shows how Spokane schools went ORANGE for Unity Day!
Permalink for United in Spokane
---
Send Us Your Story or Video
Submit a video, story, poem, artwork, or audio clip expressing how you feel about bullying, how you think it affects students and schools, what you have done to prevent bullying, or what others can do to prevent bullying.