PACER is supportive of all persons who desire to be free and safe in their own communities. We are aware of the history of racism and social injustice in this country that needs to be changed. The tragic death of Mr. Floyd has highlighted the injustices in our country. We know that Black children and their families experience significant disparities in education, health, housing, and the justice system. We will work to ensure just systems for all families. We can do better.
From all of us at PACER's National Bullying Prevention Center
Highlights

During these challenging times, PACER is committed to being a valuable online resource for students, educators, and families.
Covid-19, Distance Learning, and Cyberbullying Infographics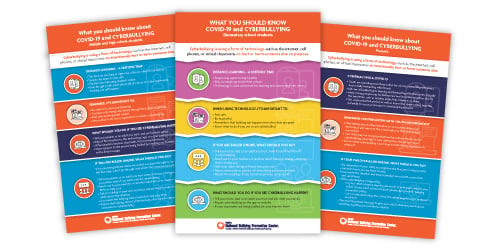 Download and share
Distance Learning ideas
Visit the online library of NBPC's free resources to engage your students or children in social and emotional learning.
New! - Access ALL-IN, a free online bullying prevention module now adapted for distance learning options for K-12 students
Encourage younger students to submit their questions to "Ask Carmen," a member of the "Club Crew" who knows a lot about bullying and gives great advice to kids
Watch the videos featuring authors from the NBPC Book Club reading their stories
---

Online Module: Cyberbullying
Comprehensive look at the dynamics of using technology to bully; featuring information on definition, ways to help youth, FAQ's, and statistics, along with an interactive feature to "check your knowledge."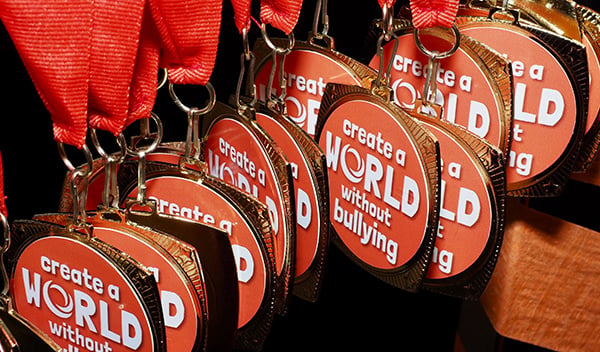 2020 Unity Award Recipients Announced
The 6th annual Unity Awards honor those who have made outstanding contributions in addressing and preventing bullying in their communities. The award recipients, who are leaders in creating a kinder, more inclusive and more accepting world, were chosen by the members of PACER's Youth Advisory Board.
---
Win Prizes for the Classroom
Students with Solutions, sponsored by Planet Fitness' Judgement Free Generation®, is an initiative for students to share their creative interpretation of what it means to be intentional with acts of kindness, acceptance, and inclusion. All entries are eligible to win prizes for the classroom. Open to grades K-12  through December 31, 2020.
---

Include Someone, Make a Difference
A campaign, created in partnership with Cartoon Network's Stop Bullying: Speak Up initiative, to inspire kids across the country to include someone to stop bullying before it starts.
Features
Event Kit

Resource Kit
Order the "Create a World Without Bullying" resource kit which contains print materials for at least 50 participants.
Kids Against Bullying website

Kids Against Bullying

website
Innovative, educational website for elementary school students to learn, engage in activities, and be inspired to advocate for self and others.
Teens Against Bullying website

Teens Against Bullying

website
A website created by and for middle and high school students, with ideas to address bullying, be heard, and lead change in an important social cause.
Questions Answered

Questions Answered
You asked, we answered! Response options include images, 60-second snapshot, longer articles, video and poll.
Students With Disabilities

Students With Disabilities
A comprehensive overview of addressing and preventing bullying and harassment of students with disabilities.
All-In

ALL IN
Free online, year round toolkit with a new classroom lesson each week! Create environments in which each student is INcluded, INvested and INvolved.
I Care Because
I am bullied and it hurts because your bullie makes you feel bab about youself. I think bulling dosen't just hurt you ,it hurts the bullie as well.
* : D
riley, 10, ga
I though i was going to lose my big brother, people can be curl but people can learn too. I want to help stop bullying!
Annie, 15, Australia
i am bullied everyday its really hard to grow up like this
Patricia, 12, Toronto
I will not let my children go through the pain of bullying that happened to me. 
Audrey , 19, Tx
I've been bullied since I was in kindergarten, people made me feel worthless. I hated school I felt miserable all day. Last year I got very depressed because I was bullied and felt so worthless. everyday now I pretend to be happy, it's so hard. I'm bullied because I listen to different music wear different clothes. I'm bullied for who I am and no person should feel this way. Everyone is beautiful in their own way and no one should be bullied for that. I care because no one deserves to feel worthless.
River, 12, New Mexico
Many kids hurt themselves because of bullying and their are a lot of kids that sit by themselves at lunch I bet YOU would make their day if you sat by them. And remember WORDS HURT.

Maranna, 13, Ohio, Galion
Bullying just wrecked my life, now I'm always caring about what people say, and I know I'll never be the same. An innocent joke between friends can be the undoing for a teenager. And I just don't want my little brother and cousins go through the same. End to bullying, I beg.
Patty, 15, Br
I was bullied. I was in a bad place before i was being bullied & i was trying to get better. I have a best friend who lives in CT. when i moved out to NV she got bullied hard core. She is currently suicidal because all of our old friends left her. Im across the country & she is like a sister to me. I love her & i cant lose her. IM TAKING A STAND FOR HER!!!!!!!!!!!!!!!!!!!!
Kait, 12, Nevada
I care about bullying alot. When I was 8 years old up to 10, in my old school. I used to cry alot. People did not hurt me physacilly but emotionally. But it still hurt. I was depressed so bad, my family decided to change everything, move house, move schools. And now, I am happy and help people. Most of my friends bully some people and now I stop and tell them off. :] I am 100 percent against bullying!
Janine, 12, uk
Videos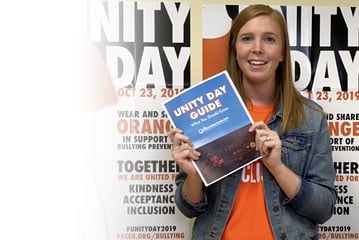 PACERTalks about Bullying - Season 3
We are thrilled to return for another season with more videos featuring interviews, stories, and informational content. New this season will be the feature "Ask Us" in which we will respond to questions from students around the world.
Documents
Notifying the School About Bullying — Using a Template Letter

PACER Center has created template letters that parents may use as a guide for writing a letter to their child's school. These letters contain standard language and "fill in the blank" spaces so the letter can be customized for your child's situation.

Version for a Student with a 504 Plan (Word Doc | Pdf)
Version for a Student with an IEP Plan (Word Doc | Pdf )

"What You Can Do"

This 4-part handout series provides comprehensive information for students and adults about how to help someone who is experiencing bullying, as well as how to address bullying in the community.
Support Kindness, Acceptance and Inclusion for All Students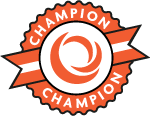 Become a Champion Against Bullying
Join the hundreds of nonprofits, schools, and community groups that collaborate directly with PACER's National Bullying Prevention Center by using and sharing our bullying prevention resources in their communities.
Survey Monkey Contributes to NBPC
Sign up and you will receive surveys by e-mail from SurveyMonkey customers who need your opinion. For every survey you take, SurveyMonkey will donate 50 cents to PACER's National Bullying Prevention Center, plus you'll get a chance to win $100 in an instant win game.