WELCOME, WE'RE GLAD YOU'RE HERE!
Cartoon Network has partnered to inspire kids across the nation to prevent bullying by practicing inclusion. Resources and materials for kids, educators, and parents are available to encourage inclusive acts in the classroom, community, and at home. Download the campaign "How To Guide"
WHAT DOES IT MEAN TO INCLUDE?
Inviting and involving others so that everyone feels welcomed, valued, and supported.
Watch the video series, one of the many resources in the INCLUDE SOMEONE campaign, to get ideas for practicing inclusion, then for more ideas, visit the resource page.
CAMPAIGN RESOURCES
All campaign resources, which can be used at school or at home, are free to download or can be purchased as a classroom kit.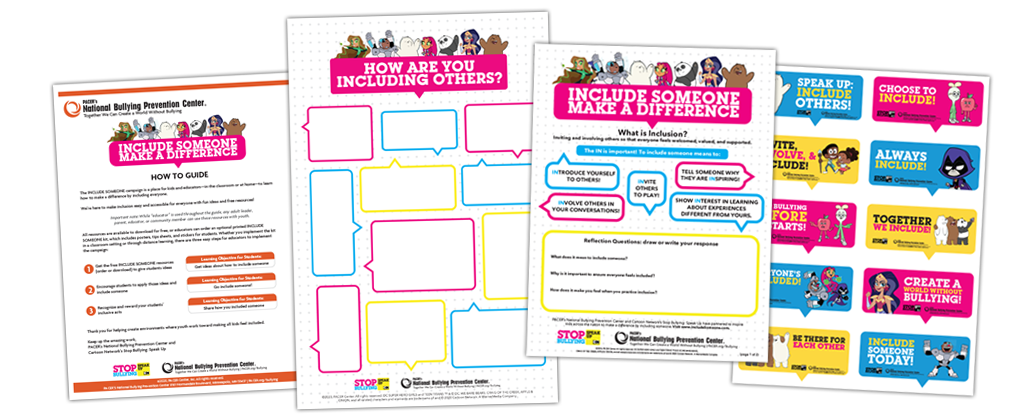 Kids click here to get resources just for you!
GET YOUR RESOURCES
ACTS OF INCLUSION
"It is important to include someone, even if they are different than you, so they feel like they belong. If someone is sitting by themselves at school, you should talk to them so they know you care."

- 13-year-old
"Because nobody wants to be excluded.  It hurts your feelings and everyone wants to be a part of something."

- 13-year-old
"Find someone sitting alone and go to them or include someone new in your conversation."

- 13-year-old
"Treat everyone the same regardless of how they act or appear."

- 11-year-old
"Offer to play with someone."

- 7-year-old
"It can hurt someone's feelings if you don't include them."

- 11-year-old

ABOUT THE CAMPAIGN
Cartoon Network and PACER's National Bullying Prevention Center have partnered to inspire kids across the nation to make a difference by including someone. Cartoon Network is reaching millions of kids with a new Stop Bullying: Speak Up campaign inviting kids to speak up and share how they are making a difference in their communities by including others. PACER's National Bullying Prevention Center has created resources and materials for educators and parents to bring inclusion into the classroom and at home. Together, we are committed to creating more inclusive communities to stop bullying before it starts.