CAMPAIGN RESOURCES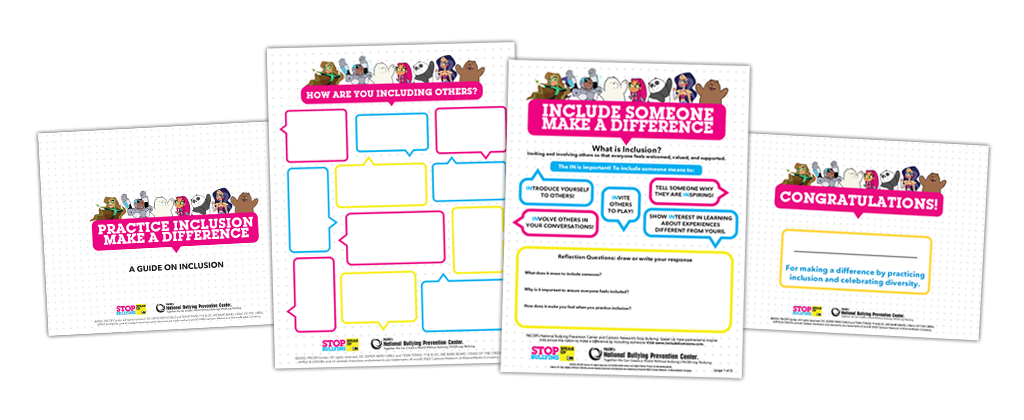 Implement the campaign in three easy steps, outlined below. All campaign resources, whether you use the campaign in a classroom setting or through distance learning, are available to download for free.
In addition to accessing the digital resources, optional printed kits are great for in-person learning, and include tip sheets, posters, and stickers for up to 30 elementary school aged students to encourage inclusive acts.
How-to Guide
Step One: Give students ideas
Use the slideshow and videos, to provide students with helpful information about what it means to be inclusive.
Step Two: Encourage students to include someone
Download the interactive tip sheet to help students explore their ideas to practice inclusion.
Step Three: Recognize and Reward Your Students
Share inclusive acts on a digital flyer with the fill-in-the-bubble options or have students write their inclusive acts on the poster from the printed kit. Then, give or send each student a certificate customized with their name or a sticker from the printed kit to celebrate their inclusive acts.
——— Online ———
——— Printed Kit ———

ABOUT THE CAMPAIGN
Cartoon Network and PACER's National Bullying Prevention Center have partnered to inspire kids across the nation to make a difference by including someone. Cartoon Network is reaching millions of kids with a new Stop Bullying: Speak Up campaign inviting kids to speak up and share how they are making a difference in their communities by including others. PACER's National Bullying Prevention Center has created resources and materials for educators and parents to bring inclusion into the classroom and at home. Together, we are committed to creating more inclusive communities to stop bullying before it starts.