How to Tell an Adult
When youth see bullying or are being bullied, they are often given the advice, "Tell an adult." That is great advice, but how do kids do that? You can help them! Here's how:
Share the handout/poster
Talk through some of the concerns they may have about telling an adult (as listed under #1)

Ask them if there are other questions

Provide ideas about who they can tell (as listed under #2)
Identify what they are comfortable saying (as listed under #3)

Ask if they have other ideas

Remind them that it's important to tell an adult about bullying and it's the right thing to do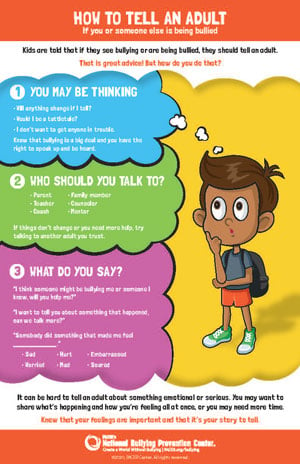 Download the Poster
How to Tell an Adult
If you or someone else is being bullied
Kids are told that if they see bullying or are being bullied, they should tell an adult. That is great advice! But how do you do that?
You May Be Thinking

Will anything change if I tell?
Would I be a tattletale?
I don't want to get anyone in trouble.
Know that bullying is a big deal and you have the right to speak up and be heard.
Who Should You Talk To?

Parent
Teacher
Coach
Family Member
Counselor
Mentor
If things don't change or you need more help, try talking to another adult you trust.
What Do You Say?

"I think someone might be bullying me or someone I know, will you help me?"
"I want to tell you about something that happened, can we talk more?"
"Somebody did something that made me feel ___________ ."

Sad
Hurt
Mad
Embarrassed
Worried
Scared
It can be hard to tell an adult about something emotional or serious. You may want to share what's happening and how you're feeling all at once, or you may need more time.
Know that your feelings are important and that it's your story to tell. What you have to say matters. No one should ever be bullied.
Telling an adult is important!