Mental Health, Anxiety and Vision Loss
Anxiety is the most common mental health challenge experienced by youth. For students with vision loss who face communication barriers, managing a school setting can be even more stressful. Research suggests that adolescents with visual impairments may experience anxiety at a higher rate than their sighted peers. Often students find it helpful to get training in blindness specific areas like Braille, orientation and mobility, assistive technology, and other independent living techniques. Understanding that there are alternatives ways to accomplish day-to-day tasks can ease anxiety. It's important to identify needs and supports ahead of time to help keep anxiety from being a barrier to the students' success.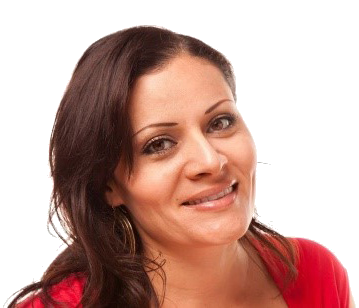 "Because he visually misses so much in his environment, he doesn't always have the self-regulation and communication skills to tell us what he needs. He's not picking up on social cues because he isn't able to see the cues that help him know how to respond. When his sensory system starts to take over, he will default to something that gets him out of the situation--mentally or physically-- in order to calm down. He may start humming or he may say 'help'. But that one word, 'help," doesn't give a lot of information for others to know what he needs."
~ Parent of a youth with a visual impairment and anxiety
What is anxiety?
Anxiety is an invisible disorder that takes many forms. Anxiety and worry are different. Worry, fear, and stress are all considered normal feelings. However, when anxious feelings do not go away, get worse with time, and begin to affect and interfere with everyday life activities, it may be a sign of an anxiety disorder.
How do visual impairments intersect with anxiety?
Students with visual impairments may be more likely to experience anxiety due to factors such as navigating social and physical environments and accessing materials. Students may miss unseen messages such as facial expressions, eye contact, and gestures which could lead to confusion and cause anxiety. When students transition to employment or postsecondary education, not being familiar with their surroundings or a lack of trusted relationships could contribute to anxiety as well.
This anxiety may impact students' ability to make decisions, handle unexpected things that come their way, or to respond appropriately. Students will need to learn skills and strategies to help manage their anxiety and make sure their access needs are being met.
How can adults help youth with vision loss who are experiencing anxiety?
Build a trusting relationship. When support is offered by someone they know and trust, youth are more likely to consider suggestions, try new strategies, and successfully develop the skills needed to manage their anxiety.
Connect students to peers and adults who have a vision loss. Anxiety about the future can be reduced by providing youth with opportunities to connect with both peers and adults with vision loss who are living, learning, and working independently.
Include the student in decision making and goal setting. Student involvement encourages a strength-based approach that promotes overall wellness and increases the young person's confidence and self-determination skills.
Understand that behavior is a form of communication. It is important to separate the behavior from the person and to view the behavior as a way that the youth is communicating an unmet need. Seeing behavior as communication provides the opportunity for support and growth rather than reaction and punishment.
Ask "Why can't…" instead of "Why won't…" For example, if a teen is refusing to go a job interview, asking "Why won't you go to the interview?" implies that the student is choosing to be noncompliant. Asking instead, "Why can't you go to the interview?" provides the adult with an opportunity to help the young person identify the source of their anxiety and determine strategies to overcome it.
Provide guidance and instruction. It's important to build self-confidence by offering a step-by-step approach that leads to a long-term solution to the anxiety-driven behaviors. Remember that changing behavior takes time. In much the same way that students with learning disabilities need incremental interventions and goals for reading instruction, youth with vision loss and anxiety will likely need incremental benchmarks to manage their anxiety and reach their goals.
Additional helpful resources
---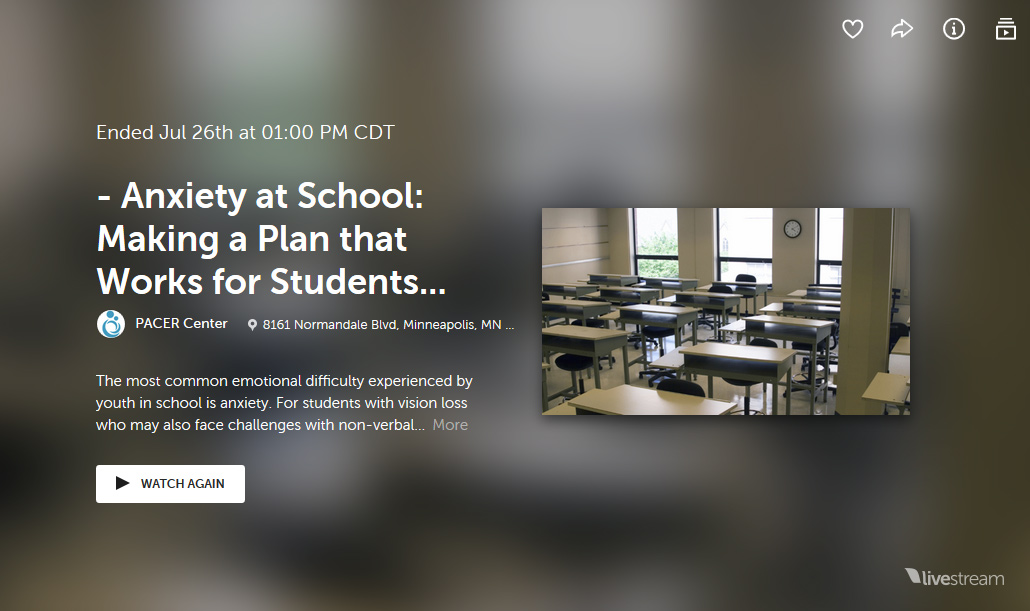 Anxiety at School: Making a Plan that Works for Students with Vision Loss
The most common emotional difficulty experienced by youth in school is anxiety. For students with vision loss who may also face challenges with non-verbal communication, managing a school setting can be even more difficult. This live stream event for parents and others, the following topic are addressed: Understanding behavior as communication, learning about behaviors that may reflect anxiety, discovering alternatives to consequences and punishment, exploring effective interventions for support at school.