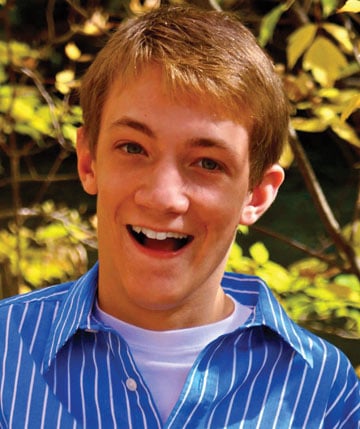 Sam Graves
For many people, constantly changing technology can be a major source of irritation, but for 19-year-old Sam Graves, the latest innovations have been a home run. Sam, who has cerebral palsy, is a self-professed Minnesota Twins fan, co-author of the baseball blog "Two Men On," and a freshman at Augsburg College in Minneapolis. He is thriving at school, at home, and in the community thanks, in part, to new assistive technology."I am always looking for the latest and coolest piece of technology," he says. "When I'm looking for new technology I usually go online to find out about it or I read about it in the news."
Sam was 3 years old when his parents, Kathy and Hazen Graves, first brought their son to PACER's Simon Technology Center (STC). That visit was the beginning of a fruitful relationship with PACER that has provided Sam access to new technology as it becomes available. It also led the family to become enthusiastic PACER volunteers.
"For a kid like Sam, technology has really leveled the playing field," says Kathy. "The iPad, for example, has made such a huge difference in his life. He also has his own website, he writes a blog, and he had a summer job editing copy via technology. He is a very good writer."
"Sam doesn't just use technology, he embraces it," says Jonathan Campbell, an assistive technology specialist with the STC who has provided consultations for Sam at PACER. "When he first showed me how he uses his iPad, the conversation wasn't about what the iPad could do for him, it was about how cool the iPad was. That's when I knew we would get along very well!
---
Additional Material

The Individuals with Disabilities Education Act and Its Impact - A research paper by Sam Graves