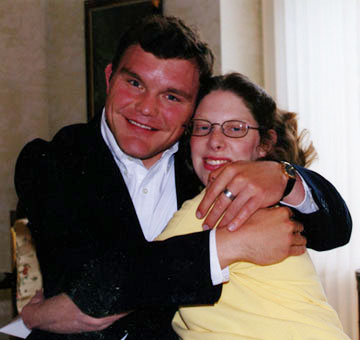 Brett Nelson
Hi. My name is Brett Nelson.
When I was in school, my mom and dad used PACER to help me get better services. I graduated from Edina High School in 1999, and from VECTOR, a transition program at Hennepin Technical College in Eden Prairie in 2003. At VECTOR I learned how to take responsibility for my life, find a job, keep it and do good business. I have worked at Lunds in Edina for over 7 years. On my 5 year anniversary Lunds rewarded me with a watch with a real Lund's gold symbol on it. I really love my job.
In my free time, I compete in Special Olympics bowling, basketball, swimming and golf. I have won many medals, but for me, the fun is being part of the team. We have practices, dances and lots of fun. It keeps me very busy.
I live in my own house that my parents helped me buy during the work week. I have staff that stay with me overnight and help me cook, clean and take care of the house. I have a cat, Goofy, who lives with me also. On the weekends, I stay at my parents house.
I also have a wonderful girlfriend, Leslie. She and I have been dating for about 9 years. We met because her mom and my mom volunteered at PACER. I took her to my Prom and we've been dating ever since. She is fun to be with and I really love her. We go on dates almost every weekend. PACER should start a dating service!
I want to thank all the people who help PACER. Without your support I wouldn't have the opportunities I have today!