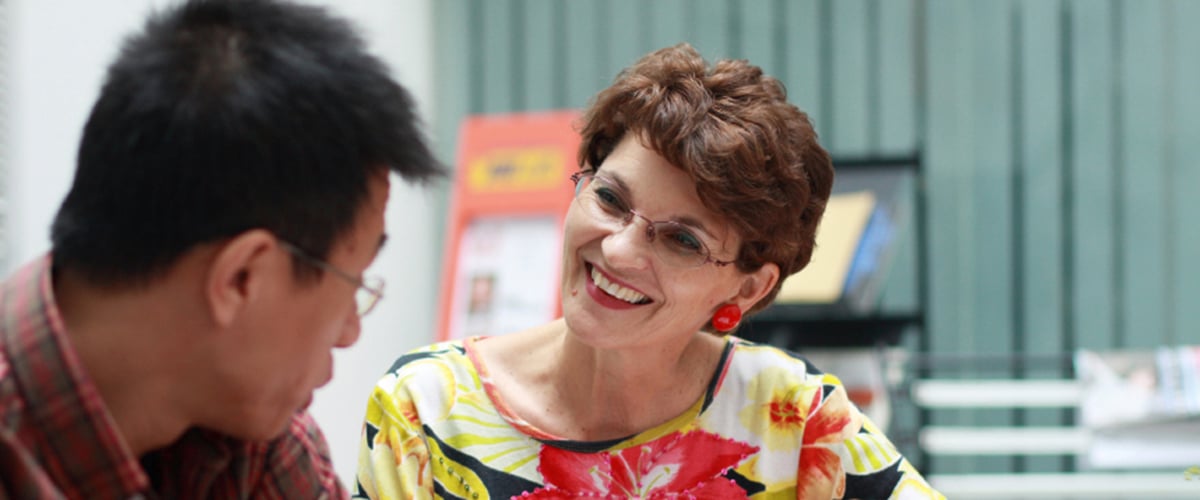 Educators Matter Too!
There is a saying that "it takes two to tango." Family engagement is as much the responsibility of schools as it is of families. Both are needed to build an effective partnership that leads to student success. According to Karen Mapp's Dual Capacity-Building Framework, educators, like families, need to build their capacity to engage families in ways that further student outcomes and honor a family's linguistic and cultural background.
The following tips are designed to help educators, administrators and other school staff create and maintain effective partnerships with all families, leading to increased family engagement, and ultimately better outcomes for children. Resources provided include strategies for engaging with culturally and linguistically diverse families.
Tips for a Family Friendly School
The adage, "You never have a second chance to make a first impression," applies to school professionals who want to establish good relationships with the families they serve. These first contacts provide the opportunity for a family to view the school experience as positive and responsive.
As an educator, here are some questions to ask yourself:
Are guests and families greeted by school staff when they enter the school? If so, how? Are the students greeted?
When families call the school, are staff friendly? Can they give them the information they need or direct them to the right staff person?
Can parents easily reach or get a message to their child's classroom?
Are there signs that direct visitors or families to different locations in the school?
Does your school have a parent/family resource room or a parent/family liaison? Do families feel comfortable using the room or contacting that person?
Do teacher and school staff use different methods to contact families (in-person, phone, paper, or electronically)?
Are families contacted in their preferred language?
Are written materials free of jargon and available in a family's preferred language?
Do you provide regular notes, newsletters, or classroom updates to your student's families?
Do you provide information to families about programs that can help students succeed, such as tutors or after school programs?
Does the school respect the various roles and circumstances of families, such as single parents, grandparents, godparents, foster parents, or other family caregivers?
More Items
More +
Are parents viewed as equal partners in the educational process?
Does the school try to schedule events so that families can easily attend?
When family's attend a school event, are there signs posted telling them where to go? Are the signs in various languages?
Do you have copies of the school's student and parent handbooks available for families? Has any time been spent showing them how to use it? Is it in family's preferred language?
Do you greet families during parent teacher conferences? Is staff available to help them find their way around the school or are there signs to help with this?
Does the school make efforts to connect engaged families with each other?
Does the school ask for feedback from families regarding classes, programs, family engagement activities, or overall impressions of the school environment?
Is information available to families regarding interpreters?
Is the school's website easy for families to find and navigate? Is there information about student's subjects, teachers, other school personnel, and student achievements?
Do families have access to a place or person where they can go to discuss concerns regarding the school?
Tips for Interacting with Families
For families to participate and engage with their student's school, they must trust the school and the staff that work there. Trust is the foundation of a good relationship and effective communication. Therefore, it is essential to devote time to conversation and activities that will help to build trust. Expect that it may take time.
Keep lines of communication open — communicate about positives as well as any challenges
Offer opportunities for families to provide feedback
Train staff on how to respond to parent concerns
Be empathetic and keep an open mind
Provide different ways that teachers and families can communicate on a regular basis
Explain guidelines for parent participation and the reason they are in place, so parents know what to expect from the start
Tips for Conducting Family Friendly Meetings
"Well informed and educated parents make the best partners." (176 Ways to Involve Parents, Betty Boult, 2006). For families to be equal partners in decision making about their child's education, they must be included, educated and informed about the topics that will be discussed at school meetings. Here are some ways to cultivate family engagement at school meetings.
Call the parents before any type of meeting and answer questions they may have. Explain the purpose of the meeting, the desired outcome, who will participate and what will they specifically do during the meeting. Discuss the parents' role and how they will be asked to participate.
At a first meeting, begin by sharing a little personal background information about yourself (i.e. why you went into this profession and what you especially enjoy about it.)
Direct your comments and responses to both parents (if present.) Let the family inform you if there is any preference in who receives information and makes decisions. Respect the family structure even when it is not your own experience and value system. Recognize the importance, in many cultures, of designated community elders, spiritual leaders, and spiritual helpers, for whom families may go to for advice or approval.
When the child has a suspected or diagnosed disability, it will not be unusual for the parent to initially say, "There's nothing wrong with my child." Acknowledge their viewpoint and recognize it may take time to develop enough trust in the relationship for the family to hear and consider your input.
There likely will be a need for you to provide an explanation of the process and systems involved. Even if the process and terminology was explained in a pre-meeting contact, describe them as you go along and invite the family members to ask questions.
During the meeting, the family may seem to understand the information that is being communicated. If asked directly, "Do you understand?" a family member may answer "Yes," even if they do not. You will need to check for understanding in informal ways as you go along such as: "Does that make sense to you?"; "What questions does that raise for you?"; "Does that sound right to you?"; and "Do you know what to do next?"
Resources
Working With Culturally Diverse Families – Tips for Conducting Family-Friendly Events
Find out ways to conduct family friendly school events that are inclusive for all families. The section includes tips and a sample flyer.
Positive Interactions with Diverse Families
The adage, "You never have a second chance to make a first impression," applies to school professionals who want to establish good relationships with the families they serve. The following tips are designed to help you create and maintain effective partnerships with families.
Achieve the Plan board game (.zip) — Family Engagement game (Gameboard, Rules, and Action Cards)
This fun and easy-to-play game will guide your staff along the path to "Achievement City." This great conversation starter will provide ideas to improve your school's family engagement stategies.
Family Teacher Partnerships
Effective parent-teacher partnerships are based on a relationship rooted in equality and respect. This tip sheet contains information about how educators can more effectively interact and communicate with families, with a special emphasis on working with diverse families.
Tips for Teachers and School Staff from Students with Mental Health and Behavior Challenges
Youth with mental health and behavior challenges are often sensitive about their disabilities. They may be uncomfortable talking directly to school professionals about the challenges they face. PACER's Youth Advisory Board on Children's Mental Health developed this list of ways school staff can better support students with mental health and behavior needs.
Archived webinars
"Engaging Diverse Families: What Parents Want Teachers to Know"
This presentation, given by a unique panel of parents, who are also special education advocates and experts in diversity, provides an understanding of the parent perspective. It suggests strategies they have found to be effective for building collaboration with all parents of children with behavior or learning concerns and disabilities, particularly those from diverse cultures.
Family-Friendly and Family-Engaged Distance Learning: Tips for Educators
PACER's multicultural advocates discuss tips for engaged and family friendly distance learning, including information about partnering with Hmong, Somali, Latino, and African American parents and families.