PACER Center
952-838-9000
Champions for Children with Disabilities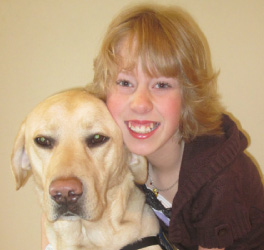 Juliet Heinen is the grand prize winner of PACER's 6th Annual Creative Kids Contest!
Order your cards online now!
The cards are a standard 4 ½ x 6 ¼ note card size, and include 8 cards per box with accompanying envelopes. All proceeds from the sale of the cards benefit PACER programs.
Creative Kids would like to give a special thanks to all of the contestants who contributed their inspiring artwork; to Anthony R. Whelihan, PACER's artist in residence, and head of the Creative Kids Program; and to all the sponsors who made this possible: Ideal Printers, Gallery Service, and Bloomington Art Center.
Card Front:



Juliet's Story (as seen on the back of the card):


Juliet is a creative, energetic 11-year-old diagnosed with arthrogryposis. She is currently creating her own animated series called "Swift" about the adventures of a stray black lab. Her series is posted on YouTube for all the world to see. In addition, she is in the process of writing her first novel, titled "Moon, the Story of a Wolf." In fact, her love of wolves inspired her to ask for a trip to the International Wolf Center in Ely for her next birthday. She enjoys the outdoors, especially swimming, fishing and playing night games in the summer with the neighborhood kids. Her service dog, Tank, is her lovable companion and often is the subject of her artwork.

Juliet's artwork is titled
"Tank and the Crystal Snow"
2010 PACER Greeting Cards are also still available!