Transitioning Patients from Pediatric to Adult Care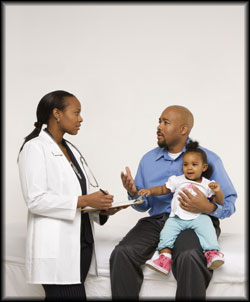 One way to improve health outcomes for youth with special health care needs is ensuring that they successfully transition from pediatric to adult health care. Health care providers help with this transition by ensuring youth:
Understand their changing health needs
Take more responsibility for managing their own care
Identify appropriate adult health care providers
Maintain insurance coverage
National resources
Got Transition
National Health Care Transition Center for families supporting youth and young adults to access health systems as new health care consumers.
PACER's National Parent Center on Transition and Employment (Health & Transition Section)
A young person's health is critical to his or her overall well-being. Good health provides a solid foundation for success at home, work, school, and in the community. As children become adults, families must determine how a young person's health care expenses will be covered once they are no longer covered on the family policy or by a children's health care program. Many families also experience the challenge of transitioning from a long trusted pediatrician to a new adult health care provider.
American Academy of Pediatrics: Developmental and Behavioral News: "Six Tips for Helping Parents Advocate for their Child Care"
The Culturally Sensitive Individualization of Services and Supports
Information on Cultural Reciprocity and how providers can assist with transition planning when working with diverse families.
The National Alliance to Advance Adolescent Health
National initiatives in education, research, policy analysis and technical assistance in support of health outcomes for adolescents and the infrastructure changes needed to achieve them.
Simons Foundation Autism Research Initiative: Study aims to capture autism's transition into adulthood
A new study in the UK looks at young adults who are diagnosed with Autism Spectrum Disorders and the transition from pediatric to adult health care.
In Minnesota
Youth and Young Adults Planning for the Future
Minnesota Department of Health Transition Resources
Minnesota Department of Employment and Economic Development
Employment options for youth and adults with disabilities
MinnesotaHelp.info
Find services for people with disabilities or chronic illnesses, and for their families and representatives.
Resources for families and young adult consumers