Reprint Request Form

Publication Order Form



Items marked

are FREE to Minnesota parents of children and young adults with disabilities.


items are free to young adults, high school or older, with disabilities and their families.

Please limit requests for free items to 10 or less per order.
Parents Helping Parents Project provides a wide array of services to help parents advocate for their children with disabilities. The project is staffed by parent advocates who assist parents by distributing informative materials, conducting workshops and trainings, and providing one-on-one consultations with parents throughout Minnesota. Parent advocates help clarify existing laws, explain school procedures, develop strategies for working with schools, and answer questions about everything from transportation to parental rights.
Information Cards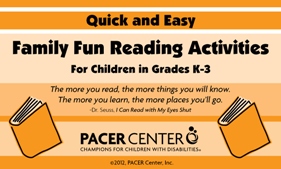 Family Fun Reading Activity Cards
These activity cards help your child develop literacy skills that are important for reading and learning success. You can do these fun skill-builders at home, in your neighborhood, and on the go! For children in grades K-3. 2012.


$4 | 10+ copies, $2.50 each | 100+ copies, $2 each | PHP-a43
Parent Information Cards
Laminated 3 x 5-inch cards detailing parent rights and responsibilities in special education as well as topics of discussion for IEP development that parents can bring with them to their child's IEP meetings. 2010.


$.25 | 100+ copies, $.20 each | PHP-a39 (Please call for shipping and handling pricing)
Interactive
Helping Children with Disabilities Learn What All Children Learn


Many benefits are possible when parents and the rest of the Individualized Education Program (IEP) team help students with disabilities learn what all children are expected to learn. The information in this 10 minute presentation will help parents of students receiving special education services work with the IEP team to increase their child's skills in the areas of reading and math.
---
Unique online resource is a step-by-step guide through the process schools must follow to discipline children with disabilities in Minnesota.
---
A 37 minute audio/video overview of special education created to help parents of children with disabilities understand what special education is, how a child might get into special education, how to resolve disagreements, and what role parents play.
Developed by PACER Center, it is funded in part by a grant from the Minnesota Department of Education.
This presentation has been translated to Hmong, Spanish, and Somali.
Download PowerPoint Slides

Books
A Guide for Minnesota Parents to the Individualized Education Program


Helps parents work with schools to address each child's special needs through understanding the required components of the IEP. Includes examples from the Minnesota state recommended form. 2012.


$3 | 10+ copies, $2 each | PHP-a12
A Parent's Guide to Special Education Advisory Councils (SEAC)


This book gives an in depth look at how special education advisory councils work. 2005.


$3 | 10+ copies, $2.50 each | PHP-a37
Building a Strong Family: A Handbook for Hmong Parents - Hmong Version
Combining Hmong culture and recent research, illustrated stories about families are meant to help Hmong parents raising children in the U.S. 1997.


$8 | 10+ copies, $6 each | LPA-29
Celebrating Family Strengths: A Handbook for Families
Suggests ways for families to recognize and appreciate their own strengths, stories, and traditions. Reinforcing concepts, it focuses on the need for good communication and recognizing responsibilities. 24 pages. 1993. (See Translations for Hmong and Spanish.)
$2.50 | 10+ copies, $2 each | LPA-11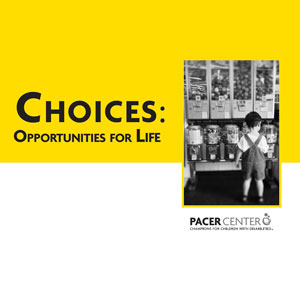 Choices: Opportunities for Life
The information in this booklet can help parents think about the steps involved in encouraging decision making skills in their young children with disabilities. 2009.


$8 | 10+ copies, $6.50 each | PHP-a31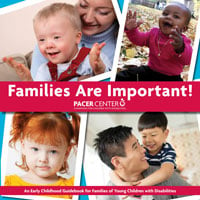 Families are Important! An Early Childhood Guidebook for Families of Young Children
Helps families of children with disabilities or delayed development understand Minnesota's early intervention system and how to access services for their child. 2011.


$7 | 10+ copies, $5 each | PHP-a9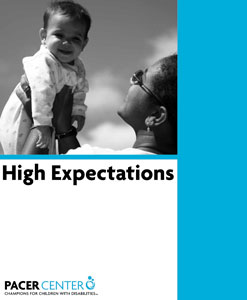 High Expectations
Helps parents who have just learned their child has a disability to maintain high expectations for the child's future while challenging the low expectations of others. 2009.


$3 | 10+ copies, $2.50 each | PHP-a34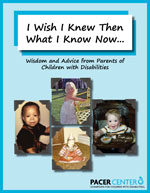 I Wish I Knew Then What I Know Now
New! Advice from over twenty parents of children with disabilities, sharing what they have learned while navigating health care, education, and social support systems and what they would do differently if they did it all again. 2012


$8 | 10+ copies, $6 each | PHP-a42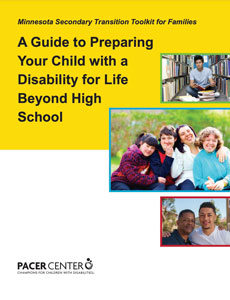 Minnesota Secondary Transition Toolkit for Families: A Guide to Preparing Your Child with a Disability for Life Beyond High School
New! This toolkit was created to make transition planning easier and offers easy-to-understand information about the purpose of transition planning, the goal and importance of age-appropriate assessments, and the required rules that are used by schools. It also includes information on the community partners that can provide youth with supports as adults. Topics include healthcare and health maintenance, benefits planning, postsecondary education and accommodations, recreation, social resources, transportation, and housing. 2013. One copy may be printed from downloaded booklet.


$9 | 10+ copies, $7 each | ST-41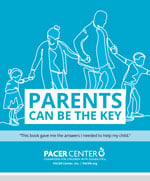 Parents Can Be the Key
This handbook describes basic special education laws and procedures. 2011.


$3 | 10+ copies, $2 each | PHP-a1

Possibilities: A Financial Resource for Parents of Children with Disabilities
a booklet first published in 2004 by the National Endowment for Financial Education (NEFE) and PACER, has been revamped and expanded in an online format. This guide offers tips and information on organizing financial records, managing money, dealing with debt, preparing income taxes, saving for college, preparing youth for adult employment, and more. Each section includes links to additional resources. 2011


FREE | Online Only | WEB-1
Working Together: A Parent's Guide to Parent and Professional Partnership and Communication Within Special Education
Helps parents effectively communicate with special education professionals as they develop their child's educational program. 2009.


$6 | 10+ copies, $5 each | PHP-a19
Brochure
Effective Advocacy: Guidelines to help parents help their children
A brochure for organizations or individuals who help parents develop advocacy skills. 2000. (See Translations for Spanish.)


$1 | 10+ copies, $.50 each | PHP-a13
Truancy: A Family Guide to Understanding and Seeking Help for Truancy
This brochure provides families with information on the importance of children attending school regularly and on time. It also explains Minnesota laws on school attendance and truancy: being frequently absent from school without permission or a valid reason. If children have multiple unexcused absences, this brochure can help families encourage school attendance and understand possible consequences of truancy.


FREE | PHP-a4
Record Keeping Folders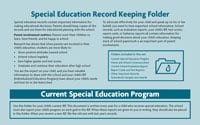 Special Education Record Keeping Folders
Parents can keep important papers related to their child's education plus helpful tips on working with your child's school. 2009. (See Translations for Somali, Hmong, and Spanish.)


1-10 copies, $10 each | 11-100 copies, $8 each | 101-500 copies, $7 each | PHP-a5
Video
Our Children, Our Hopes
Speaks to the need of African-American families to talk about their children with others in their community, seek resources, confront issues of race and cultural traditions, and realize that their individual and collective strengths can help in creatively pursuing ways to meet their needs and help systems to change. 15 minutes. 1992. Closed-captioned.
$35 | Rental, $10 | VID-11
Handouts Free to Download | $1.50 per request | 10+ copies, $.50 each
* To download the MP3 files, right click on the Download link and select "Save Target As.."
Choose where to save it and click "Save". Then, open the file in desired media player upon completion.