Measuring Outcomes Helps to Track Your Child's Progress
2012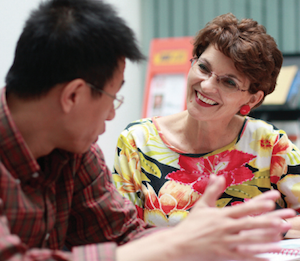 As a parent, you want your child with developmental delays or disabilities to be an active, thriving participant at home, in childcare or school programs, and in the community. That's also the purpose of early childhood intervention services. Your partnership with early intervention and preschool special education professionals is vital in helping your child succeed.
From the time your child is first evaluated until he or she goes to preschool, early intervention providers will work with you to evaluate your child, create an Individual Family Service Plan (IFSP) that guides his or her development, and choose specific desired "outcomes." Outcomes are the positive results you'd like your child to achieve and the benefits of early intervention services your child and family will receive.
You and these service providers will work together to enhance your child's development and learning and help achieve the outcomes you set together. You'll work with the service providers to measure the progress your child makes towards the desired outcomes. By taking an active role in observing your child and defining outcomes, you will become an informed, effective advocate. You'll also be prepared to play a major role in developing your child's future education.
Choosing Outcomes
The process begins when early intervention specialists evaluate your child to establish his or her strengths and needs and determine your family's needs and concerns. You'll work with the specialists to write the IFSP, which establishes a baseline for your child's development and learning. It also defines desired outcomes — the benefits to be gained by your child and family as a result of the services provided.
The early intervention provider will visit your home regularly to share practical, effective strategies you can use — advice on bathing, feeding, and dressing, for example. Along the way, those strategies will be tweaked as needed. This approach has worked well for Tanya and Bruce Yerkes of Burnsville, Minn., whose son Ben has been diagnosed with cerebral palsy.
"The person from the early intervention program came every week and she knew Ben well," Tanya says. "We set goals and then we followed up and adjusted the goals every six months or so. We started with what he could do — he could roll over, he could get up on his hands and knees. We would see how well he did and we would adjust if needed."
What Outcomes are Measured?
While the desired outcomes written in the IFSP are specific to your child, there are also big picture outcomes that have been established for all children who receive early intervention services. The U.S. Department of Education Office of Special Education Programs (OSEP) measures three main outcome areas:
Children have positive social relationships. How well do children relate to those around them? For his or her age, is the child able to:

Build and maintain relationships with children and adults?
Regulate his or her emotions?
Understand and follow rules?
Communicate wants and needs effectively?

Children acquire and use knowledge and skills. This refers to thinking, learning, reasoning, memory, and problem-solving skills. For his or her age, can the child:

Engage in thinking, reasoning, remembering, and problem solving?
Show an eagerness for learning?
Explore his or her environment and engage in daily learning opportunities?
Show imagination and creativity in play?
Understand and communicate thoughts and ideas?

Children take action to meet their needs. Are children able to take care of themselves and use appropriate ways to have their needs met? For his or her age, is the child able to:

Move from place to place to participate in everyday activities and routines?
Meet his or her self‐care needs such as feeding, dressing, or toileting?
Seek help when needed to move from place to place?
Use objects such as spoons, crayons, and switches as tools?
When and Why are Outcomes Measured?
Progress towards these three outcome areas is measured throughout the early intervention process. You know your child better than anyone and you can provide important information about how your child behaves with different people and in different settings.
The early intervention provider will ask you to share your observations of the skills and abilities your child uses daily. You'll be asked about your child's emotions and behaviors, how he or she relates to adults and other children, what activities he or she enjoys, and how your child communicates wants and needs. If formal testing is needed to obtain more information, your early intervention provider will ask for your written consent to conduct evaluations. Other caregivers who are involved in your child's life will also be asked for input, as will the professionals who have observed your child.
All of this information is combined with the provider's assessment to create an accurate measure of outcomes, both during and after the delivery of early intervention services. This information is used to determine how much progress your child is making and to improve services nationally for children with disabilities and their families in the future.
When your child is about to exit the early intervention program at age 3, you'll be asked to complete the Family Outcomes Survey. The survey is designed to measure the impact of early intervention services for parents. It asks you to respond to questions about how effective early intervention services have been in helping you know your rights, in helping you communicate your child's needs, and in helping your child develop and learn. "The survey wasn't hard at all," Tanya says.
Why are Outcomes Important?
Parents want feedback on how their child is functioning. By knowing what outcomes are measured — and being an active participant in the process — you'll be able to track your child's development and celebrate progress. You'll also be prepared to be an active participant in your child's education plans from preschool through grade 12! This will be much easier if you are used to providing accurate, detailed information on your child's development and learning.
Tanya has kept detailed records on Ben's progress from the time he entered early intervention. When Ben was evaluated by special education professionals from their local school district prior to preschool, Tanya was ready to be an effective advocate for her son.
"I was the one who knew what he could do," she says. "For example, they wanted him to walk with a gait trainer all the time, but he can't do that. I was able to tell them."
PACER Can Help
It can be a difficult time when your child is first diagnosed with a developmental delay or disability. There is a lot to learn and there are many obstacles to overcome. Fortunately, you are not alone. PACER Center provides a variety of workshops and services to parents of young children with developmental delays and disabilities.
Tanya Yerkes learned about PACER through a friend. She attended workshops and read everything she could. "I was so overwhelmed at first, and I am still learning. I found the workshops to be very helpful, and I don't know what I would have done if I had not come to PACER," she says. "I tell people to take in as much information and be as informed as you can be."