Early Inclusion Helps Children Succeed in School
2015
As a parent, you want your child with disabilities to have the same opportunities as every other child: to learn, play, make friends, and have a sense of belonging. Learning alongside typical peers in an inclusive preschool environment can provide your child with these important experiences and lay the foundation for success in elementary school and beyond.
Monica Mayclin has seen firsthand just how valuable an inclusive setting has been for her daughter Madeline (pictured at right), who has Down syndrome. Now 6 years old, Madeline has been included with her typical peers since her third year of preschool. "From the very beginning, I shared with teachers and staff how important it was for Madeline to be included," said Monica. "I knew that it was key to helping her develop strong learning and social skills."
In preschool, Madeline learned and played beside her typical peers two out of the four days she attended each week. This experience helped prepare Madeline to be mainstreamed in kindergarten. "Being included with her peers from the very beginning of her schooling has had a phenomenal impact on her entire life," said Monica. "Her peers motivate her to learn and she has made many friends."
Inclusion Guidelines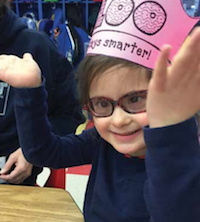 The opportunity to spend time with typical children should be considered for all preschool children who have an Individualized Education Program (IEP), says Judy Swett, PACER's Early Childhood Coordinator. The Individuals with Disabilities Education Act (IDEA) provides the following inclusion guidelines for schools:
Children ages 3 through 21 should receive services in the least restrictive environment and alongside children without disabilities as much as appropriate. "Appropriate" means that the education fits the child's special needs and allows him or her to make educational progress.
School districts must make sure that young children receive services in the least restrictive environment, even if the district does not have an early childhood preschool program. In these instances, the least restrictive environment could be a public or private early childhood program, including Early/Head Start and child care programs.
The IEP team must consider what extra supports will allow the child to be placed in a regular preschool environment whenever possible. Examples of supports might include assistive technology, behavior strategies, use of a resource room, or changes in the curriculum.
In a recently released draft policy statement, the U.S. Department of Education and the U.S. Department of Health and Human Services support greater inclusion of children with all disabilities in early childhood programs. The agencies are urging states to create task forces focused on early childhood inclusion, implement policies and allocate funding to facilitate such programs, and set and track goals to expand inclusive learning opportunities.
Helpful Tips
Here are some tips to help ensure that your child is receiving services in an inclusive setting:
Talk about inclusion early and often — From the moment your child is enrolled in a preschool program, tell teachers and staff about the importance of inclusion for your child. Communicate with staff about how inclusion is working for your child, and make sure they're keeping you informed about the gains or challenges your child is facing. If your child is already enrolled in a preschool or child care setting, ask if services and supports could be provided in that setting. Provide the IEP team with data, including notes from the teacher, that show your child is doing well in that setting.
Gather information — When the school proposes a setting, ask if that setting includes typically developing peers. Take a tour of the school and speak with teachers, staff members, the principal, and the special education director to understand all of the options available. If the team suggests that some services need to be provided outside of the inclusive setting, ask how much time your child will be removed and why.
Make the IEP meeting count — Write down all of your concerns, goals, and questions before the meeting. Make sure the IEP team discusses any supports your child may need to be successful in the inclusive setting.
Surround yourself with allies — Meet other parents who value inclusion and work with them to share ideas and resolve issues. If you have questions about your child's IEP or the setting being proposed, call PACER at (952) 838-9000 and ask to speak with an early childhood advocate.
The Many Benefits of Inclusion
Research shows that children with disabilities, including those with the most significant disabilities and highest needs, can make significant learning progress in inclusive settings and demonstrate stronger social emotional skills than their peers who are not included. Children in inclusive early childhood programs who transition into inclusive classrooms in elementary school demonstrate more social interactions with peers with and without disabilities, feel less alone, and have a stronger understanding of socially acceptable behaviors.
Inclusion can be achieved with specialized instruction; however, research shows that in order for children with disabilities to be effectively educated in an inclusive environment, they must be included with typically developing peers several days a week.
Monica worked with Madeline's preschool to ensure that the programs were tailored to meet her unique needs and that she had plenty of time to interact with her typical peers. As a result, Madeline quickly showed gains in her cognitive and social development. "We were very pleased with the amazing progress she made in preschool," said Monica. "This provided us with the information we needed to push for full inclusion in her kindergarten classroom."
Teachers and child care providers also see growth in children who have had opportunities in typical preschool classrooms and child care settings. "Time spent in inclusive classrooms, whether it is all of a student's time or just a part of their day, has many benefits," said Erin Nelson, a former special education preschool teacher who now works as a technology specialist in PACER's Simon Technology Center. "When children with delays or disabilities spend time with typically developing peers, they are exposed to age appropriate language, classroom behavior, and social and play skills."
Cindy Croft from the Minnesota Center for Inclusive Child Care says that inclusion benefits all children — including those without disabilities. "Inclusive child care gives all children, with and without disabilities, the opportunity to learn and play together in a setting where everyone belongs," said Croft. "In a high quality inclusive child care setting, children get to experience how they are all 'more alike than different' in a positive and nurturing environment that promotes social relationships."
Setting High Standards
Madeline made tremendous developmental gains through her inclusive kindergarten classroom, including learning how to read sight words and speak some basic phrases in Spanish. She also participated fully in her class recital at the end of the year. "She was on-stage doing everything the other kids were doing," said Monica. "It brought a tear to our eyes to see how independent and confident she has gotten."
Monica and her husband are ecstatic about Madeline's progress, but they aren't surprised. "It's so important not to have preconceived ideas for what your child will achieve and what they won't," said Monica.
As Madeline moves into first grade, Monica is confident that she will continue to be successful. "As a parent, you want your child to live as normal a life as they can," said Monica. "Inclusion makes that possible."