Assistive Technology (AT) Can Support Inclusion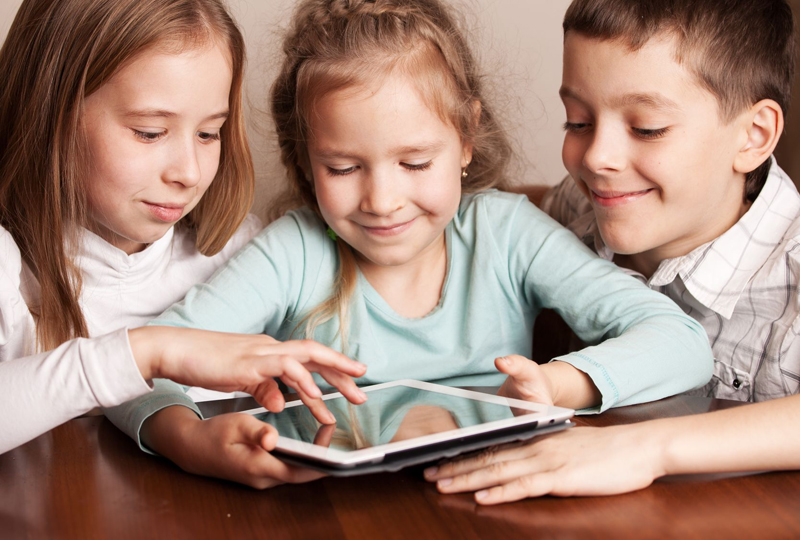 Time spent in inclusive classrooms is a great opportunity for children with disabilities to learn and practice new skills, and many are able to participate with minimal support or adaptations. For other children, the right assistive technology (AT) can be the key that enables them to participate fully. From a crayon with a textured grip to help a child color, to high-tech communication devices that help children talk, there is a wide variety of assistive technology available to support young children in inclusive settings. Let's look at a few examples.
Some AT is useful at home and school, such as a visual schedule which can help a student remember what to do for various activities such as the morning routine. Pencil grips increase a child's control while he or she is writing or coloring. A communication board or choice board helps young children express their wants and needs. Here are some specific examples of how AT can help a child throughout his or her school day.
Circle Time
"Circle time" is a key component of a preschooler's day that often includes stories, songs, the calendar, and other activities. A wiggle seat used during this time lets young children move while remaining seated. Others hold a fidget, a small object that keeps little hands busy and helps hold their interest in the activity. Visual rules help pre-readers remember what they are supposed to be doing, and may include pictures of sitting, raising hands, or staying quiet.
Books are an important part of circle time, too, and there are many adaptations for reading that make books more accessible. Some children use page turners — often called "fluffers" — that are inserted between the pages of a book to make the pages easier to turn. Other children use pictures to match the story, raised lines for students who are blind or have low vision, or tools such as the AnyBook Reader, which allows teachers to record narration or sounds to go along with a story.
Snack Time
Snack time is a great opportunity for young children to try new foods and talk with their friends. Adapted cups, bowls, and utensils allow children with limited motor skills or control to eat more independently. The choice board can be helpful here and the wiggle chair, too./
Play Time
Young children learn through play as they discover how to work with others and learn how to solve problems. Adapted toys, which include switch-activated toys and do-it-yourself adaptations, provide children with the opportunity to use age-appropriate toys in ways that work for them. Whether a child is playing with blocks or cooking in a pretend kitchen, there is simple assistive technology available that can help make it easier for children with disabilities to make comments, ask questions, and interact with other children.