Your Life and Disability Insurance
Life and disability insurance play important roles for your entire family. It's hard to think about or plan for, but if you were to experience a fatal or debilitating accident or illness damaging your ability to provide your family with income, life and disability insurance could help maintain your family's financial well-being.
Your Life Insurance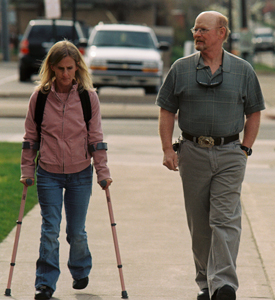 An obvious role life insurance plays is its ability to provide income for a surviving family's ongoing living expenses and financial goals around education, career, and retirement. Yet for families of children with special needs, the role of life insurance takes on an even greater role. It becomes part of the answer to, "Who will care for my child after I'm gone?"
The Role Life Insurance Plays in Families of Children with Special Needs
Depending on the type you get, a life insurance policy can provide your child with special needs with these long-term benefits:
Funding for the day-to-day costs of caring for your child
Funding for special needs trust
A way to leave funds to a special needs trust (where the trust, not your child, is a beneficiary of the life insurance policy) after the second parent dies, while maintaining your child's eligibility for government benefits
Funding for the costs of a caregiver if your child needs long-term or part-time care
Calculate Your Life Insurance Needs
How much life insurance do you need? You can begin determining that by reviewing the current expenses listed on your spending plan, then move on to determining expenses you think you might have in the future. And because the cost of things generally go up (inflation), you'll need to calculate how much the cost of something at today's prices will cost many years from now. 
For help in determining how much life insurance you need, speak with a life insurance agent or financial advisor, preferably one with experience in working with families of children with disabilities. To learn more about life insurance and the issues related to it, visit the Insurance Information Institute at www.iii.org .
Areas to Consider When Calculating Insurance Needs
How much money your family needs to live on now—the day-to-day expenses you listed in your spending plan.
How much money you will need to finance your family's future expenses, such as college, the long-term care of your child with special needs, career training, and the long-term care for you and your spouse.
How much you owe now. If you created a Debt Reduction Plan, use the total debt amount you listed. Consider future debt you might incur for other financial goals around education, career, and retirement.
Medical expenses that are not covered by your health care plan.
Funeral expenses and final estate-settlement costs.
Life Insurance and Your Social Security Benefits
By taking into account your Social Security benefits, the amount of life insurance you actually need is reduced. Social Security legislation may change over the years, but at the time of this publication, surviving family members of the deceased may receive the following benefits.
A surviving spouse can collect:

The deceased's full monthly Social Security benefit beginning at age 65 to 67, depending on her or his year of birth.
A permanently reduced monthly benefit as early as age 62. The benefit is reduced permanently because of the earlier age compared to the full benefit age listed in the bullet above.

A surviving spouse caring for a child who also receives Social Security benefits can collect the deceased's full monthly Social Security benefits at any age until the child reaches age 16.
A disabled widow or widower can collect benefits as early as age 50, or at any age if a child under the age of 16 lives at home. Those benefits are in addition to the benefits children themselves receive.
Unmarried children may collect benefits if they are:

Under age 18
Under 19, but still in school
Over 18, but severely disabled and the disability occurred before age 22

Social Security may also pay a small death benefit to the surviving spouse or children.
For more information on life insurance and your Social Security Benefits, contact the Social Security Administration:
Call 1-800-772-1213 (Voice) or 1-800-325-0778 (TTY)
Visit www.socialsecurity.gov and search on "Survivors Benefits Publication 05-10084"
Write
Social Security Administration
Office of Public Inquiries
Windsor Park Building
6401 Security Blvd.
Baltimore, MD 21235
Your Disability Insurance
Disability insurance is designed to protect a wage earner's income stream on account of a disabling accident or illness. There are two types of disability insurance: short-term and long-term. While both types will typically replace from 50 to 70 percent of pre-tax income lost on account of a disability, short-term disability insurance will often pay up to a specified amount.
Short-term disability insurance typically lasts 90 days to two years. Coverage usually begins one to 14 days after the onset of a disability.
Long-term disability insurance usually starts 30 to 180 days after the onset of a disability. How long it lasts depends on the policy, but usually up to two years.
If a person is covered by short- and long-term disability insurance, the short-term plan usually stops when the long-term plan starts. Also, employees may have to use sick days to take time off of work (due to the disability) before disability insurance benefits begin.
Sources of Disability Insurance
The majority of disability insurance is provided by employers, yet other sources are available. Before you consider purchasing your own disability insurance policy, consider the following sources of disability insurance and how you can qualify for them.
Be aware that even though you may be eligible for disability insurance from multiple sources, receiving benefits from one source may reduce your benefits or disqualify you from receiving them from another. Generally, the sum of all disability payments received will not exceed 80 percent of your average lifetime earnings (rather than your current earnings) before the accident or illness. Disability benefits you receive from an employer are taxable; benefits received from a disability insurance policy you've purchased are not.
Your Employer
Employer benefits packages vary when it comes to taking care of employees who become sick or disabled. One thing that doesn't vary, however, is this: All employers are required to pay into Worker's Compensation, a form of insurance for employees injured while on the job.
Disability Insurance
Many employers provide employees who become disabled and unable to work with short- and long-term disability insurance. Employees may have to pay for this insurance through payroll deductions. Some employers offer baseline coverage (a monthly benefit amount) with the option to add to it. Other employers don't offer employees the actual coverage but the option to purchase it from a group plan.
Speak with your Human Resource representative for information about your company's disability insurance program or options to purchase coverage from a group plan.
Worker's Compensation
If you become disabled from working while on the job, your employer will provide you with Worker's Compensation Insurance to replace about 60 percent of your income. All states require employers to provide this type of disability coverage.
Sick Leave
Some employers provide employees who become ill or disabled with paid sick leave for a few days or up to one year. How much payment you receive and for how long depends on your company's sick leave policy and how long you've been employed.
Your State
Some states provide short-term disability coverage, usually up to six months. Employees pay for it through a payroll deduction. Speak with your Human Resource representative to find out if your state provides this type of coverage.
Your state's Vocational Rehabilitation (VR) Agency offers programs to help people with disabilities become employed. Again, your Human Resource representative May be able to  provide you with resources to find out about your local VR program.
To find a VR office near you—there might be more than one if you live in a large city—contact the Job Accommodation Network (JAN):
Call 1-800-526-7324 (Voice) or 1-877-781-9403 (TTY)
Visit www.askjan.org  
The Federal Government
Social Security Disability Insurance (SSDI) is a disability benefits program paid through the Social Security Administration. SSDI may replace only a limited amount of income. Eligibility requirements are very strict. To receive benefits, you must meet all of the following conditions:
You have been disabled for five full calendar months.
Your disability is expected to last at least 12 months or end in death.
You are unable to be employed at any occupation.
Other Sources of Income Should You Become Disabled
Special disability programs are available for:

 Veterans injured in war
Federal and state government workers
Railroad employees
Miners who develop black lung disease

Automobile insurance benefits for a disability resulting from a car accident
A spouse's income
Your savings, such as an emergency savings account, that can support income needs during a short-term disability
A Private Disability Insurance Provider
If after considering the sources listed above you think you need to purchase disability insurance, take a look at the Consumer Federation of America's "Long-Term Disability Insurance: Financial Protection for You and Your Family." This is a 12-page report on what you need to look for in disability insurance. It contains a checklist to help you get the policy that is right for you. To order the report, contact the Consumer Federation of America:
Call 1-202-387-6121
Visit www.consumerfed.org
Write
Consumer Federation of America
1620 I Street, NW - Suite 200
Washington, DC 20006
Defining "Disability"
How a disability insurance company defines "disability" tends to be the stickiest point in whether or not you qualify for the benefits. Some policies pay benefits only if the person is totally disabled. In other words, the person cannot perform any work in any field. Other policies pay benefits if the person can't perform the duties of his or her "own occupation." Still others allow you to work part time and still receive reduced benefits.
If you become disabled and think you'll need to depend on some type of disability benefit, first get clear on how the entity you'll get that benefit from defines "disability." It could make a huge difference in your and your family's financial well-being if you plan on a benefit, only to have it denied.
Your employer, insurance agent, local Social Security Administration representative, or state's Department of Labor (for Worker's Compensation issues) can provide you with the disability information you need so you can make financial plans for your family.
Next Chapter: Planning Your Future