Your Medical Coverage – What You Need to Know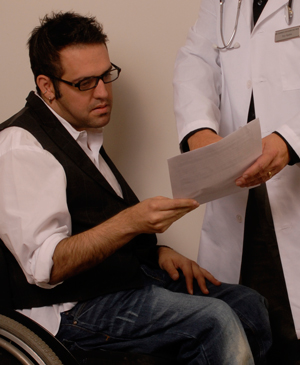 We already mentioned how important it is to understand your health care plan. As you've probably discovered over the years, it is the types of services that are not covered by your health care plan that can cause financial stress.
By now you might be aware of the types of services and medical needs your child requires now, and may require in the future. If you aren't, though, speak with:
Your doctor
Other health care professionals you work with
Disability-specific organizations
Other parents
Try to get a feel for what types of medical services your child may need in the future so you can determine whether or not your health care plan covers them. Knowing this will help you adjust the "Anticipated Amount" on your spending plan. For whatever medical needs your health care plan does not cover, consult with your Parent Center and your disability-specific organization for what assistance might be available to help you pay for them.
It might also be helpful to speak directly with the following people, depending on your plan, to get absolutely clear on the services your plan covers and what your financial responsibilities are:
A Human Resource Department employee who oversees your employer-provided health care plan or group health insurance policy
A health care plan customer service representative
Your insurance agent
When you have this conversation, have the following information available in case you need to refer to it.
Your Summary of Benefits
Any Explanation of Benefits (EOB) that you think will be helpful during the conversation
A list of your child's medicines
A list of the types of specialists who care for your child
The types of procedures and therapies your child needs
A list of anticipated services or medicines your child might need
"There is an art to navigating the health care system, and it is one you can learn. Ask for case managers in the hospital and with the insurance company, and then work at developing a good rapport and working relationship. You have to be willing to ask questions and keep on asking questions until you understand. That is your right. It is what you have to do."

—Carolyn Allshouse, parent advocate, mother of Jack
Making Your Policy Work for Your Child
Obviously, the more services your health care plan pays for, the less you pay. But if you're in a situation where you're maxed out on medical bills, it may seem that you don't have any control over your coverage. Actually, the opposite is true.
Insurance claims processing is complex. To try to simplify the process, insurance claims processors attempt to align your claim with a general rule. Mistakes happen. Your processor may inaccurately asses your claim. And because automation is such a big part of claims processing, an error in your claim may occur if automated systems are not working efficiently. As a result, misunderstandings occur. It is up to you to make your child's case clear so the processor's needs are met.
Guidelines for Successful Interactions with Insurance Claims Processors
Working with any large organization can be frustrating. Sometimes it is hard to get a hold of the person you need to speak with the most. At other times you may get conflicting information, or perhaps the customer service representative is new and not as informed as you need him or her to be. Insurance companies are large organizations, but there are ways you can make your phone experiences positive for both you and the person you speak with.
Before you make another call to a health care plan representative, take a look at the following suggestions. You might find one that changes the course of all future phone calls to health care representative for the better.
Ask for One Insurance Case Manager
This will save you time and help you avoid the frustrating experience of explaining your child's needs over and over again. Get a number that goes directly to this case manager's phone. Send him or her a picture of your child with a disability. This personalizes your situation and makes your child more than a "case."
If You are Denied Coverage for a Therapy, Treatment, or an Assistive Device that You
Know Your Child Needs, Don't Take "No" for an Answer
Kindly insist on the exact reason for the denial. Collect all documentation that explains the "need for treatment" along with the reason for the denial. Your Explanation of Benefits (EOB) will explain how to appeal your claim. Insist that your health care plan administrator supplies all information relating to a claim denial in writing.
Keep Detailed, Written Records of Everything Related to Your Child's Condition
Keep all medical bills and insurance claims. You will use these records to calculate tax deductions and appeal denied claims through your health care plan's administrative channels or the court system. You have the right to copies of your child's medical records and test results, so ask for them! These records may also be helpful for gaining a better understanding of your child's health issues.
Know How to Appeal a Claim
If you are denied a claim and appeal it, your health care plan administrator will put the claim through its appeals process. Ask your health care plan representative to send you a copy of its process, then use it! Get letters supporting your claim from primary doctors and other professionals who are familiar with your child's needs.
Appeal Decisions that are Not in Your Favor
For example, one mother saw that her child's lab work costing hundreds of dollars a week was reimbursed at 80 percent by an outside laboratory, but at 100 percent by an in-hospital lab. Since a nurse was drawing and submitting the samples and could submit them to the hospital lab, these costs could be covered 100 percent. The health care plan review committee decided to cover the samples previously submitted to a non-hospital lab at 100 percent.
Ask Your Employer to Change the Benefits in Your Company's Self-Insured Plan if the
Current Benefits Exclude What You Need Covered
Self-insured employers are financially responsible to pay employees' insurance claims out of their pockets. These employers design their own plans, which means that, to a certain extent, they decide exactly what the covered benefits will be under the plan.
Employers who purchase insurance, on the other hand, do not have quite as much flexibility as self-insured employers do, but they do have choices in the plans they purchase. In the past, some parents were successful in having their employers change their health care plans to include a previously excluded benefit.
Make this request only if you feel comfortable disclosing medical information to your employer. For example, one father negotiated with his employer to provide excellent health coverage for his daughter with Down Syndrome. The employer was willing to make the adjustment, even though the company group policy did not originally specify coverage for Down Syndrome and related health problems.
Your Rights Under the Family and Medical Leave Act (FMLA) and the Americans with Disabilities Act (ADA)
The Family Medical Leave Act (FMLA)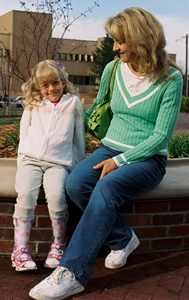 Under this Act, you are eligible for up to 12 weeks of unpaid leave to care for a family member—your spouse, child, or parent—under these conditions:
You work for a government entity
You work for a company with 50 or more employees
You have worked at least 1,250 hours during the 12-month period immediately preceding the date the leave of absence begins
You have informed your employer about your child's health needs
Upon your return to work, your employer must give you your job back, or an equivalent one, and maintain your same level of health care benefits.
FMLA 2010 Update—New Definition of "Son or Daughter"
The August 2010 update to the Family Medical Leave Act accommodates non-traditional parenting relationships common in today's world. New definitions of "son or daughter" now allow employees not biologically or legally related to the child, but who provide day-to-day care and financial support in place of the parents, to be covered under this Act. 
A "Son or Daughter"
Biological child
Adopted child
Foster child
Step child
Legal ward
A child of individuals who have day-to-day responsibilities to care for and financially support a child in place of the parents, such as an aunt and uncle
For more information on the Family with Medical Leave Act contact the U.S. Department of Labor:
Call 1-866-487-2365 (Voice) or 1-877-889-5627 (TTY)
Visit www.dol.gov and search on "Family Medical Leave Act"
Write
U.S. Department of Labor 
200 Constitution Ave., NW
Washington, DC 20210
Americans with Disabilities Act (ADA)
In July 2010, the Americans with Disabilities Act celebrated its 20th anniversary. The ADA is a civil rights law that protects people with disabilities from disability-based discrimination. The Act's provisions in four areas—employment, public transportation, public accommodations, and telecommunications—heighten public awareness that people with disabilities want to and are able to be productive members of society.
As a parent and an employee caring for your child with disabilities, the ADA protects your ability to financially provide for your family.
If you obtain group insurance with a new employer, it cannot charge you higher than standard prices, even if your child has a long-term health problem.
The ADA makes it illegal for an employer to fire or otherwise discriminate an employee who is the parent of a child with a disability based on a presumption that the employee will miss work or be less productive because of his or her responsibilities in caring for a child with special needs. 
The law provides additional protections to employees who have disabilities themselves. 
Most employers will try to work with you while you are away from work caring for your child. Still, it's a good idea to record your conversations with managers or Human Resource Department staff about your work responsibilities and performance. Be sure to keep copies of all performance reviews. For more information on the ADA:
Call 1-800-514-0301 (Voice) or 1-800-514-0383 (TTY)
Visit www.ada.gov
Write
U.S. Department of Justice
950 Pennsylvania Avenue, NW
Civil Rights Division
Disability Rights Section - NYA 
Washington, D.C. 20530
If You Need Legal Assistance While On the Job
If you feel you are being treated unfairly at work on account of caring for your child with disabilities, contact:
Equal Employment Opportunity Commission (EEOC)
Call 1-800-669-4000 to locate an office in your area
Visit www.eeoc.gov .
How Free Are Parents to Change Jobs?
If you have had medical coverage with an employer, under the Consolidated Omnibus Budget Reconciliation Act (COBRA) you may be able to maintain your insurance coverage with that employer if either you end or your employer terminates your employment for reasons other than gross misconduct, such as stealing or workplace violence.
COBRA is a federal law that serves two purposes:
Extend your health care coverage for 18 months from the date ending your employment
Help you qualify for a private health care plan
Example
If you maintain your insurance coverage under COBRA until it runs out, a private insurance company cannot deny you coverage, as long as you purchase a new policy within 180 days from the date COBRA runs out. It is possible that your new policy will cost more than your COBRA plan and not offer the same level of coverage. But the insurance company cannot make you prove insurability. And under a provision of the 2010 Health Reform Act, which goes into effect in 2014, you cannot be denied coverage due to a pre-existing condition.
In addition, some states provide special insurance coverage for children while their parents seek insurance coverage after changing jobs. Such a program could provide the flexibility you need, making it possible for you to accept a position at a company that does not provide health care benefits. For information on these programs, see State Programs in this section. For more information on COBRA contact the U.S. Department of Labor:
Call 1-866-487-2365 (Voice) or 1-877-889-5627 (TTY)
Visit www.dol.gov and search on "COBRA Employee FAQ" (FAQ stands for Frequently Asked Questions)
Write
U.S. Department of Labor
200 Constitution Ave., NW
Washington, DC 20210.
Next Section: Government Health Care Assistance Programs