Your Child's Home — Options for Independent Living
Supplemental Security Income (SSI) recipients, many of whom are individuals with disabilities, receive on average $668 per month (see John R. Vaughn. "The State of Housing in America in the 21st Century: A Disability Perspective." Letter of Transmittal. National Council on Disability. January 19, 2010. Retrieved from ncd.gov on September 25, 2010.). Finding a decent and safe place to live is challenging, especially for individuals with limited means. Some federally subsidized programs help this situation. Private sector initiatives are beginning to provide new housing options. And the trend away from institutionalization toward home- and community-based services will add housing options as well.
PACER's Housing Project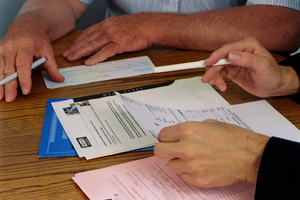 The PACER Center is stepping up to the need for more housing options. Through its Housing Project, Minnesota parents can learn what funding supports are available, how to work with county services, how to find a housing provider, and information on housing advocacy groups. To find out more, visit PACER Center's website, and search for housing to find national resources on this topic.
Call 1-800-537-2237
Visit www.pacer.org and search on the name of the publication
Write
PACER Center, Inc.
8161 Normandale Blvd.
Bloomington, MN 55437
Federal Programs — Public Housing and Housing Vouchers
Both of these programs are similar. One provides public sector housing (Public Housing), the other provides private sector housing (Housing Vouchers). They are federally funded programs and administered by local Public Housing Agencies (PHAs).
Eligibility is based on financial need. By law, a PHA must provide a certain number of individuals housing. That number varies by geographic region and its income level. Individuals who participate in these programs may be responsible for utility payments, but only up to a certain percentage of their income.
To find out more about these programs in your area, contact your local Housing and Urban Development (HUD) office.
State Programs — Centers for Independent Living (CIL)
In 1992, the Rehabilitation Act of 1973 was amended to provide states with greater flexibility in supporting independent living options for individuals with disabilities. Each state in the country has several Centers for Independent Living (CIL) that provides advocacy and services to help individuals with disabilities live independent and self-sufficient lives. 
While CILs do not provide actual housing options, if your child needs help with independent living skills, your local CIL may be able to provide needed assistance in developing them.
To find out what independent living services a CIL can provide:
Call 1-713-520-0232
Visit www.ilru.org
Your Child's Housing Rights — The Fair Housing Act
The Fair Housing Act prohibits discrimination against individuals with disabilities. The Acts basic provisions follow:
No one may refuse to sell your child a house or rent your child an apartment based on disability.
A housing provider, say of an apartment building, must provide "reasonable" accommodations for easy access to a housing unit or common area, such as a parking facility. What is "reasonable" is not clearly defined, but housing providers must do everything they can to provide access without incurring excessive financial burden.
Your child can request to make "reasonable" modifications to improve access and enjoyment of a housing unit. An example is requesting that a wheelchair ramp to a building's entrance be installed.
Your child can make modifications to their own unit, but may have to pay for them him or herself. A landlord may also require a renter who such changes pay to have the modifications removed when the renter moves out.