Organizing Your Paperwork: The Engine Behind Your Advocacy
Keep Your Records in One Place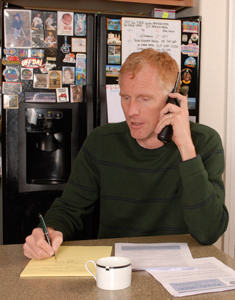 Organizing paperwork related to your finances and child's disability will help you make the most of your financial resources, and in essence, become the engine behind your advocacy.
When your paperwork is organized, you can quickly find important information. Having the right information nurtures your decision-making abilities, relieves stress, and fosters timely rather than delayed decisions.
For every agency service, doctor's visit, or school meeting, especially in the early days of your child's diagnosis, you may find yourself with overwhelming emotions and frustration in response to form after form requesting the same types of information. Having that information organized and accessible can help calm emotions and paperwork-related frustrations, leaving you with more energy to care for your child.
When your records are all in one place, you know where to find things. If your records are organized, you can find information fast. The benefits of this are many, but two really big ones are:
Having your records in one place reduces clutter. For some, that reduces stress.
Your phone conversations and meetings with individuals who provide your child with services and support will be more productive. When all your records about a certain issue are in once place, you can determine an appropriate action plan more quickly, without having to get back to someone about a particular issue.
Recordkeeping Supplies
You'll eventually develop a recordkeeping system that works for you. To get started, pick up some filing supplies. Listed below are some to consider. You can find them at any office supply store, retail superstores, and some drug stores.
A notebook for recording phone conversations and meetings with professionals and other parents
A calendar with room for writing notes
A place to file things, such as a filing cabinet—stationary or rolling—or a file box with a lid
Hanging file folders
Plastic tabs to identify the hanging file folders
File folders
File labels for the file folders (using labels allows you to reuse the folders)
Magic markers and highlighters for making notes and drawing attention to important information
Rubber bands for grouping contact cards you receive from professionals into categories, such as health care, disability-specific foundations, education, and so on
A three-ring binder
Tabs for the three-ring binder to divide the binder into sections
A three-hole punch
Next Page: Recordkeeping Tasks